Whether you're just getting started in the world of fish care, or you want something to give you peace of mind with no extra hindrance, a nano aquarium would be the way to go. They're small, convenient, and lucky for you, we found the best one out there.
This Tetra Cube kit is the perfect starter fish tank for it can give you a general idea of how to take care of fish and keep them healthy. It's our team's top choice, and definitely the way to go if you're in the market.
Best Nano Fish Tank
Tetra Cube 3 Gallon
Looking for a nano fish tank on a budget? Tetra Cube 3 is the best 3 gallon tank ideal for Betta fish. Filter, blue LED light and everything essential is included.
Silent filter that creates soft waterfall sound
Plenty of swimming room for your Betta
The look of the tank is simple and modern
The tank itself isn't too heavy
The word nano derives from Greek and it essentially means small. That being said, a nano tank is basically just a small fish tank. It's the perfect choice if you live in a small apartment, if you can't have other pets or if you're just into small fish.
The Tetra Cube 3 gallon is all you can ask for whether it be in design, size, filtration, lighting system, and all the other things that make this tank the best nano fish tank. We're going to analyze and review all you need to know for the Tetra Cube from setting it up to maintaining it to ensure the best home for your fish.
| | |
| --- | --- |
| Walls Material | Glass and acrylic |
| Shape | Square |
| Color | Clear/black |
| Style | Cube |
| Size Options | 3 Gallon |
| Light | Blue LED Light |
| Filter | Tetra 3i filter |
| Heater | Yes |
| Air Pump | Yes |
| Lid | Yes |
| Accessories/Decor | No |
| Require aquarium stand | No |
| Ideal For | Freshwater and saltwater |
| Extras | The lid features a convenient feeding hole |
Things to Consider Before Buying a Nano Fish Tank
When buying any tank, it's important to have some things in mind in order to provide the correct ambient for your fish to be. There are several qualities that provide a good 3 gal aquarium depending on the situation. When talking of a nano aquarium, the elements that characterize it include design, filtration, lighting, and many more that will make the difference between each other. Below we'll go into detail for each of these aspects and their role in choosing the right 3-gallon fish tank.
Species of fish
Obviously, when buying a small aquarium, you're getting it for small fish. You can't torture the bigger fish by putting them in such a confined space. However, besides size, the kind of fish is of utmost importance.
You need to do your research especially well to be sure that the space won't interfere with your habits. It's definitely not a wise choice to put active or aggressive fish species crammed in a continuous war of survival. We have made a list of the best fish for 3 gallon tank that can help you stock your Tetra Cube 3 gallon tank.
For example, a 3-gallon tank won't be the perfect cube Betta fish tank if you put a female or other species with it, because that might cause the betta to get aggressive, and the targets won't have anywhere to hole up. Otherwise, bettas are a perfect fish breed to put in a nano tank, together with shrimp (freshwater), Endler's livebearers, Pygmy corydoras, Chili Rasboras, or Harlequin Rasboras for bigger nano tanks (10 gallons tanks).
But how many fish in a 3-gallon tank? Well, the way most see it is "one inch of fish to one gallon of water". With that in mind, if you're keeping fish that go up to one inch in length, you can stock around 3 of them in a 3 gal tank. Of course with a few aquatic snails or shrimps to spice up your aquarium if you feel like it.
Pros and Cons of a Nano Fish Tank
Like everything else out there, fish tanks have their own positive and negative sides. A nano fish tank, although it's hard to go wrong with, has specific case scenarios where it wouldn't be the best choice.
Pros
Price: Considering the size, capacity, and material used on a nano tank, they usually cost way less than a bigger tank. Besides this, you won't really need to invest in other things such as decorations, more pumps or even a lot of lights. Since the area is so small you won't have to worry about "filling it up" or adding many things to the setup.
Space: That's definitely not the issue when it comes to nano fish tanks. It's literally in its name. They won't be a hustle at all to move around, find a place for, or worry about its whereabouts.

Honestly, as long as it's in your field of view, anywhere is fine to put it. Just make sure you don't put it in the ground or somewhere to avoid accidents such as things accidentally falling in it or breaking it accidentally when walking past it.
Time: These tanks are definitely almost tailor-made for people that aren't really up for the full responsibilities when taking care of another being. Maintaining this tank and the fish in it will barely take minutes out of your day and you can still be proud of your cute little fish (or tough, we don't judge).

Even the water change, which usually is such a bore for most aquarists, won't even be noticeable with this one. You can be sure that owning a nano fish tank won't be time-consuming at all.
Weight: Aquariums are rather heavy, especially on the 20 gallon fish tanks and up. In medium and bigger tanks you need to worry about fish tank stands and how much weight they hold and all that research. However, a nano tank's weight is barely noticeable for most furniture and weight won't be an issue at all. Also, lighter tanks are easy to relocate or even transport if you move a lot.
Cons
Diversity: In a small space, you don't really have that much freedom on what species to put or combine with each other. You can always opt to have different-colored shrimps for visual diversity but that's the most you can do about that. If your jam is a distinct and jarring ecosystem, this probably isn't your best bet.
Toxins: Although it's not a very problematic issue, sometimes a smaller tank can get dirtier faster and might require special attention in cases. However, that's mostly apparent in fish that produce a considerable amount of bio-load. That can also happen if the filter fails and you don't catch it at once, since on a smaller surface, the pollution happens faster and heavier, you might even lose your fish. That's why it's always recommended to keep the tank at a comfortable view so you'll notice things like this right away.


Overstocking: You might put more fish than recommended for a nano tank and risk many things in the process. You need to make sure there's enough space for your fish to move around freely, and although that might be confining in aesthetics it's crucial to your fish's health and longevity.
Tetra Cube 3 Gallon Overview
Out of all the nano tanks, our team has concluded that the Tetra Cube 3 Gallon is the best nano tank in the market. The perfect tank for beginners with the ideal small aquatic environment with LED lights, a filter, a pedestal base, and a helpful guide.
This product comes with its own peculiarities that together with the standard qualities of a nano tank, make this the best of this category, which certainly exceeded our expectations.
What's Included in the Box?
Since the product you're getting is a kit, there are several things included in the box:
3-gallon cube aquarium
Lid for Tetra Tank
Whisper Power Filter
Tetra Whisper Bio-Bag Small Cartridge
Pedestal Base
LED Light
Low Voltage Power Adapter
Setup Guide
The things included in the box definitely fulfill all you might need to get the tank ready for the fish to swim in it. We followed the guide (we barely had to, it was easy to set up) and everything went smoothly. All you have to do is follow three to four steps that are pretty self-explanatory and you'll be good to go. Below you'll see a detailed review of the kit with all of its components.
Features of Tetra Cube 3 Gallon
There are several things that differentiate this product from the others. Each of these components contributes to a better, durable, and nicer-looking product. It's important to remember that no product is perfect and fits into all situations.
Every product offers something different from the other, in different ways for different people. As long as it fits your needs, it's perfect for you and that's all that matters.
Design
Design-wise, I believe that this is a very elegant and nice-looking tank. Although relative, the lack of bezels makes it look better and it's wonderful to be able to view the whole tank with minimal disruption of the overall appearance. It's a great way to make the tank look more sleek and with the solid raised base that puts it all together, makes the whole view more aesthetically pleasing.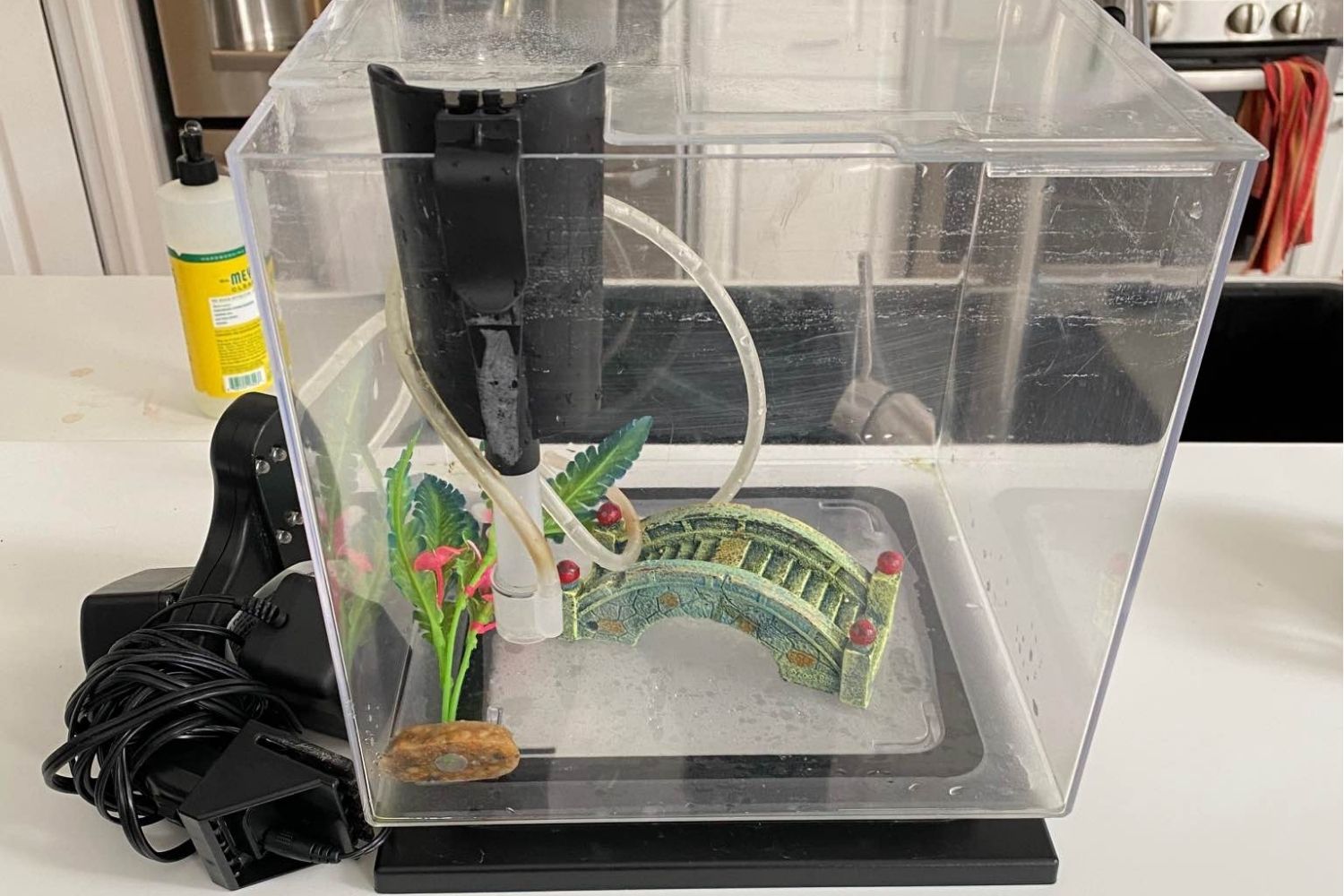 It weighs about 8 lbs and it is a cube aquarium that drifts away from the common fishbowl look to a more contemporary neat look. It measures 5 x 10 x 10 inches and even has LED lighting to switch it up from time to time. The all-inclusive composition makes for a good piece for either your home or work environment, fitting in in most interiors and enhancing the overall scheme.
Filtration System
Filters help to preserve the appearance and health of the ecosystem by keeping dirt, algae, debris, and dangerous chemicals from the water and fish. This kit, fortunately, comes with its own filter that helps to preserve the quality of the environment your fish live in without compromising on other things. The filter unit is hi-tech and works really well with the included cartridge, making it another thing you won't have to worry about at all.
Lighting System
The most fun thing in fish tanks has to be the LED lights. Although not essential, they still offer a special look to your tank, making it more interesting and colorful. Besides the aesthetic purpose, the LED lights also contribute to triggering the idea of day and night for your fish so they can feel more at home.
The LED lights that come with the kit are bright enough to lighten up the tank without blinding the fish. They look especially great on really dark setups and make the whole thing look animated by how clean it looks.
Build
Although a plastic tank, the company definitely didn't cheap out on the build. The material is crack and shatter-resistant, which makes it super convenient for clumsy people or households with children or pets. It's strong and not flimsy at all so it won't wobble at the touch and won't give you a heart attack every time you casually walk past it.
Together with the small size, it makes it perfect for moving it with no worry of its weight and it gives it more overall durability. Where some other products in the market use cheaper and frail materials, this is definitely not the case.
Alternatives
Our winner and an absolute favorite for nano fish tanks is Tetra Cube 3 Gallon. But of course, it is not the only aquarium on the market.
So that you can compare better, we would also like to introduce you to some fish tanks alternative and tell you what we think about these products.
Fluval Flex 9 Gallon
Fluval Flex 9 and 15 Gallon
Best Betta fish tank
Proper filtration system
Flexpad remote control
Nice sleek design
Sufficient lighting
CHECK PRICE
If you're looking for something similar yet bigger, the Fluval Flex 9 is the way to go. It comes with all components in the box as well, with LED lights and a 3 stage filtration too. The main difference between this and the Tetra Cube is definitely the size and design. The Flex is big on aesthetics, fitting in most interiors, especially in non-conforming designs for it's shaped in an unorthodox way.
Obviously, besides looks, this tank has a bigger capacity and can store more fish or can leave more open room for your one fish to swim in. Overall it's a great choice and lacks in no departments, leaving no compromises to be made.
Fluval Spec V
Fluval Spec V
Best 5 gallon tank for shrimps
Compact design
Durable etched glass
Water flow adjustment
High quality LED light
CHECK PRICE
However, if you don't really need a bigger tank, and you want it to have a clean and somewhat professional look, this would be the choice for you. It has everything included in the box like its predecessors, and styles them in a sleek design, perfect for offices, kitchens, or living rooms with a modern vibe to them.
At 5 gallons, it's not heavy at all and that means no shopping for stands or easy transportation if you like to move things around a lot. It's a great tank with good equipment and is sure to make most people happy right from the careful and thoughtful unboxing up till it's an addition to your setup.
Marineland Portrait
Marineland Portrait
Best fish tank for beginners
Silent Filter
Seamless edges
Sleek design
Extra space
CHECK PRICE
Made for people that want peace of mind, this tank is effortless to have around. It solves most problems on its own and solves them in style. It's got a full kit with 3 stage filters, a heater, LED lights, etc., and makes for a great trouble-free option for you and your fish. It looks great and comes in different dimensions for you to choose from and doesn't limit you in terms of design because it fits around any environment.
If you've set your mind on getting fish. but don't really know what to do and don't have the time to dedicate hours, this tank is the choice for you, for it does all it should do easily and correctly.
Our Verdict
The Tetra Cube aquarium kit 3 gallon is the perfect starters aquarium and not only. It provides a challenge for more experienced aquarists as well to explore different kinds of species that can coexist in a limited space. This cube aquarium will fulfill all the needs of your fish, in style, with its eccentric design that makes it look good in any interior.
Best Nano Fish Tank
Tetra Cube 3 Gallon
Looking for a nano fish tank on a budget? Tetra Cube 3 is the best 3 gallon tank ideal for Betta fish. Filter, blue LED light and everything essential is included.
Silent filter that creates soft waterfall sound
Plenty of swimming room for your Betta
The look of the tank is simple and modern
The tank itself isn't too heavy
Whether you're looking for 3 gallon fish tank for betta fish or if you just want something small and compact to move around whenever without the fear of it breaking, this is the way. Even the above alternatives are a good choice if they fit your specifications. It all comes down to preference and distinct case scenarios. Either way, if you're interested in the Tetra Cube aquarium kit, don't think twice, go ahead and make the purchase of a lifetime!
We are sorry that this post was not useful for you!
Let us improve this post!
Tell us how we can improve this post?