Have you bought a Betta fish and need an aquarium, or did you already have one but are looking for the best Betta fish tanks? Either way, let's check some of the best tanks for Betta fish.
Betta fish are small and colorful aquatic pets preferred by many. But despite their popularity and availability, there is a lot of misinformation regarding their needs. Although small in size, these fish are loners and like having plenty of space for themselves.
To avoid making mistakes and accidentally mistreating your little companion, you should learn what your Betta requires for a healthy, long life in his new aquarium. We have put together all the information you need, including some recommendations for a modern Betta fish tank you might want to check!
Best Betta Fish Tanks Reviewed
Keeping a Betta fish does not have to be a challenge. The best Betta fish tanks are well built to create the perfect environment and make the hobby easy. To help with the search for a new unique tank, below are some of the best Betta aquariums on the market.
The Fluval Betta Premium Aquarium Kit will offer you everything you need to keep your fish happy and healthy. It is one of the best Betta fish tanks as it fulfills all requirements to keep Betta happy. Filtration, heating, lighting, flow, and more.
Since Bettas cannot do well when faced with strong currents, this fish tank is equipped with a gentle filter that will pump water slowly not to damage your Betta's fins. The filters are quiet, so they will not bother you, and they excel in emulating slow currents typical of the Betta fish's natural habitat.
This tank has LED lighting; it is soft and relaxing, perfect to create a stress-free environment for the little fellow. I also liked the Fluval Betta Premium because it ensures that the temperature is within the ideal range required for a Betta's well-being. The heater is pre-set, which I found convenient, as many other aquariums do not come with an already installed heater.
The aquarium does come with a downside, and that is its size. This small Betta fish tank can hold up to 2.6 gallons of water, suitable for only one small Betta. The size is a little below the 3-gallon mark, but honestly, I have not found any issues with it, and my small Betta swims its day away comfortably in it. Regardless, unless you are a fan of large aquariums, this is the best tank for Betta fish you will find.
Product Specs
Size options: 2.6 gallons
Filter: 6-stage filtration
Heater: Yes
Material: Glass
Pros
Quiet, gentle filter
LED lighting
Proper heating system
Cons
Suitable for only one Betta
The Fluval Flex aquarium is our runner-up in the list of the best Betta fish tanks, and it makes up for Fluval Premium's sizing. It comes mainly in two different sizes, 9 and 15 gallons, but you can also find Fluval Flex 32.5 gallons if you are looking for a bigger tank.
Something different about this aquarium that I found pleasant was that it has remote-controlled LED lighting. The remote has the option to change the lighting and how powerful it is. It is a nice accessory to have when you want to display your tank.
Speaking of lighting, it is powerful enough to keep the Betta happy and your plants thriving. Additionally, its filtration system is top-notch. It will get rid of any accumulated debris or toxins, ensuring a clean tank and water to keep your Betta safe from harm.
Overall, the tank is great, but it does not come with a heater. This is no biggie as I set one myself, but I would have liked it better if it was an all-in-one Betta tank. Despite this minor inconvenience, the aquarium has everything else that you will need for your Betta fish.
Product Specs
Size options: 9, 15, and 32.5 gallons
Filter: 3-stage filtration
Heater: No
Material: Glass
Pros
Remote control available
Sufficient lighting
Proper filtration system
Cons
Read More: Fluval Flex 9 and 15 Gallon Review
Now I know some of you may not want to spend a lot of bucks on a Betta aquarium, so if you do not want to break the bank, the Marineland Portrait tank is the best budget Betta fish tank.
It comes with a cool lighting feature; it mimicks daylight and sunlight. The white LEDs will create a sunlight-like light, whereas the blue LEDs will make the aquarium glow with a soft moonlight tint.
Another thing that I liked about the Marineland Portrait aquarium because its filters are hidden from the view. Although I do not mind seeing the filters in the tank, it is neater to have them somewhere hidden. In this case, they have a specific back chamber designed for the filters and additional features you may want to add.
Since we are on the neatness topic, I cannot forget to mention this aquarium's slick design. Its rounded corners will give you the perfect view of your fish and the entirety of your tank.
Aside from all the cool features of the tank, you should be wary of the filter's inlets. They are somewhat large and powerful, making them unsuitable for specific species, such as Dwarf shrimps. If you keep that in mind and avoid putting Dwarf shrimps and the like in the tank, you will be generally pleased with this budget-friendly tank.
Product Specs
Size options: 5 gallons
Filter: 3-stage filtration
Heater: Yes
Material: Glass
Pros
Daylight and moonlight lighting
Hidden filters
Extra space in the chamber
Cool design
Cons
Filters are too powerful for certain species of shrimps
Read More: Marineland Portrait Review
The Fluval Spec V is the best 5 gallon Betta fish tank due to its quality features. Before getting into the specifics, I should mention that it has a cool design and durable etched glass. Durability is not the main thing to consider in fish tanks since you will put them in a specific place and barely move them. However, accidents happen, and in that case, you will be happy to have a durable aquarium.
The first thing to note about the Fluval Spec V is its great lighting system. It comes with 37 LED lamps, more than enough to light up your fish's home and make it a suitable place for plants and other species.
However, its best feature is definitely the filtration system. It has an excellent circulation pump to ensure clean water for your Betta. The aquarium owes its superior filtration to its foam block, which excels in keeping dirt out of the water. The BioMax bio rings media offer thorough filtration (chemical and biological).
I was very happy with the Fluval Spec V and what it offered, and I do not have much to complain about. The only thing that I found slightly annoying was that its filters were somewhat difficult to replace. Otherwise, everything about this 5 gallon Betta fish tank is amazing.
Product Specs
Size options: 2.6 and 5 gallons
Filter: 3-stage filtration
Heater: No
Material: Glass
Pros
Durable etched glass
High quality LED lights
Excellent filtration system
Free media included
Cons
Filters are difficult to replace
Read More: Fluval Spec V Review
For a larger, 10-gallon aquarium that will fulfill any need for your Betta fish, look no further than this Aqueon Aquarium Starter Kit. You get many quality features for a fair price, including a pre-set heater, which many other aquariums lack.
This tank is easy to put together, so it is less time-consuming than many other options and great for beginners looking for somewhere to start. The aquarium has a setup guide that is easy to follow and makes it effortless to put everything together.
The heater included maintains a temperature of 78 degrees Fahrenheit, which is within the ideal range for Bettas. Its filtering system is decent and does a great job keeping the water clean and clear. Additionally, the aquarium is spacious, making it ideal if you want to decorate it with plants, rocks, woods, or even add other creatures such as shrimps and the like.
What I did not like about this fish tank was its lighting. I appreciate lights in aquariums, and they set a nice atmosphere within the aquarium for the fish. However, the LED lights included in this kit are too bright, and I believe they may cause distress to Bettas. Nevertheless, if you think you can fight this slight issue, you will get a spacious aquarium with nearly all the features you can ask for!
Product Specs
Size options: 10 gallons
Filter: Yes
Heater: Yes
Material: Glass
Pros
Fair price
Easy to put together
Pre-set Betta heater
Spacious
Cons
The lights are too bright
I know some of you may own or are looking to get more than one Betta. If you do not want to buy separate aquariums, the Aqueon Betta Falls will easily be home to a maximum of three Bettas. This aquarium is the best choice for several Bettas because it is divided into three compartments. Each is separated by a blocker that ensures they will not see one another. This is an important detail, as Bettas may get aggressive and territorial if they see a fellow Betta next to them.
Aside from the separate compartments, the aquarium is nice-looking. Its design is nice and pleasant to look at. It also has a waterfall on top of it that simultaneously serves as a filter and water pumper. What makes the Aqueon Betta Falls even better is getting this beauty for a relatively cheap price.
Despite its cool design, the aquarium comes with a few downsides. First, all compartments are 2 gallons summed up together, leaving 0.7 gallons of water per compartment, which is not the most ideal size for Bettas. Second, there is no pre-set heater, so you need to buy one (or more) that can be adjusted for all three compartments. There is room for improvement, but these flaws do not diminish all of this aquarium's upsides.
Product Specs
Size options: 2 gallons
Filter: Waterfall filter
Heater: No
Material: Acrylic
Pros
Nice-looking
Cheap
Suitable for three Bettas (or other fish/crustaceans)
Cons
Relatively small
No heater
For those interested in a cube-shaped aquarium, your answer is the Fluval Chi Aquarium Kit. Various details make it the best cube aquarium.
Firstly, the glass of this aquarium is anti-scratch. So, even if you have any unfortunate accidents, rest assured, the aquarium will be intact. Some people may think that cube-shaped aquariums look dull, but that is definitely not the case.
The aquarium is equipped with a waterfall filter on the top. The fountain makes this tank look cool, but most importantly, it is quite efficient in cleaning up the water perfectly. LED lighting will also light up the aquarium and provide your Betta and your possible plants with some much-needed light.
Fluval Chi Aquarium is an affordable option; it will cost you less than many other similar alternatives and offer you similar features. Lastly, the aquarium is lightweight despite its size. This makes it a great option for those that like switching up the aquarium's place from time to time.
The only complaint I have about this aquarium is its lack of a heater, which can easily be fixed. Overall, this is an all-around great aquarium for Bettas.
Product Specs
Size options: 5 gallons
Filter: Waterfall filter
Heater: No
Material: Glass
Pros
Anti-scratch glass
Great filtration system
Affordable
Lightweight
Cons
Read More: Fluval Chi Review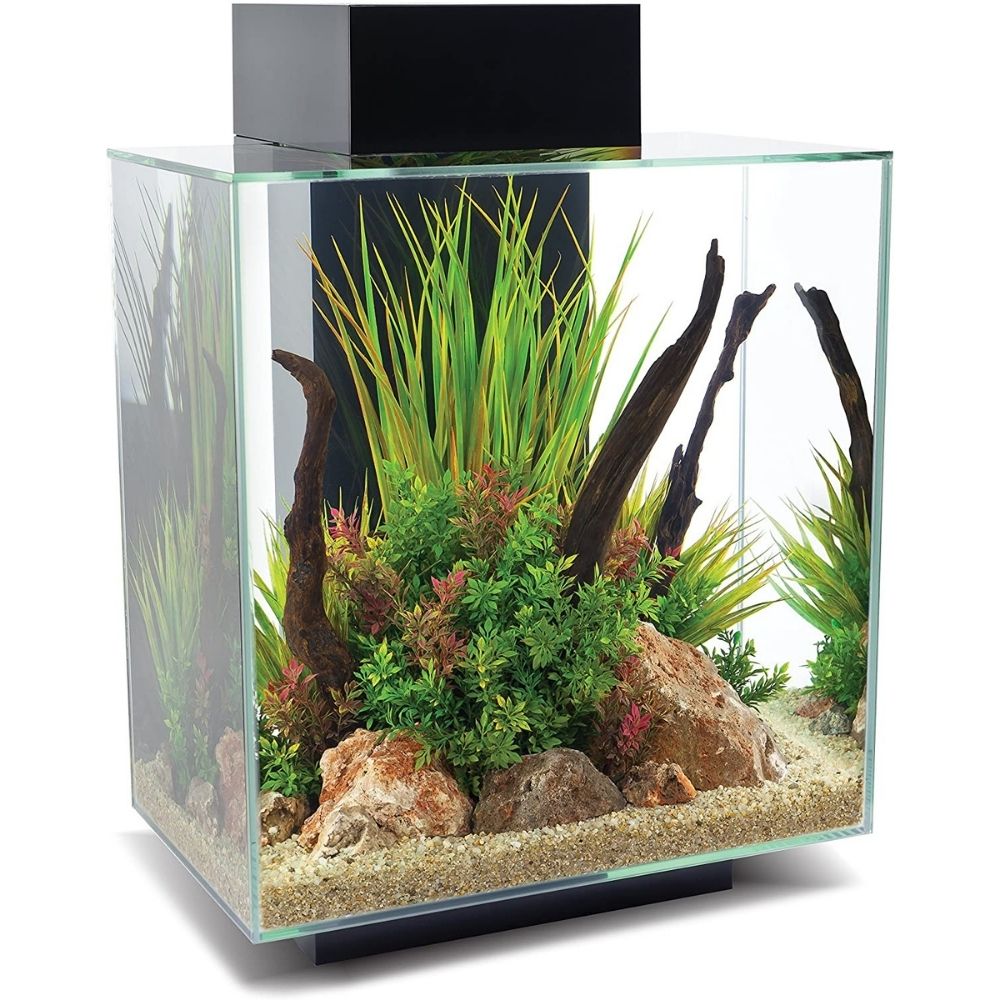 If you do not want a small or medium-sized aquarium and are a fan of large ones instead, I recommend the Fluval Edge. Its 12-gallon version is the best large aquarium you will find.
The LED lighting incorporated in the tank imitates natural sunlight, and it is quite gentle for both your eyes and your Bettas fish's comfort. It also has a day and night mode, which you can switch by touch. A
unique feature of the Fluval Edge tank is its quick access feeding door. This feature comes in handy as you do not need to remove anything to feed your Betta, saving time and effort. The best part about the aquarium is its multi-stage filtration system. The filter works quietly and does its job flawlessly.
If you are thinking of adding plants as decoration, you need to know that the light provided is suitable for plants requiring low or medium light. This should not be a big issue in general, and the positives about this aquarium far outweigh this slight inconvenience.
Product Specs
Size options: 6 and 12 gallons
Filter: Multi-stage filtration
Heater: No
Material: Glass
Pros
LED lighting replication of natural light
Day and night mode
Quick access feeding door
Excellent filtration system
Cons
The light provided is suitable for plants needing low/medium light
Read More: Fluval Edge Review
Betta Tank Requirements
You may be wondering what your Betta fish tank should be like to match your Betta's needs. First of all, the tank's size. The perfect fish tank for your Betta would be one that can hold a minimum of 5 gallons of water to be on the safe side, although some believe that 3 gallons are enough.
And if you have or are planning to get more than one, keep in mind that you should provide a gallon of water per inch of an adult fish. Your Betta fish will need a gentle filter to clean the aquarium from debris and other harmful things for your fish.
Aside from these, you should keep in mind that Bettas require a temperature between 72°F and 82°F. Lastly, some decorations would be a good idea to give your little friend some privacy and provide hiding spots.
A tip for those who may not know: Bettas are territorial loners, so they do not do well in community tanks.
So if you think your Betta may be lonely, keep that in mind. However, if it shows signs of distress or what may look like loneliness (which is actually boredom), try toys for Bettas instead of giving them a new buddy.
What to Consider When Choosing the Best Betta Fish Tanks
You already know the requirements to keep your Betta healthy and happy, so you can easily guess what the best Betta fish tanks should have. When looking for a new aquarium, you need to check for the proper tank size, filtration system, tank heater, and other accessories such as decorations. Confused? Read the specifics for each aspect below!
Tank Size
You should always consider the tank size when looking for a new aquarium. Different fish require different amounts of space to thrive. Bettas require at least 5 gallons of water to feel happy and healthy.
Although there is an ongoing debate whether 3 gallons is enough, I advise you to go for a 5 gallon fish tank or bigger, considering a Betta's size. The bigger the aquarium, the more space for the fish to feel at home!
And do not forget the rule of thumb! If you have other fish, remember: 1 inch of adult fish per gallon of water.
Filtration System
You may be thinking that since Bettas come from still waters, filtration will not be a necessary component. And I am here to tell you that this is not true and this is perhaps the most important thing to consider! Betta fish do need a filter to thrive in their tank.
Although Bettas are used to still water, the water in the tank is by no means the same as in their natural environment. It will collect debris, and it may also contain toxins that may affect the Betta's health.
I am sure that you do not want that; hence, a filtration system is necessary for Bettas' well-being. However, note that Bettas do not cope well with strong currents, and they may cause stress to the little fish, so opt for a gentle, adjustable filter or a separate one. Your best options are sponge filters, which have a gentle and adjustable flow.
Tank Heater
If you did not know, temperature fluctuations could be fatal for fish in general, Bettas included. You will definitely need a fish tank heater to avoid such a thing and keep the water temperature between 75-80 degrees Fahrenheit.
And if you think keeping a constant temperature is possible, different seasons and their drops or rises in temperatures or even changes during the day are enough to make you rethink getting a heater. Seriously, it is a good investment and not expensive. Most importantly, it will ensure that your Betta lives a long, healthy life without complications.
Lighting
Although lighting is not the most crucial feature needed in the tank; Bettas do need a standard aquarium light to be in their top form.
Bettas require at least 14 hours of light exposure in a day. It might be from natural light or aquarium light.
Although not the most crucial thing, you will not ensure their happiness unless you give your Betta the needed amount of light. Additionally, if you get plants to put in the aquarium, they will need light for photosynthesis to produce oxygen. And plants surely do keep a Betta happy!
Keep in mind that you should not substitute artificial lighting for sunlight.
Direct exposure to sunlight is dangerous for fish and can change water temperature, so opt for artificial lights such as LED ones, which are popular and safe for the Betta.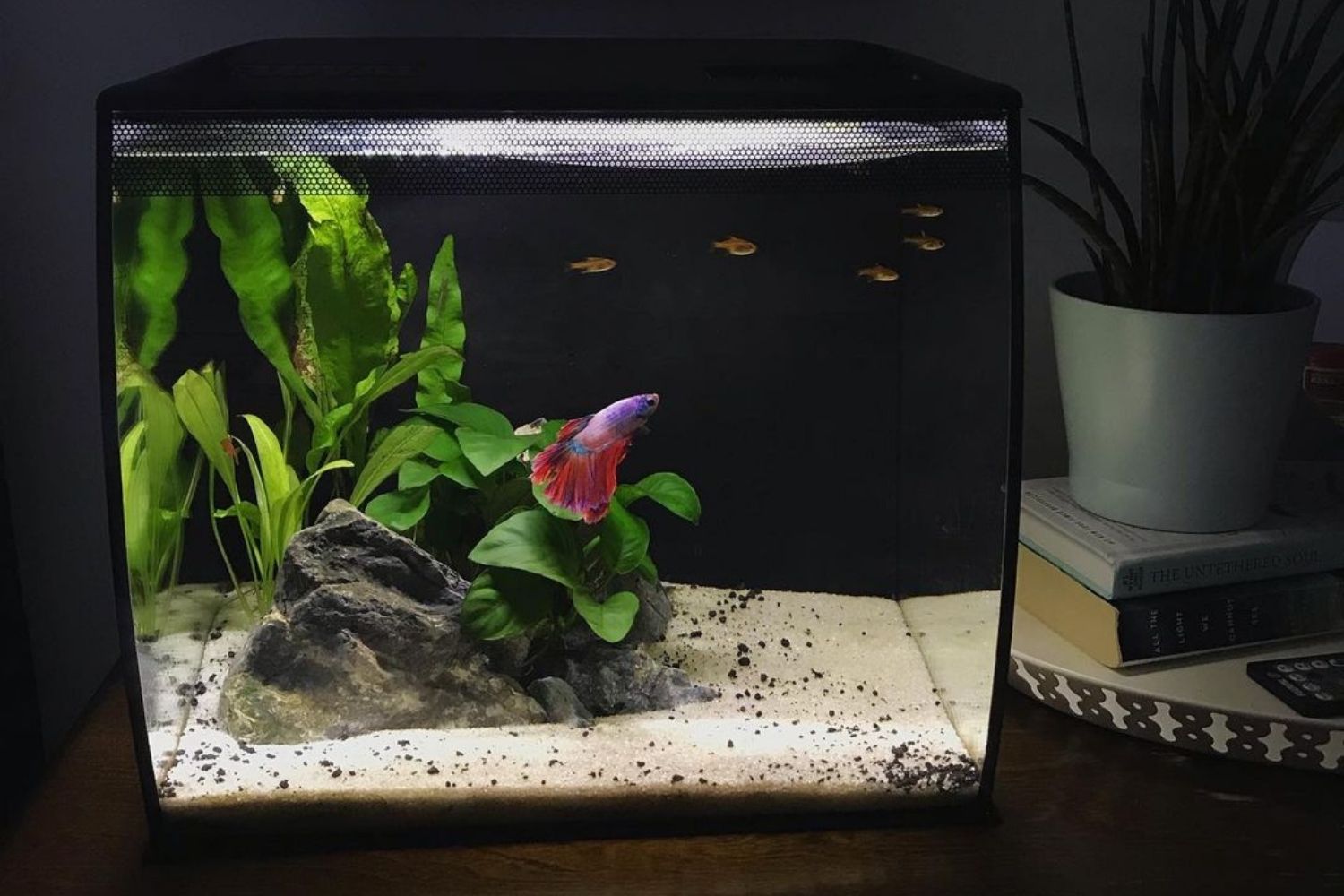 Decorations and Style
As mentioned above, decorations, such as rocks, woods, plants, or even Spongebob fish tank decoration., affect a Betta's overall well-being. They provide a safe hiding space for them to go to when feeling stressed or need to relax. They also have entertainment values; decorations will keep your Betta from being bored. So, I believe them to be one of the keys to Bettas' happiness.
As for the style, your colorful fish deserves nothing less than an equally beautiful and stylish tank. Although this part depends mostly on your preferences, you should never put aesthetics over your Betta's health. By that, I mean that you should not get a fancy aquarium only for it not to have the necessities that a Betta needs for a healthy life.
Our Verdict
We believe the two best Betta fish tanks are the Fluval Betta Premium Aquarium Kit and the Fluval Flex 9 and 15 Gallon. The Fluval Premium aquarium fulfills all requirements: the pre-set heater, an amazing filtration system, and relaxing LED lighting.
The Fluval Flex does not fall behind. It has interesting features such as the remote control option for the lighting. The Fluval Flex tank has more size options and provides ample space for your new Betta. These two have everything you will need in a tank for Bettas and more, making them the most suitable choices for keeping your Betta fish happy and healthy.
How We Chose The Best Betta Fish Tanks
The best Betta fish tanks are ones that satisfy all of their needs, be it filtration, proper temperature and filtration, the right size, and decorations. We tested all of our top picks and ensured that Bettas were happy in the environment created in these aquariums.
What we were looking for in these tanks was if they met the requirements, and if they lacked any, how easy was it to make some adjustments. So, if the tanks had no heaters, although we considered it a downside of the product, it does not lower its overall quality since a heater is easily implemented.
Additionally, we considered extra features. The Fluval Flex had a remote control, whereas Marineland Portrait and Fluval Edge had the cool day and night light feature, which we did not see in any other products we reviewed.
FAQs
Shopping for the best Betta fish tanks time and research to find the aquarium for your needs. When shopping for cool Betta fish tanks, these are some of the most frequently asked questions by Betta keepers. Although it's not all the information fish keepers will need, it's a good place to start.
We are sorry that this post was not useful for you!
Let us improve this post!
Tell us how we can improve this post?