Are you in the market for a new 20 gallon fish tank kit? If so, you're in luck! In this article, we will be discussing some of the best 20 gallon fish tanks on the market. We will also provide a buying guide and reviews of the top 20 gallon long tanks to help you choose the right tank for your needs.
So, whether you are a beginner aquarist or an experienced fish keeper, read on to find out more about the best 20 gallon tanks available today!
Keep in mind that 20 gallon tanks are big and heavy enough even to break your floor. That's why you must have a dedicated 20 gallon fish tank stand to support your new aquarium.
Best 20 Gallon Fish Tank Reviewed
The 20 gallons fish tanks that made it into the yop picks list include everything you need to start your first aquarium. They're manufactured by reputable companies and meet requirements for value, ease of use, safety, and effectiveness. Ahead, discover the best 20 gallon fish tank to start keeping your fish and aquatic plant.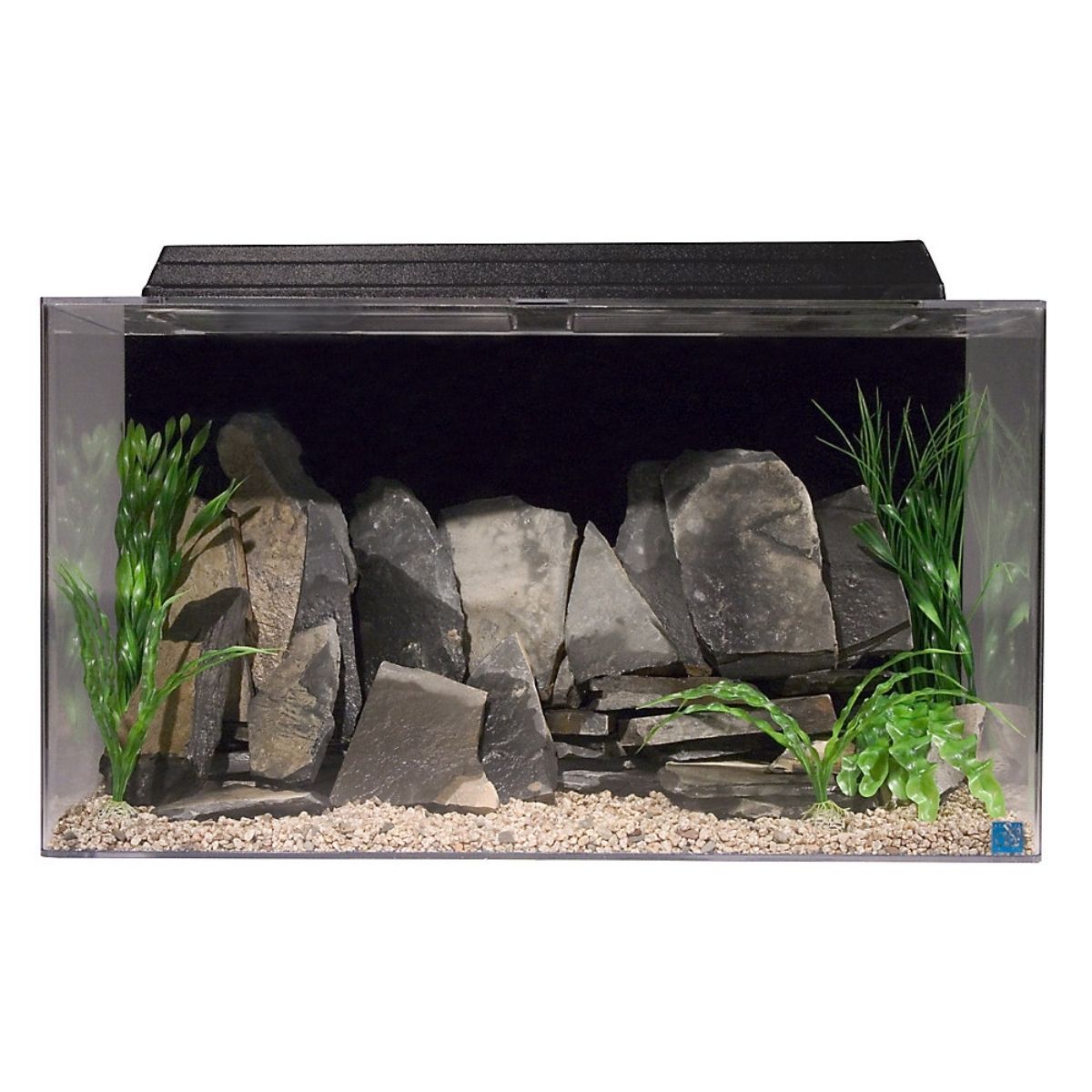 This 20 gallon fish tank set comes in two versions: a deluxe kit and a basic combo bundle. The deluxe version is so named because it comes with certain additional ornamental items that, if purchased along with the tank, will save you time and work later on.
Aside from that, both models come with a hood with a light fixture (bulbs not included), a 20 gallon fish tank filter, pebbles, and a guide. Both are constructed of acrylic. The deluxe version has a hexagon shape which the company referred to as a tranquil design. Appropriate for either freshwater or saltwater, and owing to the inclusion of items, it's a wonderful alternative for individuals who are just beginning the fish-care hobby.
Product Specs
Lighting: LEDs with no bulbs
Filtration: 20 gallon fish tank filter
Dimensions: 15 x 15 x 24 inches
Freshwater or Saltwater: Both
Tetra's 20 gallon fish tank is produced in the United States and has scratch-resistant glass. This tank features an LED canopy that creates a natural sunlight look that is ideal for your fish and plants to thrive in. The "Whisper Filter," gets its name because it is extremely silent regardless of delivering a strong, consistent water flow.
Artificial plants are also incorporated in this tank for providing a hiding spot for your fish as well as a more natural feel for your setup. This kit also includes a Tetra Mini heater. Either way, this product is great for all sorts of fish and is really easy to set up and maintain later on.
Product Specs
Lighting: LED hood
Filtration: Whisper filter
Dimensions: 24.2″ L x 12.4″ W x 16.7″ H inches
Freshwater or Saltwater: Mainly Freshwater
In contrast to some other products, this tank does not come with additional products in the box, however, don't let that take you back. It is a wonderful tank for a variety of species. This tank is made of high-quality glass and it's durable and stiff and definitely can handle whatever you throw at it.
The edges are covered with silicone edges that come in either black or a clear version, which not only add to the tank's elegant appearance but also protect it from accidents that might happen to it. Regardless of the fact that only the tank is included in the box, it was so well made and thoughtfully crafted that we couldn't include it on this list. Sure enough, this is a great option for all sorts of people, especially for houses with other pets or children around.
Product Specs
Lighting: N/A
Filtration: N/A
Dimensions: 30.25″ x 12.5″ x 12.75 inches
Freshwater or Saltwater: Both
This Marina 20 gallon aquarium tank comes with everything you need to get your aquatic home started, and it also includes a ton of things to get you started. If the above version wasn't for you and you'd like something that has all you need in a box, this one is for you.
It comes with a clip-on filter with quick-change filter cartridges so your water can always be clean. It includes an LED lighting module with a natural daylight effect that's made to last long to boost your fish's natural circadian rhythm and also help low-light plants inside the tank grow.
Also in the tank, you have a soft mesh fishnet, a water conditioner to utilize even your tap water by making it safe for fish, and even some fish food so you won't have to rush to a store right away. This tank is ideal for people that either don't have the time to shop for items individually or people that still need to do research before making these purchases.
Product Specs
Lighting: LED module
Filtration: Clip On filter
Dimensions: 24" L x 12.5" W x 16.5" H inches
Freshwater or Saltwater: Both
This GloFish 20 gallon tank comes with a blue LED light that dramatically alters your setup, making it ideal for people who enjoy a dash of color and some vibrance on their tank. You may personalize this neon tank to your style and make it really glow (pun intended) with a GloFish 13′′ LED light stick, one GloFish yellow anemone, and two plant multipacks. It's ideal for a variety of species and is visibly well built and made to last.
Product Specs
Lighting: LED light stick and hood
Filtration: Tetra Whisper filter
Dimensions: 24.2′′ L x 12.5′′ W x 16.2′′ H inches
Freshwater or Saltwater: Both
Things to Consider Before Buying a 20 Gallon Fish Tank
As we said above, there are several things to keep in mind when getting a tank for your fish. There are things to know, things to look out for, and things you definitely don't want to do. Let's start with…
Material
Two main components make up a tank. They mostly differ on minor things such as aesthetics or how prone they are to scratches, but whichever you choose should be due to personal preference, for either of them is the best choice if you know how to take care of them. We will analyze each.
Plastic/Acrylic –The first and most common type of material you'll find on the market is plastic. It's usually cheaper, lighter, and easier to move around. Acrylic is a slightly more premium version of plastic that doesn't scratch as easily but is still prone to it if not handled with care. Both are pretty sturdy overall.
Glass – Glass is the more "traditional" material for fish tanks and is a bit heavier but also much more scratch-resistant than either plastic or acrylic. It can also be found in different shapes and sizes, unlike acrylic which is only available in one solid color (translucent). Glass tanks are definitely harder to move around.
Budget
After you've decided on the material, it's time to start looking at prices. 20 gallon fish tanks can range from as low as $100 to upwards of $250, and sometimes even more. It all depends on the brand, materials used, features included, additional equipment needed…etc.
The best way to save money when buying a new tank is to look for bundled kits that include everything you need to get started with your new aquarium setup. These usually come with light, filter, gravel, and sometimes even fish food or decorations. They cost more upfront but end up being cheaper in the long run since you don't have to buy each item separately.
A good 20 gallon fish tank kit is Marina LED Aquarium Kit which includes LED lighting, a filter with free media, a thermometer, and an aquarium fishnet.
Stocking Plans
Another thing to consider when buying a 20 gallon fish tank is what kind of stocking plans you have. This will determine the type and size of fish you can keep in your tank. For example, a 20 gallon long tank is better for keeping taller fish while a regular 20 gallon tank is better for a more diverse variety of smaller fish.
Stocking will also determine the size, shape, and filtration system you need. If you're planning on keeping small fish like goldfish or bettas, then a simple rectangular tank with a hang-on-back filter will suffice. But if you want to keep larger fish like cichlids or freshwater sharks, then you'll need a bigger tank with more powerful filtration.
Aquarium Stand
Last but not least, you'll need to find a place to put your new aquarium. This means finding a 20 gallon fish tank stand that can support the weight of your tank and all the water inside it. A 20 gallon fish tank full of water can weigh over 150 lbs, so make sure the stand is sturdy and won't collapse under the weight.
You can find stands made specifically for 20 gallon tanks or you can get a generic stand that's rated for a higher weight capacity. Just make sure it's stable and won't wobble when you put your tank on it.
Style and Design
People sometimes tend to go after tanks that would look the best rather than high-quality ones. Although most tanks indeed have a very standard look and it's usually hard to find something unique and especially good-looking, but that doesn't mean you should jump at the first modern fish tank you see.
However, don't think that you should also opt for a bad-looking one either because it can certainly ruin your setup. Nevertheless, there's a small selection of tanks that have the aesthetics part down with good functionality and even come at a reasonable price. Certain brands are known for their aesthetic choices and some tanks that dominate the market for looks.
We managed to find several tanks with these characteristics and just below you'll find them reviewed for your convenience. All and all, a cool fish tank is only part of what you need and you should find a balance between all qualities of a tank.
What Sets a Good Fish Tank Apart?
Technically, there's not anything that just screams this is a good tank. It's rather a collection of qualities and features that are combined with good manufacturing and good design. The main giveaway of a tank's quality is the price.
There are no cheap tanks that are well built. It's logically impossible too because good components cost money and no manufacturer would make a product that's made with good products and sell it for less than they used to build it.
Besides the price, something else that's quite important is sturdiness. If you realize that the product is flimsy or shakey, it's almost guaranteed that it's going to disappoint in performance and might even break, crack or leak when you put the water in. Either way, a good tank will show its quality right from the unboxing and then prove itself in the months and years to come.
Our Verdict
After considering all of these factors, the best 20 gallon fish tank kit is the Marina LED Aquarium Kit. It's a bundled kit that comes with everything you need to get started, including a filter, LED lighting, and thermometer. It also has a low price tag compared to other tanks of similar size and material.
If you're looking for something a bit bigger, then a 20 gallon long aquarium might be better for you. These tanks are taller and can accommodate larger fish than a regular 20 gallon tank. The best 20 gallon long tank on the market is the Aqueon Aquarium 20 Gallon Long. All you need is a powerful filter, a LED lighting system, and other essential equipment to set up your first tank.
How We Choose the Best 20 Gallon Fish Tank
To create this list, our team considered every conceivable option. All of the products were picked to check all of the boxes while also meeting the standards. Choosing the proper 20 gallon fish tank might be difficult if you don't consider factors like having other pets or children in the house.
All of these items are made to last and will provide a secure environment in any scenario. All of the firms, to their credit, are well-known for their fish-related products. In any case, we took certain to conduct a background check on the firms themselves. Finally, we've compiled a comprehensive list of the best 20-gallon fish tanks on the market.
We are sorry that this post was not useful for you!
Let us improve this post!
Tell us how we can improve this post?