Whether you're just getting started or have dealt with fish for a long time, you definitely know that the tank is one, if not the most important thing when keeping fish. Just like the right home environment is important for you to keep you healthy and stress-free, the same goes for fish and their tanks. Today we'll be reviewing nano aquariums. A nano aquarium is essentially just a small aquarium. The word nano comes from the Greek word "Nanos" meaning dwarf, or in this case, small.
A mini aquarium comes with its own hardships to maintain, but overall is one of the best fish tanks to get for beginners. That doesn't mean that experienced aquarists are out of the picture though. A nano tank kit would challenge even the oldest pros of the hobby by giving them a new environment to test where the limited space can be used as a way to experiment with different aquatic species and how they work together.
Although a nano tank, this doesn't mean you're limited in the kind of environment you want to build. Tanks like this can be a nano saltwater aquarium as well as freshwater nano tanks. Now the size of the tank doesn't mean that the tank itself should be plain or uninviting.
You can find a good looking modern fish tank in all shapes and sizes. Or whatever floats your boat like a vintage tank or even a tank that promotes spiritual effects on your body and mind. You can even get it as an office aquarium to soothe your nerves while working. The point is, the possibilities are endless and there's a wide variety of options to choose from.
A small tank is perfect if you have kids or pets in your home so you won't have to worry about accidents. Also if you move a lot, if you live in a dorm or work in an office, you'll appreciate the ease of transportation and maintenance with these smaller. Without further ado, let's move on to our reviews that will lead you to the best nano aquarium.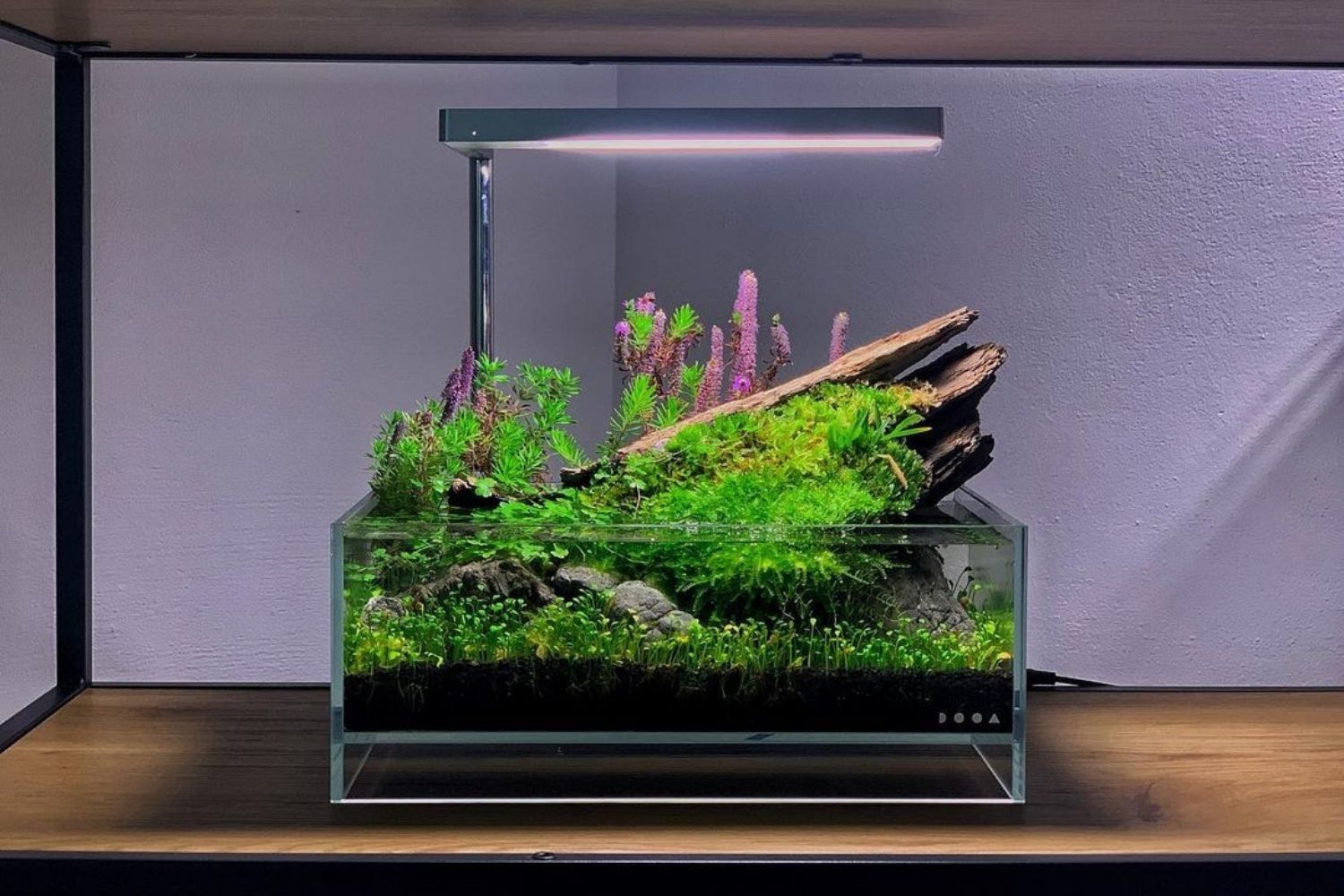 Best Nano Aquarium Reviewd
Our team came up with the best nano tanks for all your needs. Below you'll find them all reviewed and you'll be one click away from your fish's new home.
The Fluval brand has for long been known for the great aesthetics it designs and the amazing quality of its products. Fluval Flex is one of the most unique aquariums and its design and built language set this aquarium distinct from the rest.
Fluval classic curved aquarium line has an intriguing new addition, and this one is well worth seeing. This aquarium kit has a light fixture with LEDs, mobile device control, dynamic effects, and a 24-hour light timer for full control over your tank. There's something futuristic about this tank even beyond the aesthetics, what with the amazing cleaning abilities with an amazing built-in filtration system and the two separate multi-stage chambers.
This nano tank is probably the best out there in terms of aesthetics, an ideal fish tank for Bettas. Fluval Flex nano tank also doubles as a marine aquarium. A great tank that looks great and works great from a great brand, we assure you'll be flexing (pun intended) to everyone about it.
Product Specs
Material: Glass
Colour: Black and white
Filter: 3-Stage filtration
Light: Marine 3.0 LED lighting
Size options: 9, 15 and 32.5 gallons
Used as: Freshwater and saltwater
Pro
Sufficient lighting for fish and plants
Flexpad remote control
Water flow adjustment
Sleek, modern design
Con
You cant turn on/off lights if you lose the light remote
Read More: Fluval Flex Review
With a volume of 12 gallons, Fluval Edge is the perfect size for any environment or décor. Yet another tank from Fluval, which as mentioned before is well-known for a variety of reasons, including its eye-catching design and the quality it offers. This tank, for sure is one of their best.
One of the first things you'll notice about this tank is how well-made it is once you put it together. Thought and care have been put into it, to assure you a problem-free future with this tank and in a long-lasting one as well. The thing we like the most is that it accomplishes what it's meant to do and does it effectively, and even surprises you from time to time on how well it handles whatever you throw at it.
This nano tank kit includes everything you need, regardless of whether you have prior expertise or this is your first aquarium. You'll find answers to all your questions with the Fluval nano tank, and will also find all your essentials necessary to start your own ecosystem in a neatly packaged box right at your doorstep.
Product Specs
Material: Glass
Colour: Clear/black
Filter: Multi-stage filtration
Light: 6000K LED light
Size options: 12 and 6 gallon
Used as: Mostly freshwater
Pros
Well built
Upgradeable
Sturdy and age proof
Easy to clean and maintain
Quick access feeding door
Cons
You might need to upgrade the filter over time
Read More: Fluval Edge Review
Most fish-lovers will be more than happy with this aquarium. Marineland Contour houses an elegant form and curved edges that demonstrate the inventiveness behind its build. It's a sturdy, well-built device that will surprise and exceed your expectations. It provides everything you'll require to get up and running quickly and easily from design and construction to accessibility. It's a no-brainer even from a financial standpoint.
There are relatively few aquarium designs that use glass for the whole tank and this one includes even the lid. Your fish will have plenty of room to swim, with an extra place to use filtration equipment other than what's included with the aquarium. There's no denying that the Marineland Contour will be a great choice for you in every way you look at it.
Product Specs
Material: Glass
Colour: Clear/black
Filter: Marineland Rite-Size Z filter
Light: Rail light
Size options: 3 and 5 gallon
Used as: Freshwater and saltwater
Pros
Aesthetic and attractive
Everything you need in one kit It's quiet and strong
Glass instead of plastic construction
Silent and powerful filter
Cons
Incompatible with high-light-required plants
Read More: Marineland Contour Review
Because the cables and other equipment outside the tank have been nearly eliminated with the new Fluval Spec V generation, it's a far more slick-looking design. It has a clever method of concealing all of the aquarium's essential equipment in a canister. It's also more resistant to wear and tear, has brighter lighting, and has a more effective filter system than the previous model.
The Spec V is a fantastic option because these newer models come with upgrades to the tank's quality and aesthetics. Fluval Spec V's primary selling point is that it's an all-in-one aquarium that also happens to be on our best fish tank for goldfish. It's highly attractive due to its sleek appearance and has a great filter and flow adjustment.
The LEDs are also top-notch and you won't find anything to complain about with this one. Go wild and be sure that this tank will live as long as you and maintain the quality and shine from day one.
Product Specs
Material: Glass
Colour: Clear/black
Filter: 3-Stage filtration
Light: LED light
Size options: 2.6 and 5 gallons
Used as: Freshwater and saltwater
Pros
High quality LED light and filtration system
Durable etched glass
Beautiful and very compact
Water flow adjustment
Cons
The filter is difficult to replace
Read More: Fluval Spec V Review
Fluval Chi aquarium has everything you need in a compact package. With the appropriate decorations, it may look lovely and last for years as a fish tank despite its humility. Fluval and their eye for aesthetics hit again with this tank that will catch everyone's attention.
This tank was built according to the ancient Chinese tradition of feng-shui, which uses energy forces to balance individuals with their environment adding more to the design and the conceptuality that Fluval offers. Irrespective of your spiritual beliefs, the waterfall, and ambient noises make this a soothing experience for everybody.
You can't ask for anything more from a purchase than a fantastic tank at excellent pricing. This would even be a great idea as a housewarming gift or for your extended family because of how much of a fancy vibe it gives.
Product Specs
Material: Glass
Colour: Clear/black
Filter: 3-Stage filtration
Light: LED light
Size options: 5 gallon
Used as: Freshwater
Pros
High-quality anti-scratch glass
Suitable for starters
Affordable and lightweight
Great lighting system
Convenient size
All in one aquarium kit
Cons
Limited number of fish and plant species it can store
Requires constant vigilance to observe water changes
Read More: Fluval Chi Review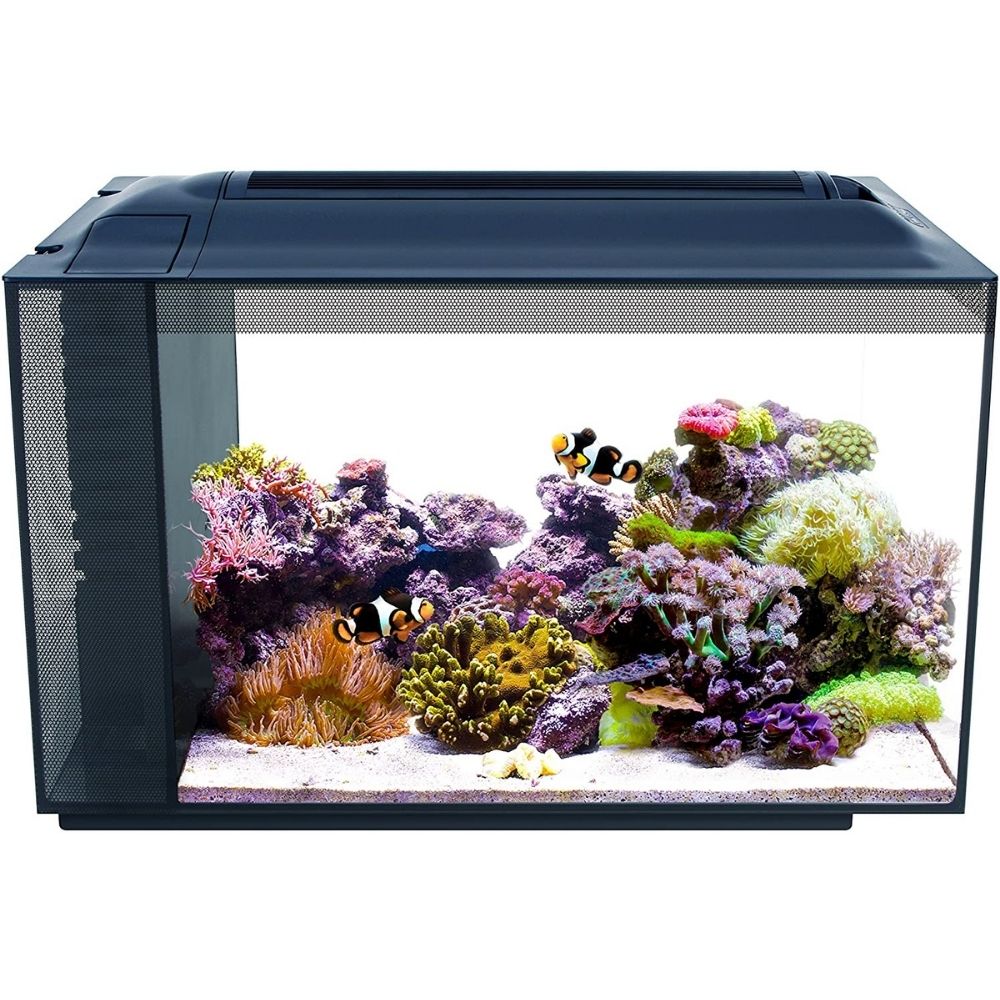 The Fluval Sea Evo is a glass aquarium that comes with everything you need and it's easy to set up whether you're the one putting it up or your kids. Evo may be used in a variety of locations, enhancing their aesthetic appeal while also offering a wonderful habitat for your fish.
Since it has such a sleek and modern design, the Fluval Evo saltwater aquarium kit will look fantastic in just about anywhere in the house. Unhindered views from both the longer and shorter sides are provided by the design, which is great. Because of the many viewing angles provided by the Fluval Sea Evo, there is an unlimited choice of places where you may set it.
The lighting on the Fluval Sea Evo is amazing. In order to promote coral growth, this model has a built-in LED light source. Additionally, as this is a marine aquarium, you are free to utilize whatever type of coral you choose, including LPS and SPS. And keeping it is no different than maintaining any other tank, no additional stress is required. This will be a delight to have at home and everyone will definitely love it.
Product Specs
Material: Glass
Colour: Clear/black
Filter: 3-stage filtration
Light: 11000K LED light
Size options: 5 and 13.5 gallon
Used as: Saltwater
Pro
Great light for any type of coral
Comes ready to set up
Modern and stylish
Great 3D looking
Con
Needs upgrades on pump and heate
Read More: Fluval Evo 13.5 Review
Advantages of a Nano Aquarium
First things first, let's start with the benefits and advantages of having a nano aquarium.
The Cost
Concerning the nano tanks' size, capacity, and construction material, it is considerably less expensive than a larger tank. Other than that, you won't have to spend money on things like decorations, more pumps, or even a lot of lighting.
Since the space is limited you won't have to worry about adding a lot of stuff to the tank to fill it up. With the money saved by purchasing a nano aquarium, you can go ahead and choose some decoration for it. SpongeBob fish tank decorations are the best you can go with. These decorations are small and a perfect fit for nano tanks.
You won't even need a tank stand which is necessary for larger tanks due to the large weight. It's a low-expense product that won't hurt your pocket.
Time Spent
When it comes to taking care of a living thing, it usually takes up the majority of your day and routine. Nano tanks are virtually built for individuals who aren't really up to the idea of spending the whole day either taking care of something or worrying about taking care of it.
You may still be proud of your cute little fish without the need to spend several hours a day caring for the aquatic life living in it. Even the water change won't be an issue with this setup although that's normally a chore for aquarists. If you have a tight schedule on your day or even if you aren't home most of the day, owning a nano fish tank will be the choice for you and will definitely not take up much of your time.
The Weight
The 20-gallon and larger aquariums are particularly hefty and oftentimes that turns into a hassle if you change your mind about the interior design way too much or you just move around a lot. Lifting a bigger tank needs quite a bit of work, not to mention it can turn dangerous real quick. They're easy to drop and they can be dangerous around kids or pets.
Medium-sized and larger aquariums also need fish tank stands, you need to worry about their weight capacity and other things that will make everything time-consuming and tiring if you don't have the right means.
The weight of a nano tank, on the other hand, is negligible for most pieces of furniture, therefore it won't be an issue. Additionally, smaller tanks are easier to shift or even carry if you're on the road a lot.
The Space They Occupy
Nano fish tank owners don't have to worry about space. As the name suggests, nano tanks won't be a hassle to move around or find a space for so you won't have to be concerned about their whereabouts or scared someone's going to accidentally throw them off.
Honestly, anywhere around your house or office is acceptable as long as it's in your line of vision. Just make sure you don't place it in the ground so things accidentally fall in it and even to avoid mishaps such as other people, or even you in a hurry might trip over it.
Disadvantages of a Nano Aquarium
Does nano aquarium sound like a good fit for you? You must know the disadvantages before making up your mind.
Overstocking
If you overstock a nano tank, you run the danger of damaging the ecosystem you put together. As fish owners, we are responsible for their lives and shouldn't make compromises with their well-being just because it looks good.
If you want your fish to be healthy and live a long time, you need to make sure they have adequate room to move around and enough space to keep their daily routine without confusing or stressing them out. This may be a small restriction in terms of your personal aesthetics, but it's critical for your fish.
Our Verdict
Overall, you won't be dissatisfied with any of the nano aquariums on this list. No situation will be beyond your ability to handle with so many alternatives at your disposal. The Fluval Edge is an excellent pick if you're more mindful about the visual aspect of your setup. A budget-friendly option with everything you need, the Marineland Contour is the right decision for you. However, the one tank that checks all the boxes a nano tank should is the Fluval Flex.
It's the one we couldn't just rate it first due to the amazing performance it delivered. The most important thing to remember is that all of these items were created to benefit you, your mission, and your fish. Just because something appears appealing to the general public doesn't mean you should feel obligated to have it.
After all, we do all this for our fish and to keep them healthy and happy, and the tanks above are sure to accomplish that. We hope that we helped you in making the right decision and that your fish will soon be in their forever home.
How We Choose the Best Nano Aquarium
It took for our team to go through many, many products that were available, choose the ones that we found more attractive, review them, and come up with the ultimate list of the best nano aquariums. Each and every product was selected with the help of our years of expertise in fishkeeping and with the purpose of not only fulfilling the industry standard but also going past most people's expectations and needs to a free-of-trouble experience.
We've considered factors like having other pets or children in the house, as well as other issues that might arise if you don't pick the proper tank like your fish getting sick or stressed to the point of dying. All of these items are made to be durable and reliable so that you can rest easy no matter what happens.
All of the producers are reputable and have a solid reputation in the fishing industry thanks to their previous products. It's really important for your fish to have a good house, just as much as it's important for us humans. Finally, after all our research we've compiled a definitive ranking of the best nano tanks available right now just a click away, and we're confident that not only will it make your fish and you happy, but will also give you a little peace of mind.
What Equipment does a Nano Aquarium Need
Even tho the aquariums from the top pics list has everything included, there are other essential equipments you will need for your first nano tank.
Heater
Fish can't actually control their body temperature on their own; they rely on the water to do it for them. Especially if you want to keep tropical fish like Powder Blue Tang, you are going to need a heater to regulate the water's temperature to keep your fish at the right temperature.
Hygger Submersible Mini Aquarium Heater
Best heater for nano tanks
Digital display
Compact
Built-in thermometer
Auto stop heating
CHECK PRICE
Some adjustable heaters let you regulate the water so that it stays to the ideal for most tropical fish temperature, which is between 75°F and 80°F. Our heater of choice would be the Hygger Submersible. It's adjustable, with a built-in thermometer, and easy to use so you won't accidentally boil your fish. This one checks all the boxes so make sure to get one asap.
Light
Although some tanks will have their own lighting, sometimes you have to purchase it on your own. Lights are really important for your fish's biological cycle and also their health. Most fish species require lights to imitate the natural day/night cycle. Also, most people opt to keep live plants in their nano tanks so lights are essential to the growth of plants. On a nano tank, we like to grow Dwarf Baby Tears because it has a slow growth rate.
Hygger 9.7 Inches Blue White LED
Best light for nano tanks
Sleek design
Two lighting modes
Super bright
Easy to install
CHECK PRICE
Having lights in your aquarium also has the advantage of making your fish more visible and giving you more space to notice any issues or illnesses. Either way, besides all of this, a tank just doesn't look the same without the lighting. Our LEDs of choice are the Hygger 9.7 Inches Blue White LED and they make a fantastic job with all tanks. They're everything you could ever think of when choosing the perfect lighting and you're sure to love them.
Substrate
Gravel or substrate is the layer you see on the bottom of tanks. The substrate is not necessarily required or preferred by all fish and plants, although the majority of ecosystems not only need it for the usual reasons but also to grow plants and provide for a more natural habitat. To ensure your fish gets the nutrition they need, you should be mindful and choose healthy options for your fish that are simple to clean and give the right amount of nutrients.
ADA Aqua Soil Amazonia
Best substrate for nano tanks
Plant-based soil
Lower pH level
Lower hardness
Best for plants
CHECK PRICE
Just like humans are serious about maintaining the roads we step in, your aquatic friends need the right ground for their health and wellbeing. Besides, it also gives it away better look in my humble opinion. Our substrate of choice is ADA Aqua Soil Amazonia. It's great for your fish, easy to clean and maintain and you won't even think about changing to another one for a while. It's a good product made with good materials that many of you will appreciate.
We are sorry that this post was not useful for you!
Let us improve this post!
Tell us how we can improve this post?