If you're on the look for a small fish tank yet big enough to fit more than one fish that can also sit smoothly in your house or office, you clicked on the right place. The Fluval Edge is not just another glass aquarium that looks like the bowl from Nemo. This tank is one of the best fish tanks out there, made by people that actually care about this stuff.
Best 6 and 12 Gallon Fish Tank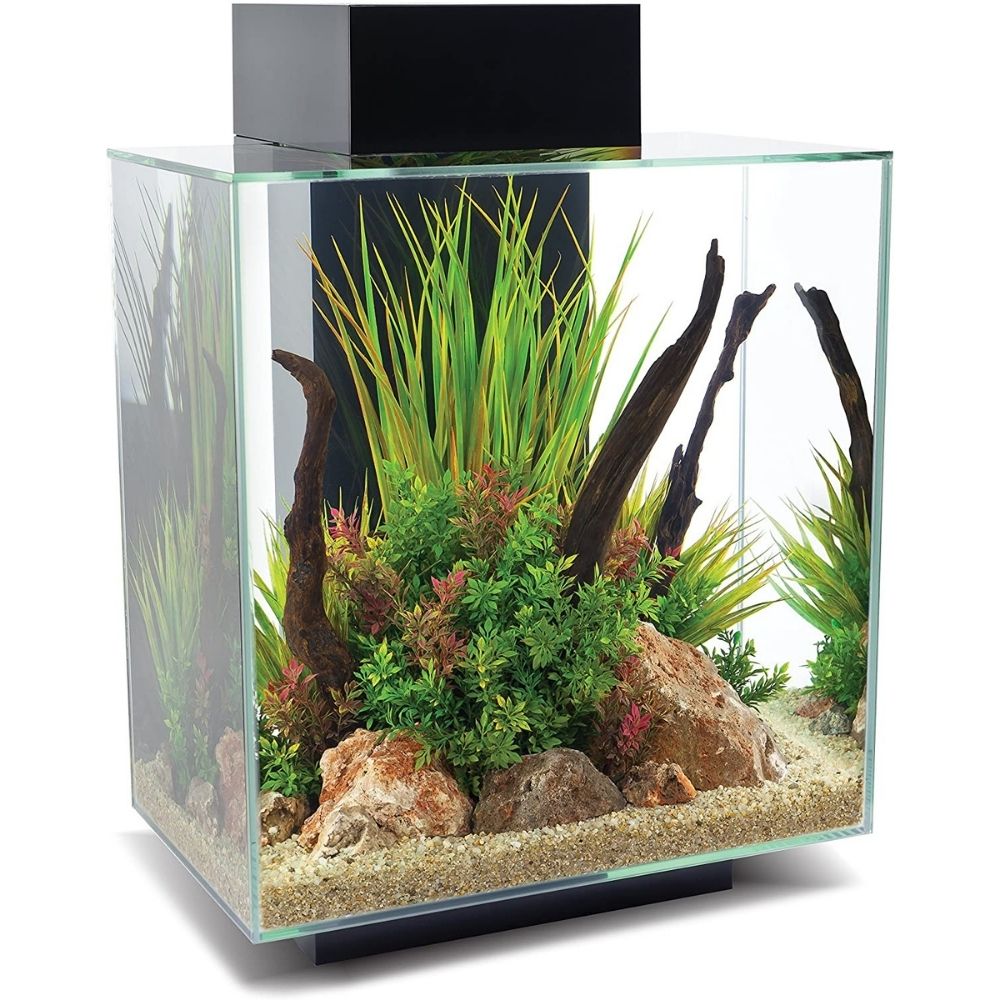 Fluval Edge 6 and 12 Gallon
Stunning aquarium with integrated filter and LED light. Fairly simple to set up and to maintenance which makes it deal choice for you home or work space even if you are a beginner.
Adjustable flow
Integrated LED light with Day/Night mode
Quick access feeding door
Recessed base creates a floating tank effect
Included light is only suitbale for low to medium light plants
If you've been handling fish before, or you know someone who has, they'll undoubtedly tell you of a pretty neat Fluval fish tank they once owned. And it doesn't really take an expert to notice the care and thought behind this product and how finely it's been manufactured to offer you and your fish the best possible experience.
It's rock-solid, beautifully designed, and priced in such a way you'd think you're getting scammed until you get the product in hand. A modern fish tank with years of experience put behind it is a dream come true with the Fluval Edge. Not to mention that this is a nano tank kit, meaning you have everything you need in the box, with the original price. Insane right?
The review of this tank will give you what you have to get down before making this purchase and deciding if this is the best choice for your scenario. We doubt you can ever go wrong with this choice. However below you'll find details for the Fluval Edge aquarium and everything that leads to its purchase.
| | |
| --- | --- |
| Walls Material | Glass |
| Shape | Cube |
| Color | Clear/black |
| Style | Cube |
| Size Options | 6 / 12 Gallon |
| Light | 6000K LED Light |
| Filter | Multi-stage filtration |
| Heater | No |
| Air Pump | Yes |
| Lid | Yes |
| Accessories/Decor | No |
| Require aquarium stand | Yes |
| Used as | Freshwater and saltwater |
| Extras | Quick access feeding door |
Fluval Edge Overview
This Fluval fish tank is 12 gallons, which is neither too big nor too small, making it an excellent piece for all situations or interiors. The Fluval company is known, among other things, for its unique aesthetic and value for money. Indeed, this tank isn't left behind. Several things catch your eye right the second you put it together, the main one being how incredibly well crafted this tank is.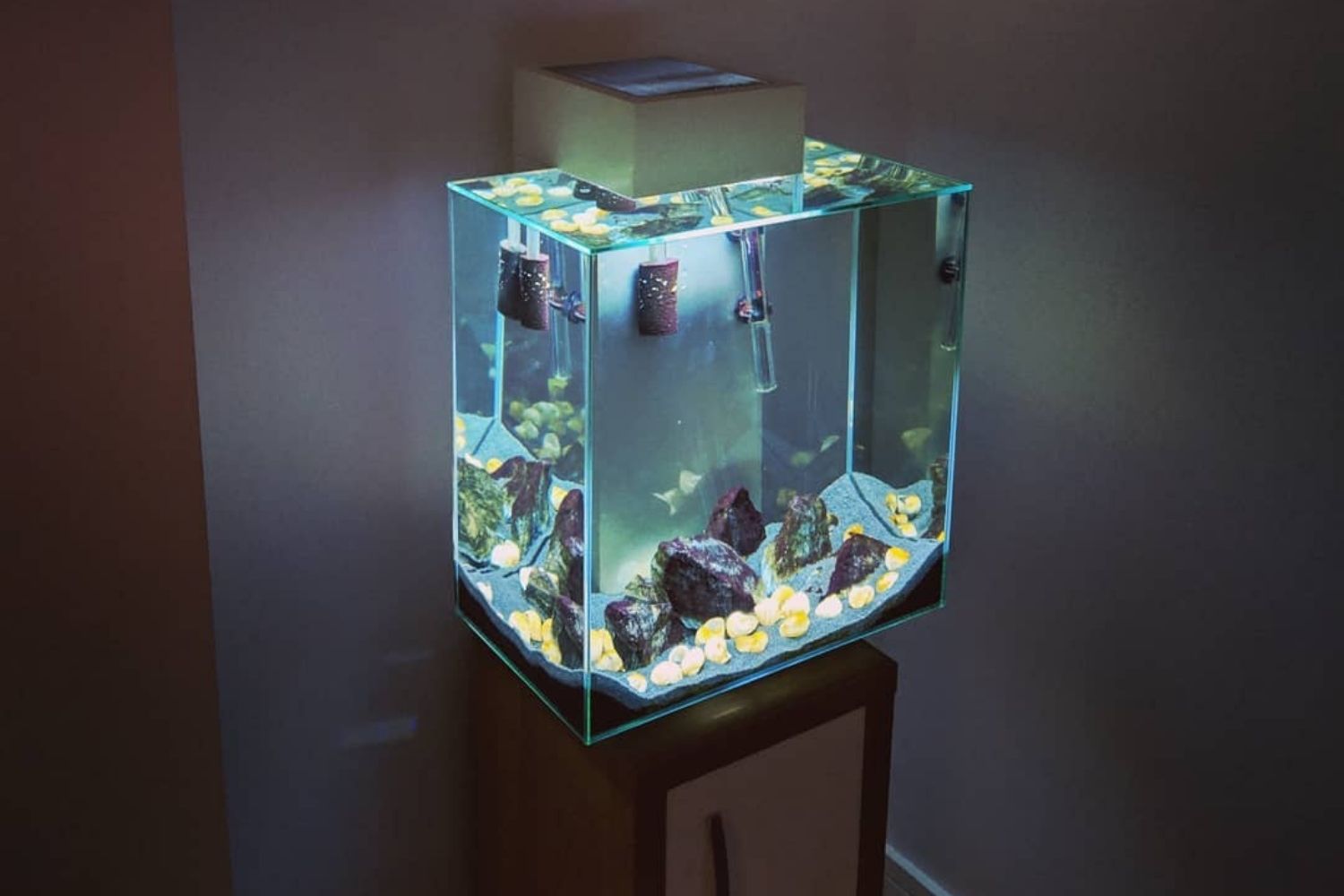 You can tell the thought and care behind it, which always contributes to a long-lasting product that will serve you well and not arise unnecessary problems. It does the things it's supposed to and does them well with room to spare for other benefits and perks.
This nano tank kit comes with all equipment you need, whether you're setting up your first aquarium or you have earlier experience when it comes to fish care. Below you'll find explained all you might be wondering about this Fluval nano aquarium that will adhere to all your necessities in a small, well-packaged box.
Fluval Edge 6 Gallon Version
Now, before we get started with the big guy, just in case you deemed it too big for your needs, there's always a 6-gallon version. Obviously, it won't hold as much as the 12 gallons, but it does the work the same and is built with the same care and thoughtfulness.
Fluval Edge 6 Gallon
Best 6 gallon tank for Bettas
Rectangular shape
Ideal size for Bettas and Shrimps
Powerful filter
6000K LED light
CHECK PRICE
Most of the things are relatively the same besides the dimensions, which go by 10.24 x 16.93 x 17.32 inches. Other than that, the weight (8.62kg) and the overall size of things being smaller to suit the tank's size, you'll have the same experience either way.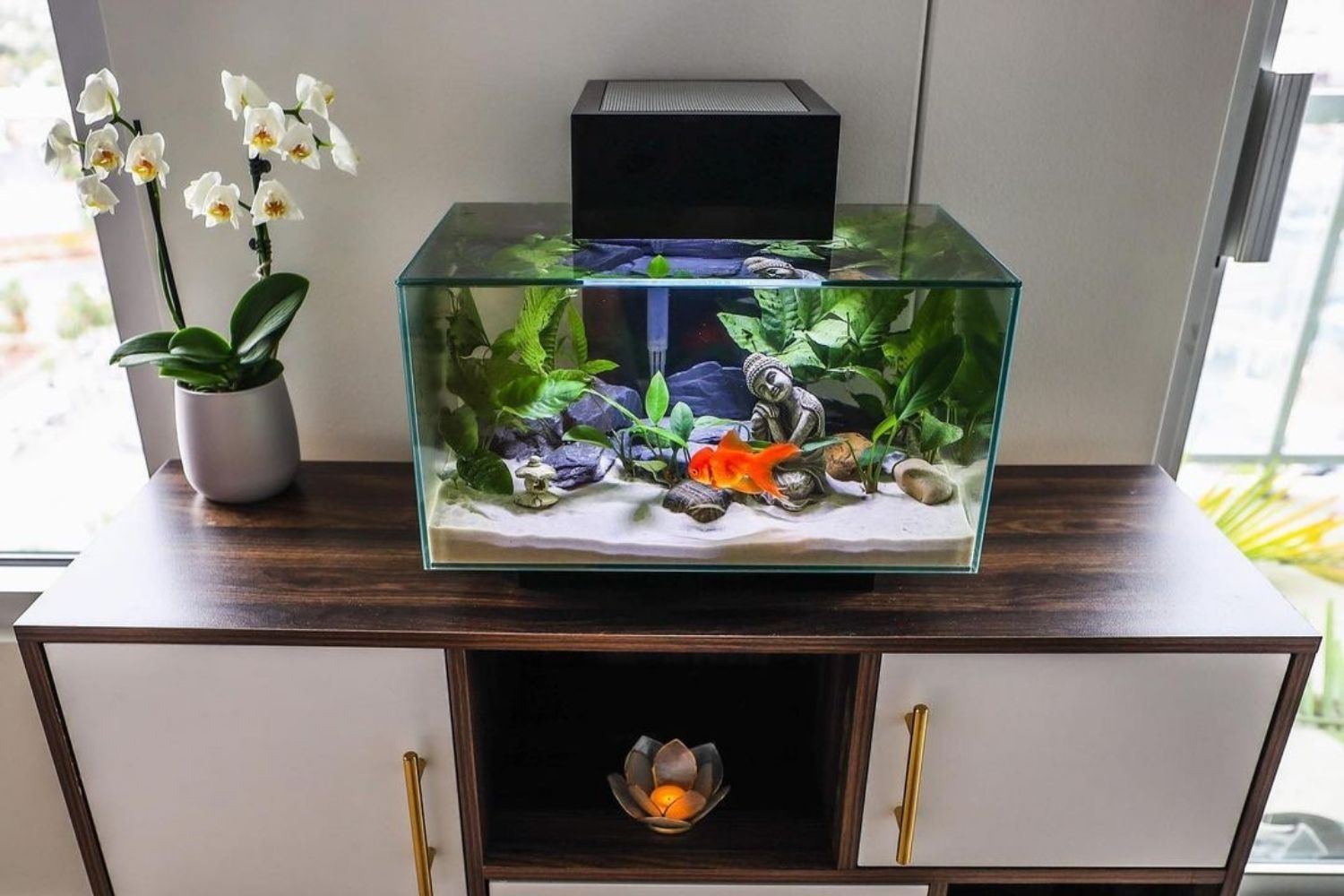 The shape is rectangular, meaning it fits in most spaces comfortably, taking its small size into account. As said earlier, this is for people who don't need a big tank or have much fish to hold, meaning this wasn't meant for everyone. However, if the size fits your needs, rest assured you'll have a fully functional tank with a great aesthetic built with care and quality materials.
What's Included in the Box?
We said earlier that Fluval puts much thought into what they deliver, and the unboxing is surely an experience. You can tell the quality level and the uniqueness of the design language right away.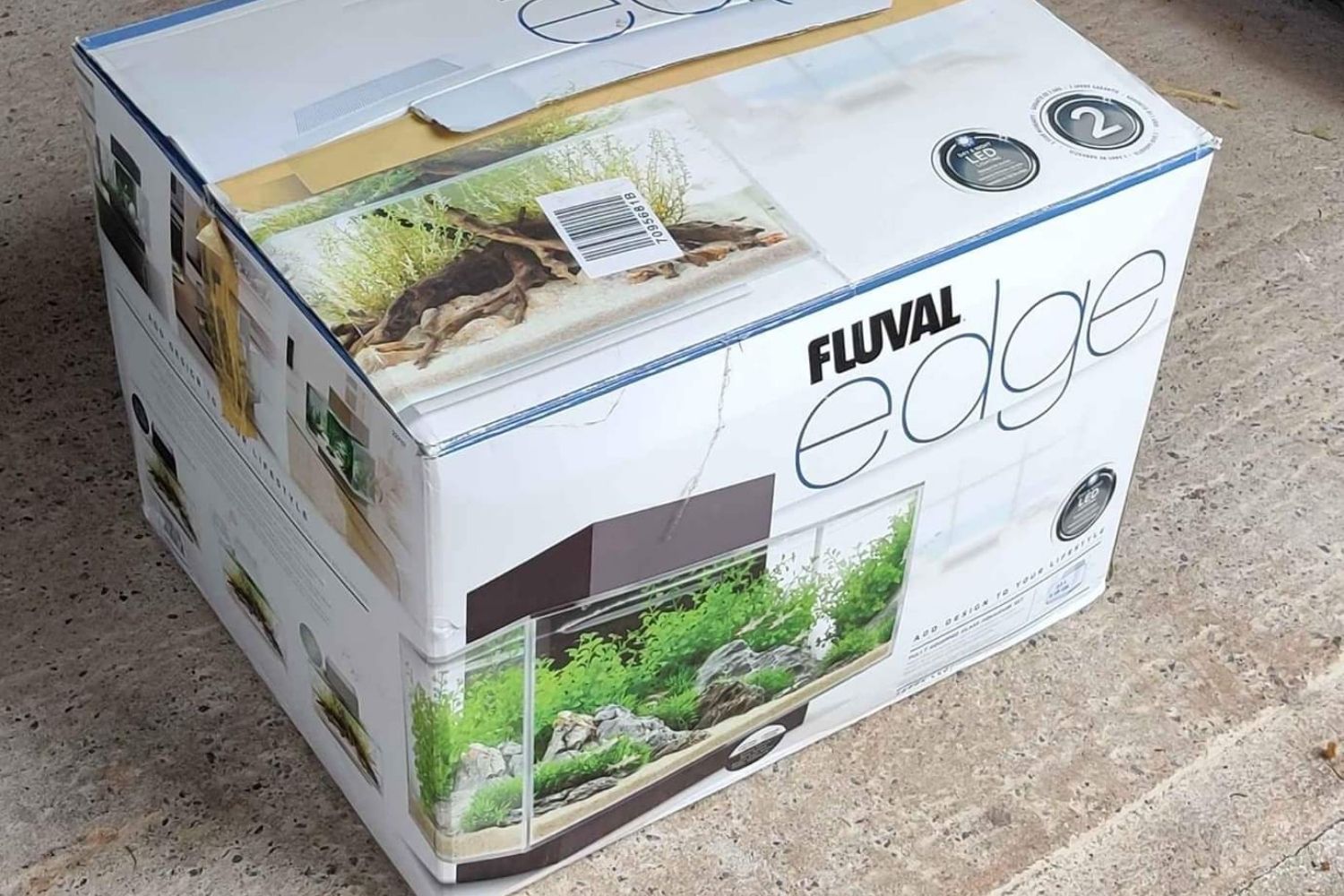 Like most others from the same manufacturer, this product is rotated around aesthetics. However, this doesn't leave other aspects behind. There are some real quality products included in the box, and they each are custom-made to fit your aquarium perfectly, not only in size and overall vibe but also matching in quality and ease of use. The list of products that come along is as follows:
The tank
The filter (Multi-stage filtration)
The pump
6000K LED light
The classic edition of what a tank should absolutely come within a Fluval-esque style is the best thing you can do for your fish.
Key Features of Fluval Edge
This product is made for experienced fish-keepers and beginners alike, and our review will hold on to that standard. Below you have all you need to know about this tank that will help you make this purchase no matter your knowledge on the subject.
Design of The Tank
With a sleek and contemporary design, the Fluval Edge fish tank has glass on six sides, so you can appreciate your fish from all angles and showcase them to all guests, no matter where they're coming from. As we're well aware, Fluval is known for its excellent-looking tanks that have unique aesthetics and clean looks.
What we like about Fluval Edge is that you can have the option to choose between 2 different designs. You can go with the 6 gallon version that has a cuboid design, or if you like cube aquariums (like me), you can choose the 12 gallon version.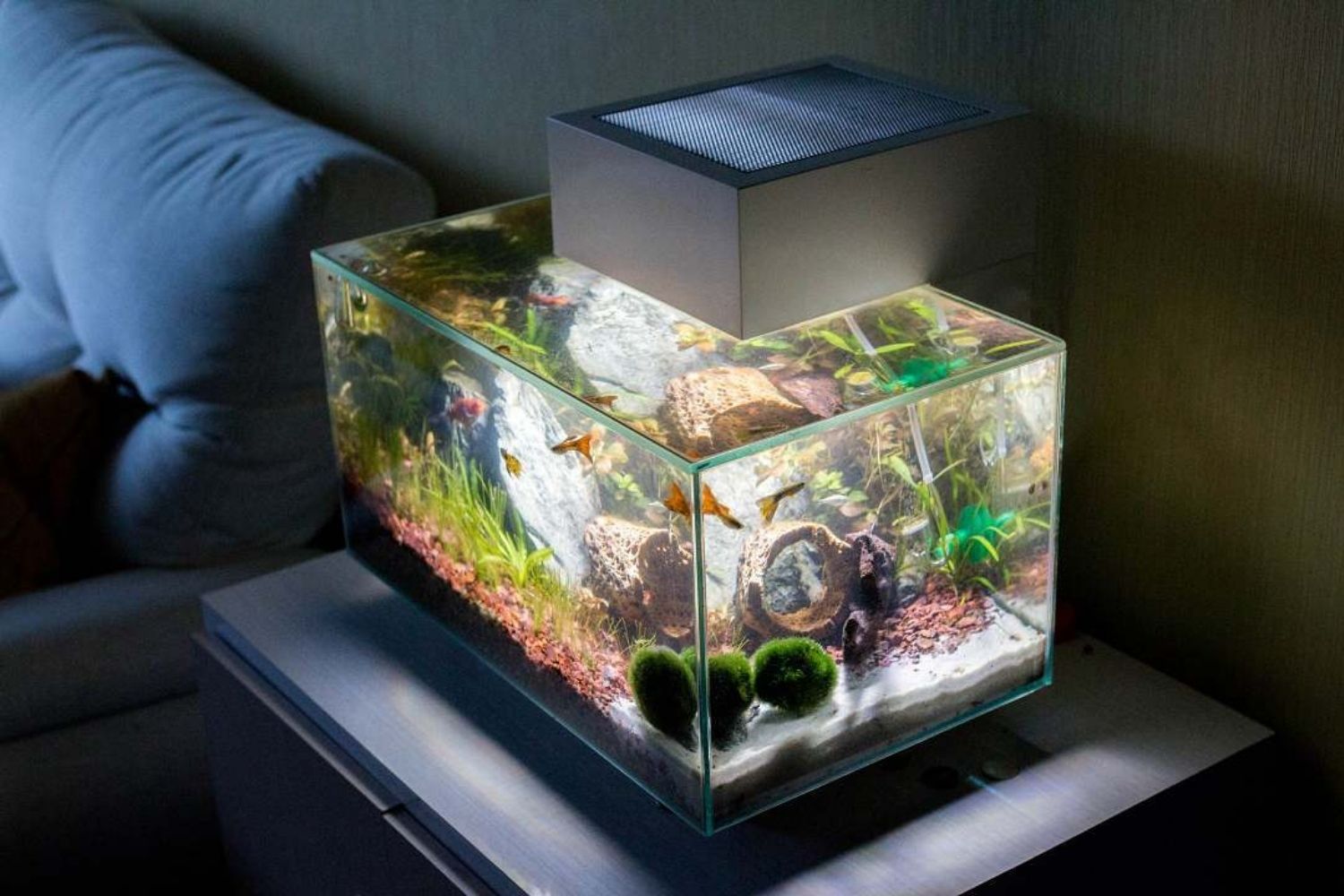 The Fluval Edge aquarium rests on a color-matching base with the other components of the tank. Equipment and unattractive wires are hidden as the base, and a rear panel connects the hood. There are quite a few color choices. However, the black base is a classic. The easiest to match with your home décor and the best to emphasize the colors on the inside of the tank, showcasing your beautiful fish, decor, and other sea creatures on it.
Filtration System
The Fluval Edge 6-gallon aquarium includes a motorized filter that hangs on the tank's rear. The power filter is hidden behind the back panel that joins the base and hood. The filter is extremely strong and quite silent. It filters the water three times in a mechanical, chemical, and biological stage to ensure a clean and healthy habitat for your fish and shrimp.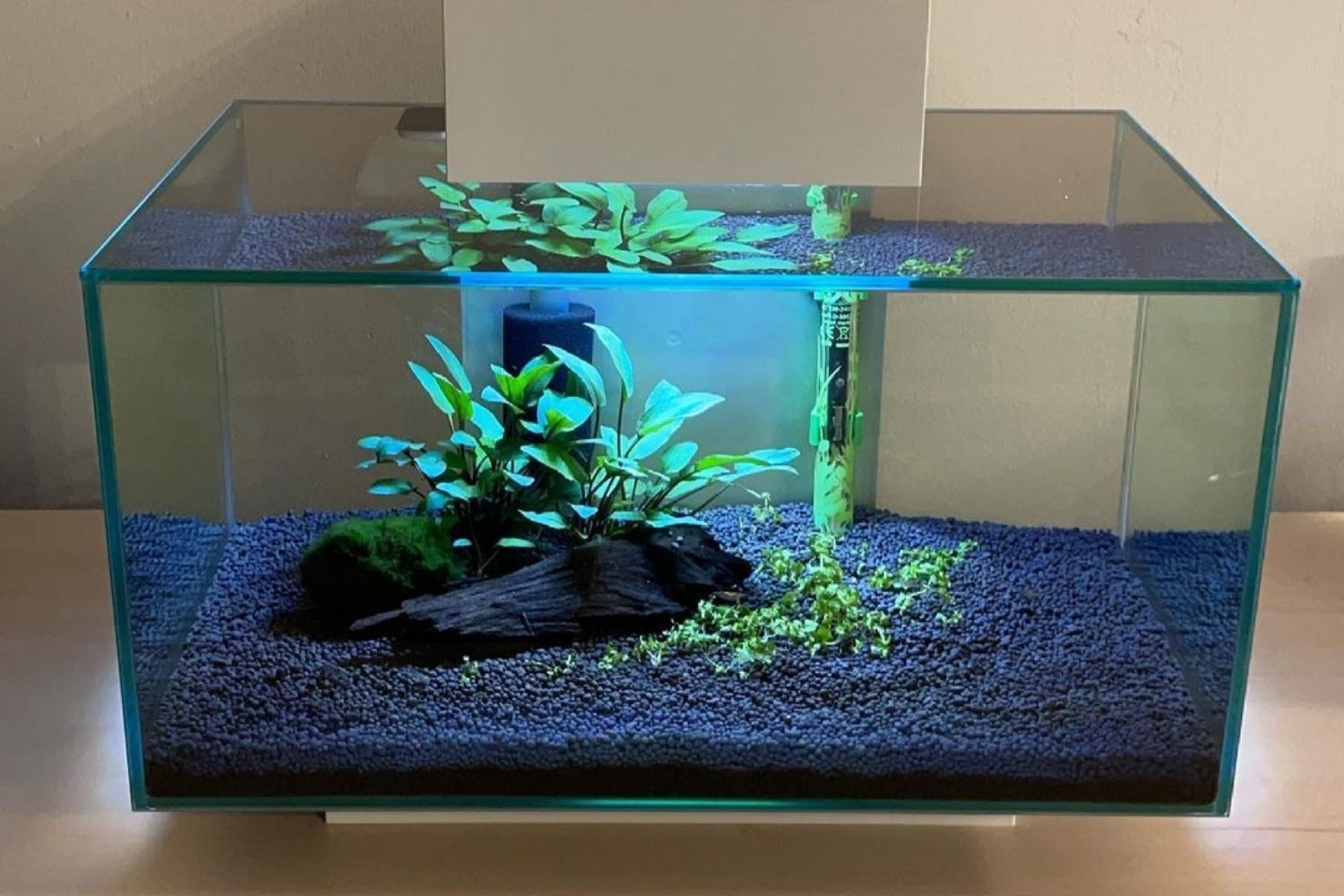 Furthermore, the filter facilitates correct gas exchange and gives an adequate oxygen level for the fish. The filter is so silent that you may install the tank anywhere in the house, even in your bedroom, if you deem it right.
Lighting System
A vital white 7600 K LED light, and a deep blue night-time LED light are incorporated into the lid for daytime and nighttime illumination. Using a three-position switch, the lighting system may be switched between brilliant daytime, deep blue nighttime, and off to create a good system for your fish that boosts their natural cycle.
Having a tank with plants will be easy exactly because of the brilliant white daylight setting. There's a gentle water flow generated by a filtration system that enhances the interior's attractiveness. All together with the lights, it makes for an incredible visual experience that's sure to give you a unique mix of comforting feelings.
Set up and Maintenance
Assembling the Fluval Edge takes only a few minutes. By the time you've opened the instructions, with a little multitasking, you'll be able to set it up on a whim with no problem. Everything snaps together, and the last thing to do is slide the tank in the stand.
As for maintenance, there's not much to do, or at least nothing more than any tank, and less than most of them. Make sure to follow general aquarium maintenance for your aquatic life.
The cover can be removed for simple cleaning, has quick access to the filter, and also prevents the aquarium from overheating.
You might find the pump kind of loud, but if you put marine-safe silicone lubricant on the pump, the pump's volume will decrease with time. Aside from its visual appeal and functionality as a fish tank, it's an excellent investment for it won't take funds over the years for it's age-proof and unless you physically slam it to the ground, it won't get damaged easily.
Must-have Products for Fluval Edge: Mods and Upgrades
Now, although this is an incredible product with all you might need right on the box, there are people with different standards and with their own silver linings when it comes to such things. To those we say no worries, we got you here too.
In case you have some needs you haven't found properly taken care of on what we mentioned above, below you'll find several ways to further enhance your tank. From filters to magnets, the best of what you can possibly need is right below.
Filter Upgrade
Don't get me wrong, the filter on the tank is already an amazing option, and most won't feel the need to upgrade. However, for a little more power the Eheim Classic will exceed all your expectations.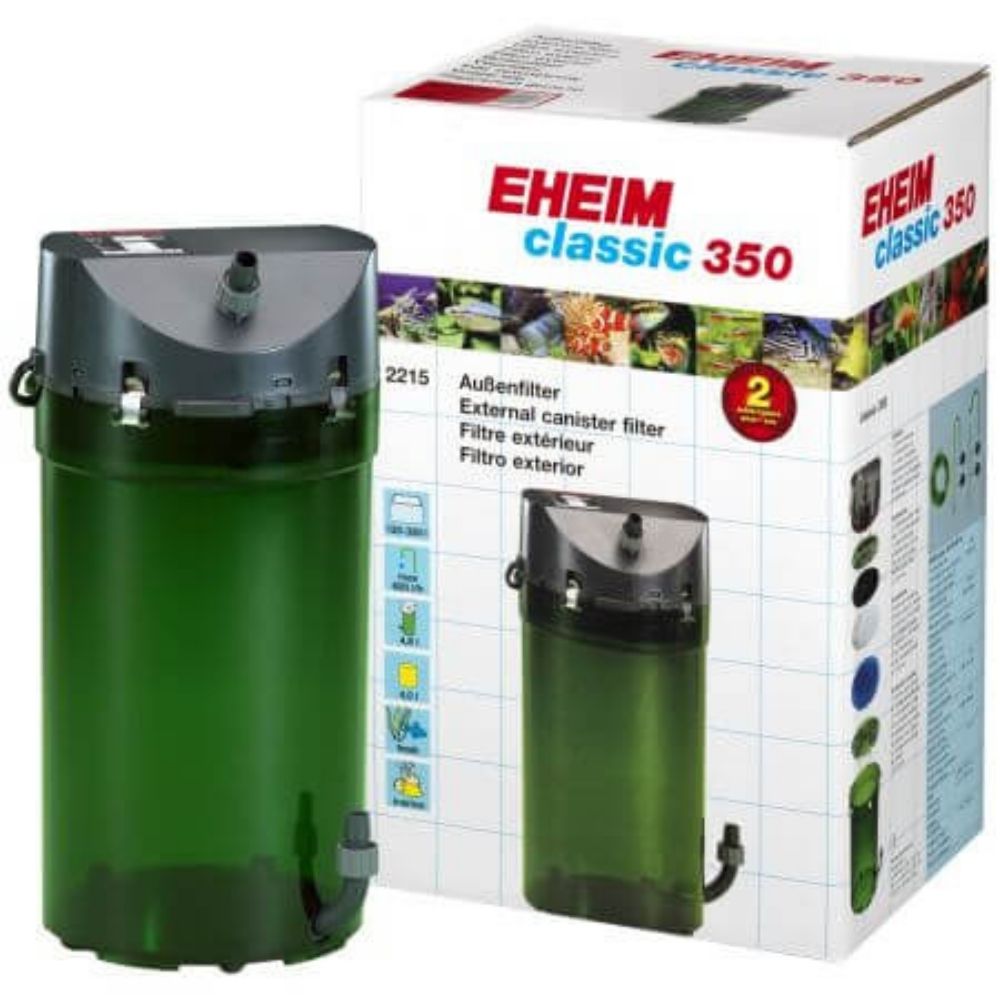 EHEIM Classic Canister Filter
Best filter upgrade for Fluval Edge
High flow rate
Easier to clean
Priming pump
Accessories included
CHECK PRICE
This is a complete kit with filter media, tubing, intake, return pipes, and double isolating valves, so it's pretty much all you might need. The quality is noticeable right away, your water will be crystal clear in just a couple of hours, and it will keep that up with no problem whatsoever.
Fluval EDGE Algae Magnet
Normally, algae tend to accumulate in fish tanks, especially on glass surfaces at the tank's bottom. Now besides the functional problems, that's also aesthetically unpleasant, so it makes sense to find a way to fix that that's not time-consuming at all.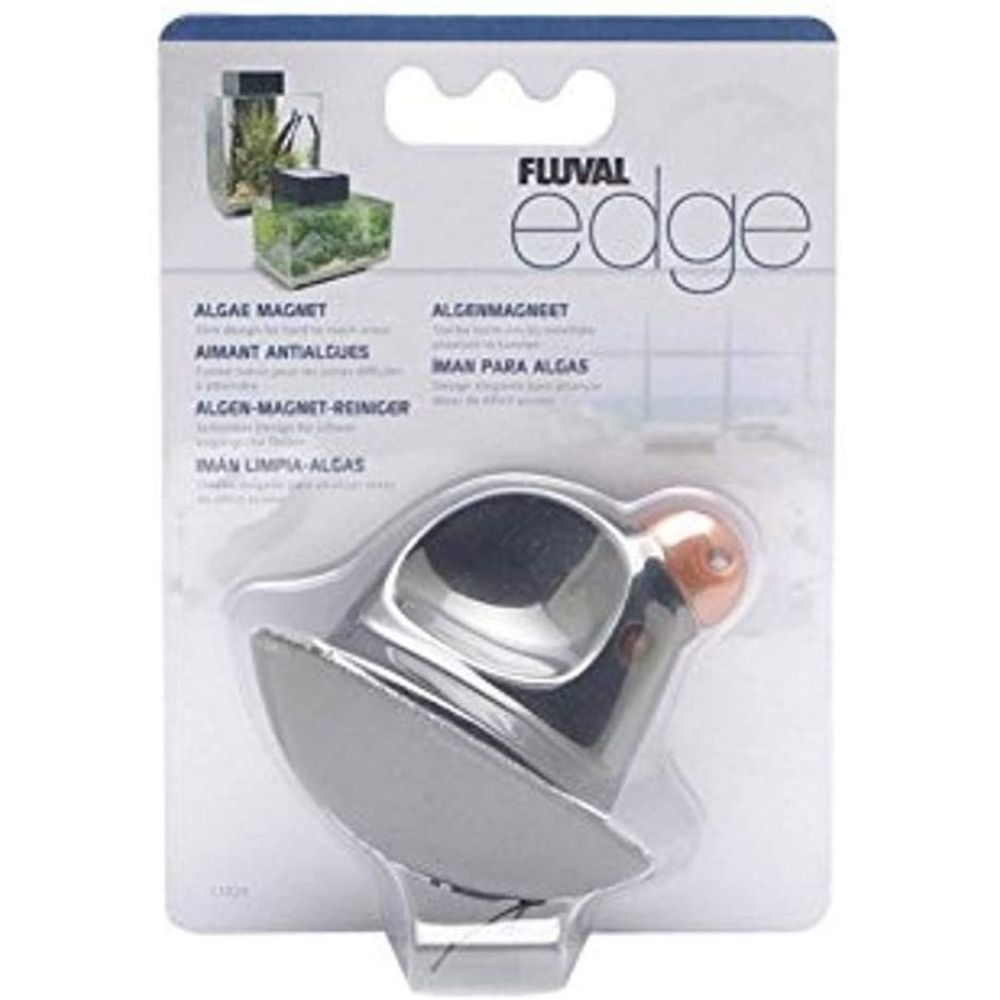 Fluval EDGE Algae Magnet
Best magnet cleaner for Fluval Edge
Powerful magnet
Slim design
Essential accessory
No scratch on glass
CHECK PRICE
This aquarium magnet cleaner will come to the rescue. Algae is easily removed using Fluval EDGE Algae Magnet, which works by using a unique magnet to attract the algae to make cleaning as simple as possible. With a big pad and a recovery thread in case you drop it, it's easy to collect algae, even for the clumsy people out there. Who knew that one day an algae magnet would be a damn good reason to smile.
Fluval Edge Gravel Cleaner
This is a great thing to use with your new aquarium, and it'll get you excited as if you bought a Christmas gift. You know you're really getting into fish when clear water gets you hyped. And fairly, when it comes to cleaning fish tanks, it's important to get rid of things like algae and biowaste in order to prevent the water from being polluted and the effects to play on the fish.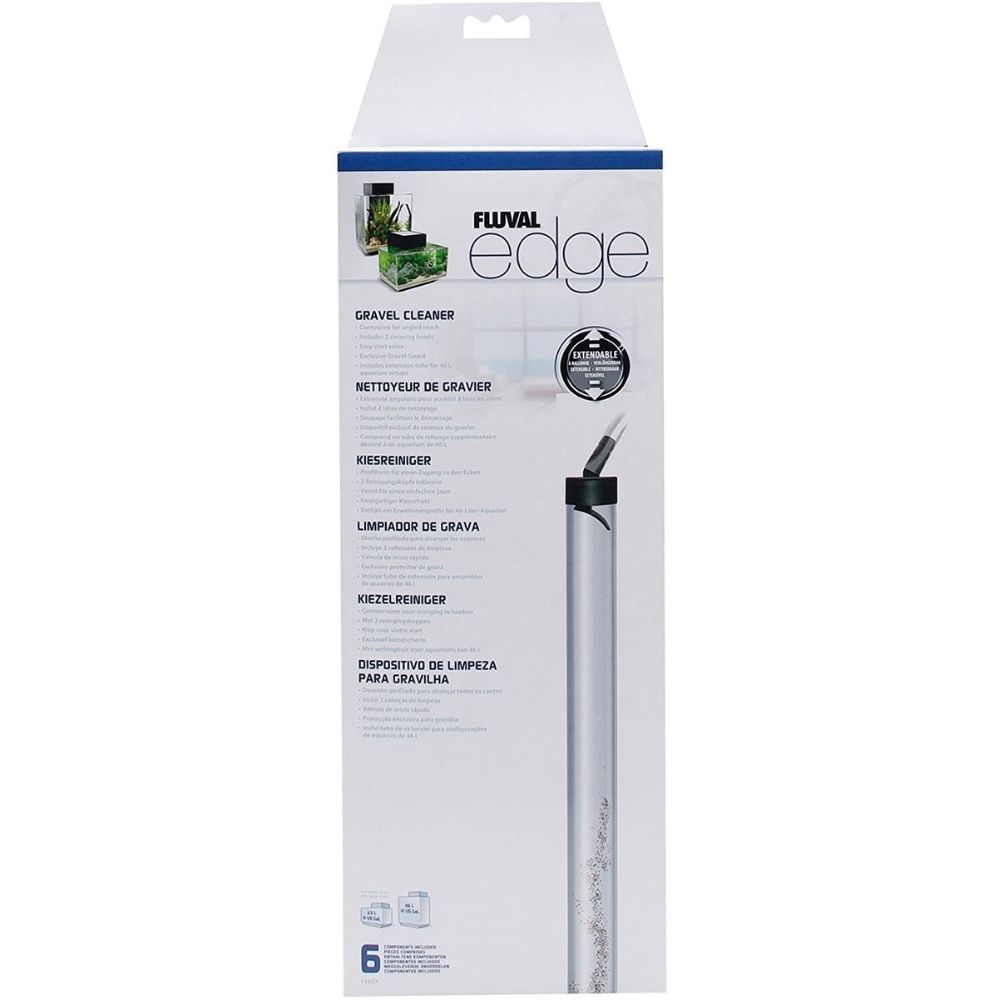 Fluval Edge Gravel Cleaner
Best gravel cleaner for Fluval Edge
Easy to use
Best budget
15 inch long tube
+ 15 inch tube
CHECK PRICE
A gravel guard prevents the substrate from being sucked up along with the algae and fish waste, making Fluval Edge gravel cleaner ideal for decorative and planted aquariums.
Airflow is activated by a simple on/off valve, and it contains many feet of tubing, two cleaning heads. We're a sucker for all-in-one kits, and this is perfect for what it does. Coping of these is a must for any Fluval aquarium and anyone who finds themselves worrying about the water's clarity, and with good reason.
Fluval EDGE Carbon Clean & Clear Renewal Sachets
As mentioned above, for your fish to thrive, you'll need to keep their environment clean. Every four weeks, Fluval EDGE Carbon Clean & Clear Renewal Sachets must be changed, with no maintenance required during that time period. It's such a great product that gives you peace of mind and only takes minutes to change when necessary and is sure to keep the tank every day of those weeks.
Fluval EDGE Carbon Clean & Clear Renewal Sachets
Best carbon filters for Fluval Edge
3-Pack
Premium grade carbon
Cheap and fits well
Great price
CHECK PRICE
Water contaminants and toxins are removed from the water with the use of high-grade carbon pouches, which operate by absorbing the poisons as they are created. They come in 3-pack, they're quite handy to use, they don't break the bank and bring great value per money considering how long one of these lasts.
Conclusion
As a fish owner, it's reasonable that you'd want to provide the best possible environment for your aquatic pets, but that doesn't mean it's a simple process. After a long and winding road, we hope that we have helped you make an important decision.
Best 6 and 12 Gallon Fish Tank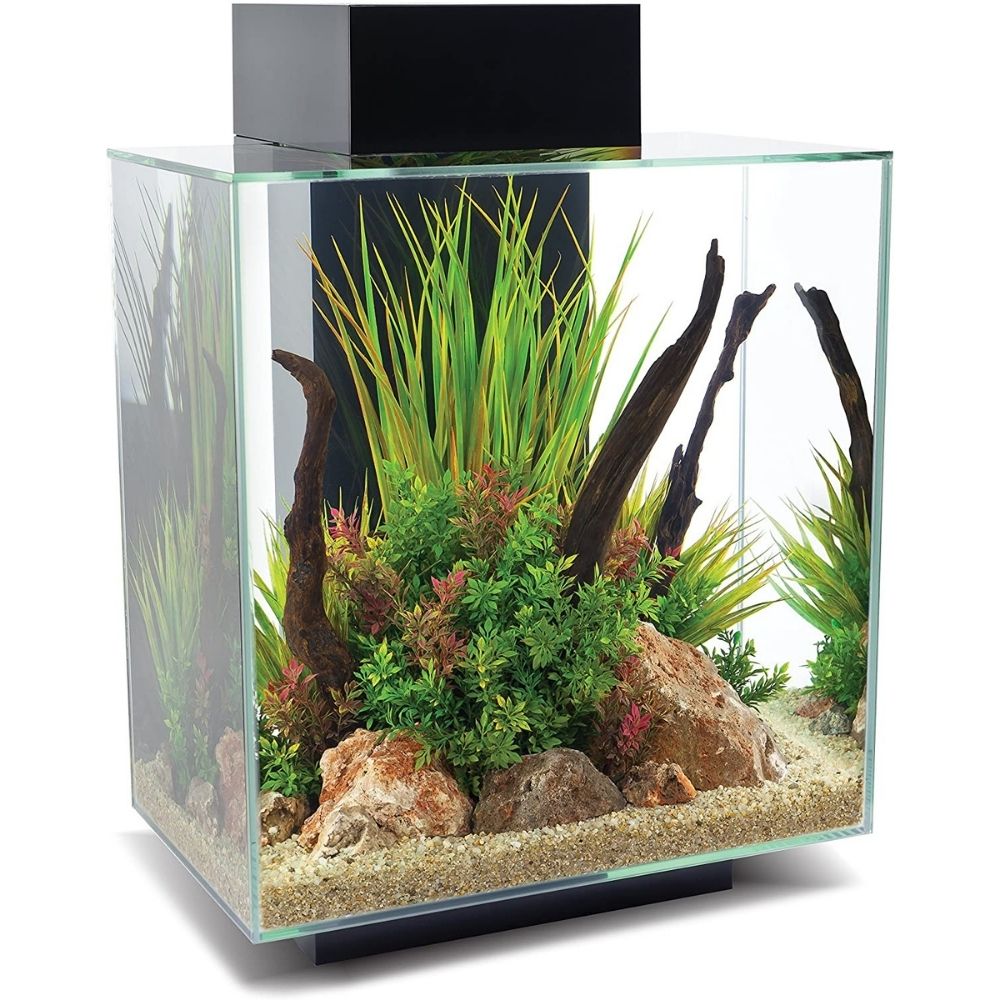 Fluval Edge 6 and 12 Gallon
Stunning aquarium with integrated filter and LED light. Fairly simple to set up and to maintenance which makes it deal choice for you home or work space even if you are a beginner.
Adjustable flow
Integrated LED light with Day/Night mode
Quick access feeding door
Recessed base creates a floating tank effect
Included light is only suitbale for low to medium light plants
In all honesty, the facts speak for themselves, and we think it's pretty apparent why this product is fantastic, whether it be in aesthetics, build, or functionality.
Although it's self-evident at this point, the Fluval Edge is an excellent aquarium that has satisfied and will continue to satisfy many fish owners. It's great for your fish, your home, your office, and also your peace of mind.
We hope this fits you, and we suggest not dwelling much on your purchase. Remember it's a one-time buy, and we assure you this one will last you years to come, and we're sure it will house some beautiful, well-cared fish.
We are sorry that this post was not useful for you!
Let us improve this post!
Tell us how we can improve this post?