Do your fish live in a pineapple under the sea? No? Then what are you doing! Welcome to a safe space to go back to those childhood memories with the best Spongebob fish tank decoration and enjoy them as if you were literally in Bikini Bottom. Whether you have children, or you're channeling your inner child with this theme you've chosen for your cool aquarium decor, you've clicked on the right article. 
There's no need to be a fan of SpongeBob SquarePants to appreciate the awesomeness that is a fish tank decorated with some of the Best SpongeBob fish tank decorations and most popular characters and objects. From SpongeBob Squarepants to Plankton, Krusty Krabs, and more, there's something for every SpongeBob fan out there!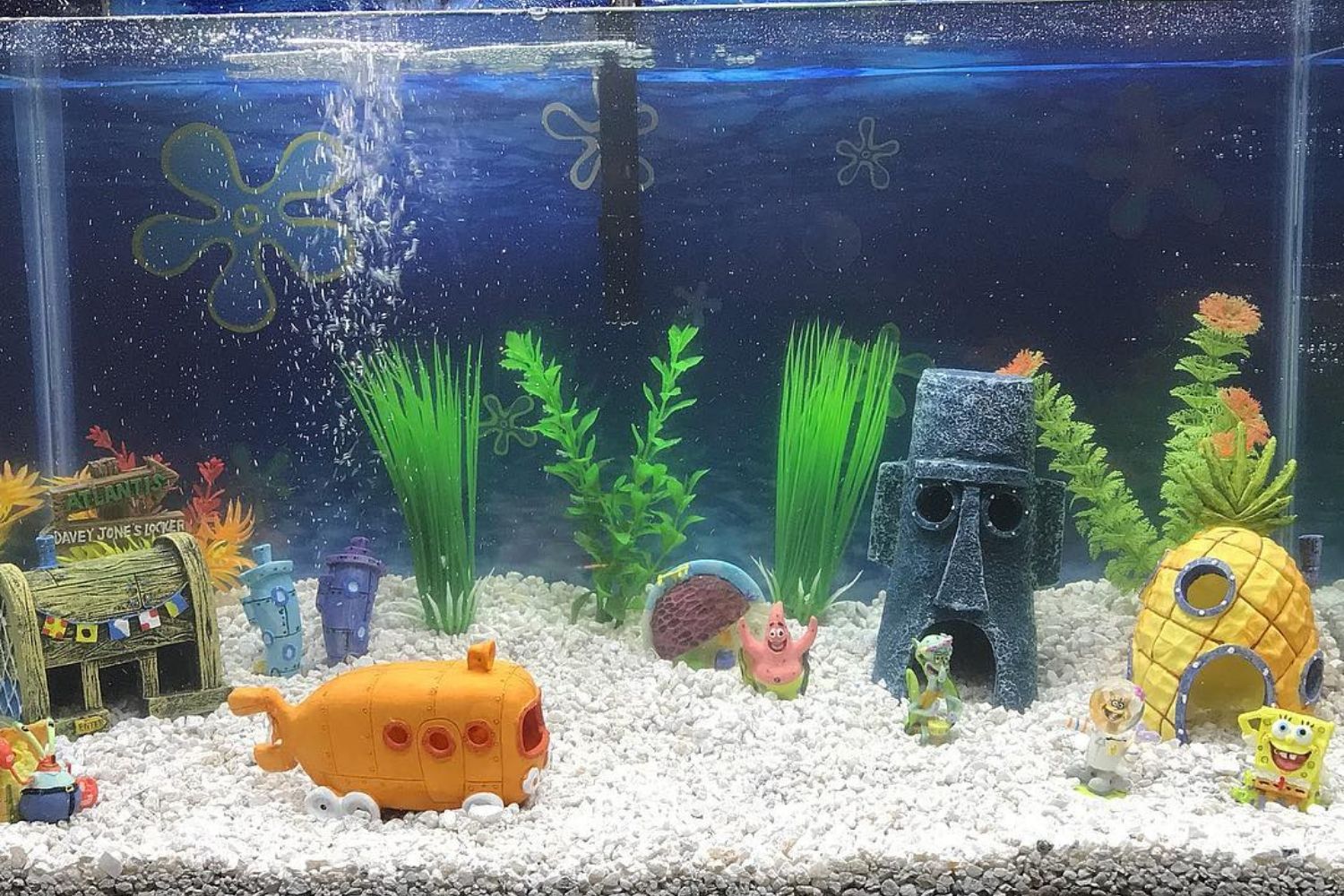 Best SpongeBob Fish Tank Decorations Reviewed
Out of all the products in the market, our team came up with a list of the most relevant and quality products for your fish tank. Each of these is a great addition to a SpongeBob themed tank and will definitely bring a realistic view of Bikini Bottom right on your tank.
Aquarium Decoration: What you Need to Know
Raising fish isn't an easy job. There's much that comes with it that you're not prepared for when you just get fish. People usually fail to mention that besides the basic equipment, most often you need to spice up the look and feel of your fish tank with decorations. These decorations can either be functional to your fish or simply decorative. Fish usually need places to hide or swim between so things shaped like caves or houses with "windows" in-between for the fish to swim through make for a wonderful realistic environment for them. 
Don't forget that these decorations shouldn't be made by materials toxic or harmful to your fish and should suit freshwater or saltwater tanks depending on which one you own. Simple decorations include tumblestones, algae, rocks, corals, low light plants etc. Moving on to more -unique- decors, honestly there's so much you can choose from, the possibilities are endless.
There are hundreds of themes to choose from SpongeBob to Star Wars fish tank decoration and more. Based on whatever tickles your pickle and we're sure you'll find all sorts of things out there.
With so many options, you are free to experiment. In this way, you can succeed in constructing your own underwater universe. SpongeBob SquarePants, which takes place in an undersea environment, is very popular with youngsters and really nostalgic for us adults as well. 
There are many options in the market to give the TV series their own world in 3D. SpongeBob's, Squidward Q. Tentacles', and Patrick Star's residences, as well as the Krusty Krab, are typical choices for a themed tank. They allow the fish to roam through the cracks and take shelter inside or behind the houses. Characters can also be purchased as figurines.
If you clicked here, chances are you're looking for Spongebob fish tank decoration and we have just the right advice and products.
Setting Up a SpongeBob Themed Aquarium
Luckily for you, due to the fact that SpongeBob is centered on aquatic life, SpongeBob aquarium decorations are perfect for your aquarium design. His best buddy is a starfish and they live next to Squidward (obviously a squid). 
Creating a theme around this series is quite simple and fitting. However, to build something themed on this, you must first know the story and characters. Just in case your kids asked this from you and you have no idea what to do, let's explain it a little.
The Background
Obviously, Bikini Bottom doesn't look anything like the inside of your tank, so you have to make a couple of adjustments in order to get everything right. Firstly, you don't really need to worry about what you're putting as substrate. In the show, it's colorful so you can get gravel like that, but normal medium-sized gravel will do the trick either way. 
Secondly, there's no need for plants at all, because they're not present in the show, however, if you're into that you can put them in a manner that doesn't distract from the main attraction or just hide them behind decorations. 
And finally, for the SpongeBob aquarium background itself, you can get a waterproof plastic background for very little and it's sure to set the mood completely and seal any gaps or fix any inconvenience from the positioning of the tank.
The Setup
This part is only complicated if you make it complicated. There are really not many ways to ruin this process so don't be scared of working with this. It would be good to try this outside the tank first so you're clear and you won't make a mess by reordering things inside the tank itself.
The thing to keep in mind is the size of the tank. If your tank is categorized as small, around 2-3 decorations, with only one being the cave/house would be ideal. You don't want to overstock your tank not only for the aesthetic purpose of it but also to avoid taking much space from your fish swimming space. 
You'd want to sanitize everything before you put it in your tank as well in order to not add anything harmful to your fish's environment. For medium tanks, 2 houses and characters seem decent, and for larger ones you can get wild and recreate the whole show if you want, always keep an eye out for the fish itself, and if the tank looks overstacked or makes you feel uncomfortable when looking at it.
Our Verdict
In the end, we urge you to get whatever fits your tank the best. If you had to choose between these for a smaller tank, I'd suggest Spongebob, his house, and Patrick. If you can fit more comfortably make sure to include at least the main characters and their houses. We'd advise you to also look at one or two episodes just to get an idea of how everything looks before you make your purchase. You can see the vibes for yourself and put everyone how they look the best. 
However, if you don't have the time for that this article was more than enough to show you exactly what we're talking about and give you the right sense of how the figurines should be put. You can always go crazy and put Plankton hugging Mr. Krabs or something. It's all up to you. We hope that our insight has made your choice easier and has given you a better insight into the show and how to implement it properly on your fish tank decor.
How We Choose The Best SpongeBob Fish Tank Decoration
Choosing the best SpongeBob fish tank decoration, especially with a certain theme comes with its own hardships. Firstly, with every tank decor, they shouldn't be made with any harmful toxins to assure your fish won't have any problems. it's important to have an already understanding of the theme we're going about. 
This means that we should at least know what the show/movie/book is about in order for us to find the most appropriate decors in the market. For Spongebob, it was oddly especially hard finding the proper SpongeBob fish tank ornaments, because most of the figurines weren't made for fish tanks and weren't waterproof, and that's a big deal when looking for tank decors. 
We had to make sure that the figurines weren't overpriced or didn't give back the value for their money. We understand, having fish and keeping them safe and healthy and well-fed is already an expensive thing. Making your tank look cool shouldn't cost a fortune, it's a basic thing and not luxury. 
We had to go through hundreds of products and even rewatch the show to remember how everything was exactly. In the end, the products we chose are definitely the best Spongebob fish tank decoration for this theme and are top-notch in quality as well as visually. With these products, you can recreate several scenes from the show with your favorite characters and buildings. We can't begin to imagine how great everything will look and we're eager to see some of your setups trending online.
The Show And How It Relates To Your Tank
Obviously, the main character is a mindless Sea Sponge named SpongeBob. The show takes place under the sea in a place called Bikini Bottom. There, SpongeBob lives in a pineapple near his best friend Patrick who is a starfish, and near Squidward who is a squid. Squidward lives in an Easter Island Head house and kind of hates SpongeBob and he definitely doesn't like being around him although they're neighbors. 
Patrick lives under a rock, literally and metaphorically and he's mostly known for being goofy, slightly duller than Spongebob. SpongeBob and Squidward work at Krusty Krab, a restaurant famous for Krabby Patties owned by Mr. Krabs, a crab and Spongebob's boss. Krabby Patties have a secret recipe that Plankton (actual plankton), the nemesis of Mr. Krab wants to steal. SpongeBob also has a pet snail that he loves very much, named Gary that occasionally meows.
Other noticeable characters are Sandy Cheeks, a squirrel that wears a diving suit in order to breathe underwater and lives in a house devoid of water, and Mr. Krabs daughter, Pearl, who is a whale and wears a cheerleader outfit. 
All these characters interact with each other creating the infamous 13 seasons and the show is ongoing probably for a while too, so there's no way that this decor will be called outdated anytime soon. Based on what you learned, don't go putting Plankton and Mr. Krabs hugging each other in the tank or anything of the sort. If you're planning to do a themed design, you gotta be accurate in portraying everything as similar to the show as possible.
We are sorry that this post was not useful for you!
Let us improve this post!
Tell us how we can improve this post?