Freshwater Aquariums are among the best home aquariums. Plenty of beginners are joining the aqua space hobby and are looking forward to setting up an aquarium on their own. We have a lot of experience with aquariums, fish, and aquatic plants, and this article will teach you the essentials of setting up a freshwater aquarium in the easiest way.
Our experience is summed up with a lot of research done for many fish and aquatic plants. You will find all the information you need and be confident enough to set up your own tank. Follow the steps and prepare to create the best home aquarium with our tips.
Picking The Right Tank
When choosing the best fish tank, there are lots of things that you should consider. First of all, you should think about the place where you want to put it. What design fits best with your room. Do you need a small tank or a large one? What material should the tank be, glass or acrylic, you will have plenty of fish tank ideas. Are you planning to keep one or more fish, what type of fish, etc?
If you are looking forward to keeping aquarium fish, the size of the tank matters a lot. For small fish, a nano aquarium of 10 gallons, up to 20 gallons would be perfect. If you are planning larger fish, consider buying a larger tank, especially if you are planning to put any other decorative objects. You can weather choose to spend money on a perfect tank that can include decors or go for a cheap fish tank and later add your own object and decors.
Essential Aquarium Equipment
Before setting up the ideal freshwater aquarium, you should consider some aquarium equipment that is essential for your freshwater aquarium fish. Building a home aquarium may seem easy, but there is some equipment that you should consider having before you do so.
Aquarium Stand
A fish tank with a stand included is a great way to set up a freshwater aquarium. There is plenty of freshwater fish that are large in size and very active swimmers. Therefore, there are aggressive fish with tough behavior, and there are also the diggers, who like to dig and rearrange the tank. A corner fish tank would go great on a corner stand, although, the rest of the fish will definitely need one.
A stand will not only fixate the tank but also make room for the fish supplies, this way you will not make a mess in the house. However, a stand is very important if you have an acrylic tank since they are lightweight, especially if you have aggressive or active swimmer fish.
Aquarium Filter
An aquarium filter is another essential piece of equipment that you should consider when choosing a freshwater tank. Most freshwater fish require e clean water, and the filter system will keep the water clean and clear. A planted tank can be a big deal, in this case, it can create algae and biofilm, which requires a good filtration system.
The filter is not only important for the biological excess, but also for chemicals. A carbon filter would be perfect to clear the water from dangerous chemicals. Depending on the filter that you choose to buy, there could be a sump, internal chamber, or a hang-on back filter to keep your tank clear and your fish safe.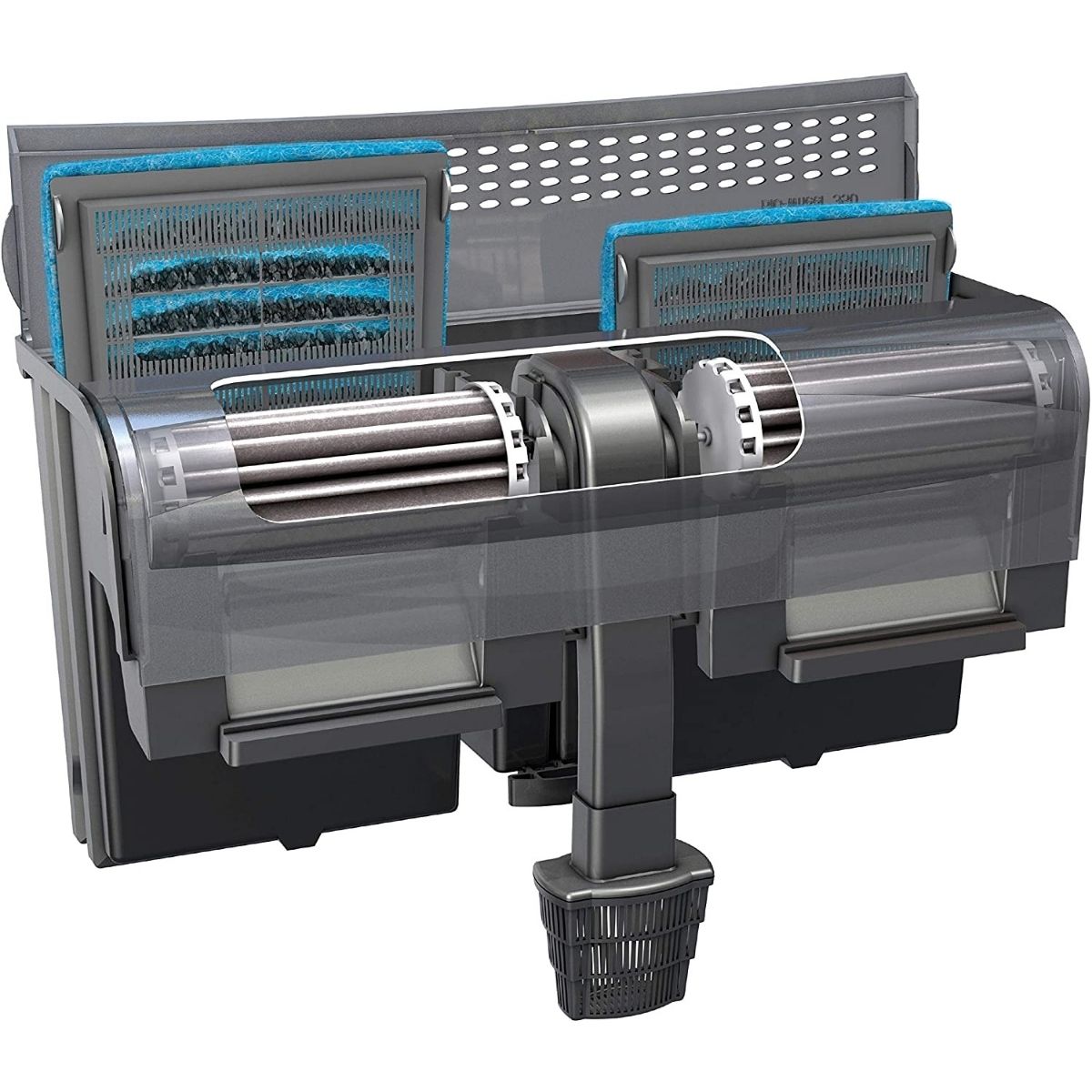 Powerful Aquarium Filter
Best aquarium filter for crystal clear water
Multi-stage filtration
With rotating bio-wheel
Reliable and effective
Up to 70 gallons
CHECK PRICE
Aquarium Heater
Most freshwater aquariums require a heater due to the high-temperature range of the natural habitats of these fish. The aquarium heater is even more important when you're keeping freshwater tropical fish. You should pay attention to the temperature ranges and heat the water when cold, especially if you have a glass tank.
There are different types of heaters, but if you have a small fish tank, it would be good going for a cheap heater. Under these circumstances, the small tanks will heat faster than the larger ones and do not require much maintenance. Although, the fish temperature should match with the water temperature in order to thrive healthily.
FREESEA Aquarium Heater with Thermometer
Best heater for small aquariums

Easy to use and safety
Range: 59~94°F
Up to 15 gallons
Temperature display
CHECK PRICE
Additional Aquarium Equipment
Adding some additional aquarium equipment to your freshwater aquarium can help you a lot with everyday maintenance. It's good to start with the essential equipment and in the long run, you will see the need to add some extra features to your freshwater tank.
Automatic Fish Feeder
When feeding the fish, you should be careful to feed at the right time, daily. And what's more important, to feed them the proper amount of food to not overfeed or underfeed them. Automatic fish feeders are an additional aquarium accessory that would be perfect for you in this case. It works great for large and nano fish.
If you are busy working every day, you are not used to frequent tasks or you are planning to travel, the automatic fish feeder is the ideal choice for you. You simply put the food and program the frequency of feeding and the device will take care of the rest. Your fish will leave healthy and last for about 2 weeks without advisory thanks to this device.
Live Rock & Sand
Live rocks and sand are often found in aquariums as accessories and can be a pain for aquarium enthusiasts when cleaning or dealing with pests. However, they are important not only for creating a great display but also for great biodiversity.
There are also fish that like to dig, (for ex: Engineer Goby), and sand and live rocks will simply make them happier. Rocks can also be used in spawning periods as a place to lay the eggs, and the sand can be used for dwellings, protecting the fires. As for the display, there are multiple colored sand, rocks, and gravel that you can use based on your fish color, to create an enchanting aquarium.
Setting Up a Freshwater Aquarium
Now that you have all your accessories ready it's time to set up the tank.
Rinse the tank. Is important to rinse the tank before you start setting up. Make sure there is no dust or debris.
Rinse any accessories. You should also rinse the sand, gravel, rocks, or any other accessory that you want to put in. They can contain pests and may risk your fish's life.
Glue the accessories. If you are planning to glue any accessories in the tank, you should do it now. Put the tank on the side carefully and start gluing the objects.
Fixate the tank. Put the tank into the stand or any other place that you want to put it. Make sure is still and well-positioned.
Put the substrate. If you are going to use sand or gravel on your tank, this is the right time to put them in.
Install the equipment. You should take your time to install the equipment such as filter, heater, etc. Make sure the heater is placed close to the filter or other pump in order to distribute the heat better.
Fill the tank. Fill the tank halfway with room temp water. Do it slowly or with a small bowl, making sure not to stir the sand or gravel.
Install rocks, driftwood, etc. After filling the tank, is time to put the artificial plants or rocks, branches, whatever you like.
Prime the filter. First, you should add 1 inch below the water that is already filled. The filter should be primed in the water.
Plug the heater. The heater should be plugged in 10 min later.
Cover and light the tank. Cover the tank and make sure you add the lights. Adjust the lights to have a proper natural light cycle for the fish or plants.
Put live plants and fish. IMPORTANT!!! Wait at least 48 hours for the aquarium to run, then you can add the live plant and fish in
Congratulations! Enjoy your new freshwater aquarium.
Choosing the Right Fish for your Aquarium
Setting up a freshwater tank is not a big deal now that you have all the instructions above, but have you thought about choosing the fish? We will tell you what you should know first, in order to choose the best freshwater fish. But first, let's take a look at some questions that you need to ask before choosing one.
How large the fish will get when gowning up?
Will the fish eat live plants?
Is it aggressive or is it too shy to live in a community?
Is the fish territorial, will it require space of its own?
Does it dig in the aquarium substrate?
Does these fish like groups or prefer to live alone?
Among the fish that you can buy, there are some low-maintenance fish that you should consider if you are a beginner in this hobby. The easiest fish to take care of are guppies, bettas, Panda Loach, and several cichlids. Although, something that you should care about when choosing a fish, is its size and behavior. Fish like Wolf Cichlids and Jaguar Cichlids are aggressive, will grow very large, and like to live on their own.
Aggressive fish will tend to eat plants, however, peaceful fish like Panda Loach or Peacock Cichlid would not pick on hard plants, and they are also small fish that will not grow big in size. When talking about digging, you should be careful of fishes like Engineer Goby, he will never retire digging and rearranging the tank. This way it is also a potential risk for your plants. Panda Loach and Rusty Cichlids are small community fish that will not grow big. It is not recommended to live with larger aggressive fish because they're shy and will experience stress.
Adding Some Extra Aquatic Plants
Aquatic plants are very important, especially when talking about freshwater fish. They are used to live in vegetation and a planted tank would be a great idea to make them grow happy and healthy. Plants are not only beautiful but have many other benefits on a freshwater tank.
Benefits of having a plant:
Great display
Chemical filtration
Reduction of algae
Aeration of the water column
A place to hide and play
Secure the substrate
If you are new to this hobby, there are plenty of beginner-friendly plants that you can start with. Subwassertang is a great plant and quite simple to maintain. You can also enchant your tank with nice carpeting with Dwarf Baby Tears. You can also try out Bacopa Caroliniana or even Guppy Grass, especially if you have small fish like guppies or other juveniles.
And you are done. Feel free to comment your thoughts below about your new freshwater aquarium.
Frequently Asked Questions
Setting up your freshwater tank is not easy if you want to do it in the right way. Even by following our step-by-step guide, you may be left with some unanswered questions. We tried answering some of them, if your question is not mentioned below leave it in the comment.
Q: When You Can Put Fish in a New Tank?
A: It is important to put fish in the tank at least 48 hours after the aquarium started running.
Q: How High Should the Water Level Be in a Fish Tank?
A: Not too low to reach the equipment, but not too high to overflow out the tank. 
Q: Can You Use Tap Water for Fish?
A: Yes, as long as is free from harmful chemicals.
We are sorry that this post was not useful for you!
Let us improve this post!
Tell us how we can improve this post?