An automatic fish feeder is an electronic device that automatically feeds your fish. This is a great option for aquarium keepers that are busy and sometimes forget to feed their fish. Therefore, it is a must need if you need to travel and don't have faith in leaving your aquarium to another person for maintenance.
We are aware that we forget our own duties sometimes, we cannot expect others to be more responsible for something that belongs to us. If you forget to eat for a long time, your stomach will remind you. What if you forget to feed your fish?
Forgetting to feed your fish, can be damaging for the fish, fading the colors until death in extreme cases. It is human to forget, but sometimes when life gives us lots to do, we neglect some things unintentionally. This is why you should take a look at our article about how an automatic fish feeder works, its advantages and the reasons why you should have one too. You will also learn more about which fish feeder best fits your aquarium or pond and a list with the best.
Best Choice: MOOBONA Automatic Fish Feeder
Best Value: Fish Mate F14 Aquarium Fish Feeder
Best For Pond: P7000 Pond Automatic Fish Feeder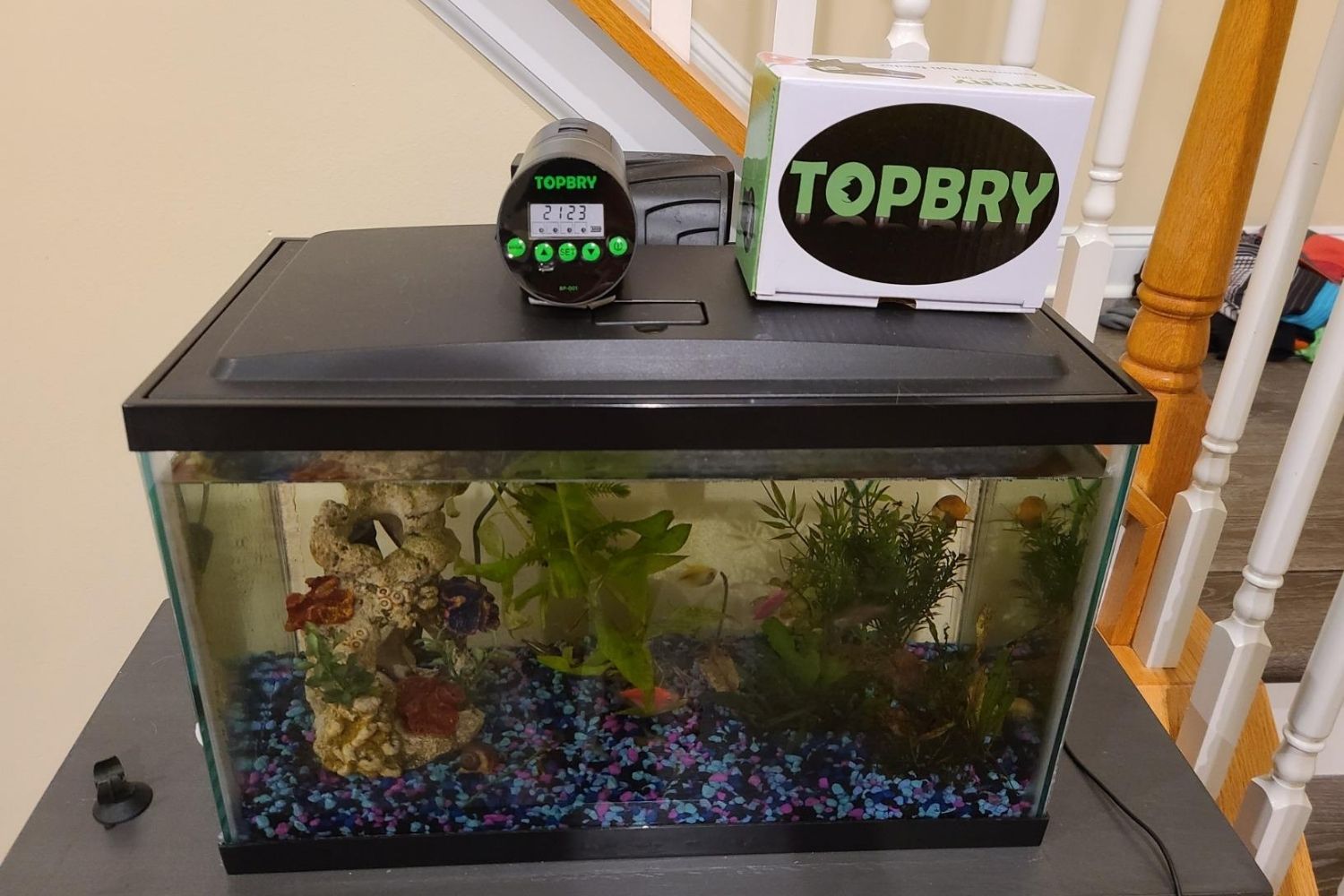 Best Automatic Fish Feeders Reviewed
All the aquarium enthusiasts know how valuable an automatic fish feeder can be, especially during busy days or when on vacation. Plenty of people have used this device and are very happy with it. Taking into consideration all features of automatic fish feeders, we have come to the conclusion that these are our top picks:
MOOBONA Automatic Fish Feeder is probably one of the best fish feeders out there. The container is large and the container can keep different types of fish food such as pellets, granules, etc.2 AA batteries including the low battery indicator in case you are going to be away for a long time.
This device is compact and small enough to fit most aquariums. This fish feeder comes with an additional handy feature, it allows you to feed the fish outside of the pre-programming schedule by just pressing a button. As a safety feature, the drum will not stop the feed slot in a downward position.
Advantage
Long working time
Instant feeding button
Can be used in terrariums and aquariums
LCD screen
Large capacity and moistureproof
Small and modest design
Disadvantage
Not recommended for ponds
Fish Mate P21 Automatic Pond Fish Feeder is an ideal choice for small pods. This amazing automatic fish feeder device is very reliable and ultra-convenient. It also has a food chamber that can rotate several meals for your fish, and serve them up during the day. Feeds up to 14 daily meals while you are away. On ponds having open space above the water helps foods to stay dry.
Advantage
Ideal for pellet food
Reliable
Best for small ponds and aquariums
Battery operated
Ultra convenient
Easy to use
Disadvantage
Not favorite for tanks with a hinged full-length opening at the front part of the hood
P7000 Pond Automatic Fish Feeder is a great choice if you want to go on a vacation for an extended period of time. This Automatic Fish Feeder has a large capacity and is worth buying it especially if you have a large pond. Therefore, it enables you to set a precise time and quantity for the feeding process. You can use it with pellet or 'stick' food. It also has the feature to feed it manually on demand.
Advantage
Ensures that your outdoor fish are cared for when you're away
Nice long life battery
The digital LCD display is easy to use and read
Easy to clean
Disadvantage
Protect it from squirrels or cats if in an outdoor pond
How Does an Automatic Fish Feeder Works?
There are several automatic fish feeders, but in general they have the same functionality. Talking in general, they work with batteries and have a food chamber where you can place the food. Depending on the device, you might have separate containers for different foods. They have an LCD digital display with splash-proof buttons where you can easily program it and a ventilation system. They are not invisible and they may take a little space, although they have a compact design.
No more hand feeding and vacations are back on track.
To make it work, you can easily set it up in your aquarium, place the batteries (if not already placed), and fill it with your fish food. You can program it as you want to, based on the fish you have, the time and the quantity you want to feed and it'll do the rest of the work for you.
Benefits of an Automatic Fish Feeder: Why Should You Use It?
An Automatic Fish Feeder will have a great impact on your aquarium while you are busy or on vacation. These are some reasons why you should use it:
Less worrying
This fish feeder will be there for you when you are busy and keep forgetting things. You won't have to worry about your fish anymore, the Automatic Fish Feeder will feed your fish frequently without worrying about it. Therefore, you can leave your fish in someone else's hand without a problem.

Correct amount of food
The fish should be fed frequently, but with also a proper amount of food. This is another problem that the Automatic Fish Feeder covers for you, with no underfeeding or overfeeding for your fish.

Stable Environment
It also maintains the water chemistry by feeding small quantities of food and not polluting the water. The ammonia is a harmful chemical that will be reduced at maximum by not allowing the food to build up and decay.

Feeds multiple species
This device will ensure that all your species will be fed equally. No matter what variety of species you have, the Automatic Fish Feeder holds several types of food separated in different compartments in order to suit the aquatic animals.
Types of Automatic Fish Feeders
A portion-size fish feeder is very useful because you can measure out each individual fish meal. On its container, you can separate different types of foods, and then by scheduling the time that food is going to be released you can mix them together or feed it separated. It's very handy when you have different species on your tank. You can schedule the fish feeder to first feed aggressive fishes with protein or whatever diet they have and after that, you release other types of foods for small fishes.

A rotation barrel fish feeder is the one you will probably get your hands on when shopping for an automatic fish feeder. This device has a larger container and can hold more food. You can keep only one type of food on it. Unless you want to mix your food directly on the container. You need to buy another fish feeder if you have species with different dietary needs.

To prevent your fish from overfeeding we recommend doing some tests first to see who much food goes out. For some types of foods like betta fish pellets, the amount of food that goes off the container is more than the standard. Covering the port with tape and blocking a certain amount of food can be a solution for this case.
Things to Consider When Choosing the Best Automatic Fish Feeder
When choosing the best automatic fish feeder, you should pay attention to some features. Based on the things that best fit your requirements you should consider:
Capacity
If you have too many fish, consider buying a large size of chamber food. You will need to store a lot of food and investing in a large capacity chamber will help you to store more food. This will also be important if you have many species and will need a large capacity of food in separate containers.
Ease of use
When setting up an automatic fish feeder, you should take into account the experience you have. If you are a beginner, you should pay attention to the manual because the installation process might be a little intimidating. Therefore, there are types of feeders that have a compatible digital display where you can easily make adjustments.
Ventilation System
The Ventilation system is another thing that you should consider when choosing the proper automatic fish feeder. This will make sure that the food stays fresh even in a long period of time. You don't want your fish to get ill or develop any disease from bad food. The ventilation system will keep the food dry and will ensure it is healthy for your fish.
Battery Life of the Feeder
Battery life is very important if you have to go away for a long period of time. Make sure you choose an automatic fish feeder with the proper battery requirements to last as long as you want in order to ensure that your fish is fed properly. Therefore, a fish feeder with a battery life display is recommended in order to be aware when the battery level is low.
Time & Quantity Controller
An important thing that you should consider to buy the best Automatic Fish Feeder, is the frequency of feeding. This can be chosen by taking into account the times per day that your fish should be fed and the proper quantity. The proper device to do that should have a time and quantity controller in order to match your requirements.
FAQs
Buying new equipment for your tank is not easy. We want to have answers to all of our questions in order to make a purchase. We covered almost anything in our article and as extra information for fish food dispensers, here we have answered the frequently asked question.
Q: Are automatic fish feeders bad for fish?
No, Automatic fish feeders are not bad for fish (as long as they don't malfunction, in this case, it is recommended to buy a quality one).
Q: Will any fish food Work with an automatic fish feeder?
The automatic fish feeder does not dispense frozen food. If you have fish that eat standard frozen flakes and pellets, it is not suitable for them.
Q: How many fish can be fed with an automatic feeder over a weekend?
That depends on:
The type of automatic fish feeder that you have
The number and size of fish that you have. 
Some fish feeders can feed 5-10 average size fish for up to 2 weeks.
We are sorry that this post was not useful for you!
Let us improve this post!
Tell us how we can improve this post?