When we think of fish tanks, our mind sometimes wanders to traditional cube aquariums or spherical tanks that we see in college dorms or teenagers' bedrooms. However, an aquarium can be way more than just a place for your fish to swim in. An aquarium can be a simple piece of furniture, or it can be a centerpiece. It can be modern, different, daring, stunning, and beautiful.
Amid all colors, functionalities, and design, one kind of aquarium grabbed our hearts and inspired us to review all the available products in the market. We came up with a list and some tips to help you decide on a tank and hopefully lead you towards the path to finding the best bow front aquarium for your fish.
Best Bow Front Aquarium Reviewed
It's not easy for a good bow front aquarium to come by. When purchasing a bow front aquarium, you must consider many factors and carefully consider your fish's well-being. You may begin your search for a simple bow front aquarium only to discover that you require a specialized stand, a good filter, and even find the right spot in your house for it to fit.
In any event, we made sure to offer items for every possible circumstance, from functionality to form factor and visuals.
Fluval Flex glass aquarium stands out from the competition because of its contemporary design and three-stage filtration system. It's an intriguing new addition to Fluval's iconic curved aquarium series that you should look into. The powerful filtration system, size, and modern look make Fluval Flex the best fish tank for Bettas.
LEDs, mobile device control, dynamic effects, and a 24-hour light timer are all included in the kit. This one appears like something from a science fiction movie, with its built-in filtering system and two distinct multi-stage chambers for optimal cleaning effectiveness.
It's one of the best-looking fish tanks out there and a well-known Fluval product. This model comes in two sizes, and each of them has identical traits, and the only difference between them is the overall size of the products and their components.
Product Specs
Lighting: Marine 3.0 LED lighting with remote
Filtration: Fluval 3-stage Filter
Ideal for: Marine aquarium and Bettas
Style: Modern
Extras: Multi-stage chambers
Size Options: 9, 15, and 32.5 Gallon
Read More: Fluval Flex Review
The Tetra Crescent front tank has everything you need, from cutting-edge technology to all-you-need kits and décor, to mention a few things. For more than 50 years, Tetra has been the go-to brand for fishkeepers seeking products and solutions that make their life easier and more attractive.
The Tetra Crescent 5 will suit a kitchen, bedroom, office, or any living area. On the box, you will find a Tetra Whisper internal filter and a medium Bio-Bag. Each aquarium features a seamless front, a black base and cover, and brilliant white LED lights powered by a low-voltage power converter. You're ready to go right when you add water, decorations, and fish.
Product Specs
Lighting: Energy-efficient LED light
Filtration: Tetra Whisper internal filter
Ideal for: Freshwater setup
Style: Modern, eccentric
Extra: Decor included
Size Options: 5 gallon
This GloFish Crescent tank has a blue LED light that drastically changes your aquarium setup, making it great for individuals who like a splash of color and vibrancy in their aquarium in addition to the original form factor.
With a GloFish 13′′ LED light stick, one GloFish yellow anemone, and two plant multipacks, you can customize this neon tank to your liking and make it genuinely glow (pun intended). It's suitable for a wide range of species and appears to be well-made and long-lasting.
Product Specs
Lighting: GloFish LED ligh
Filtration: Whisper Filter
Dimensions: 24.2′′ L x 12.5′′ W x 16.2′′ H inches
Style: Modern with unique colors
Extra: Filter cartridge included
Size Options: 3,5,10 and 20 gallon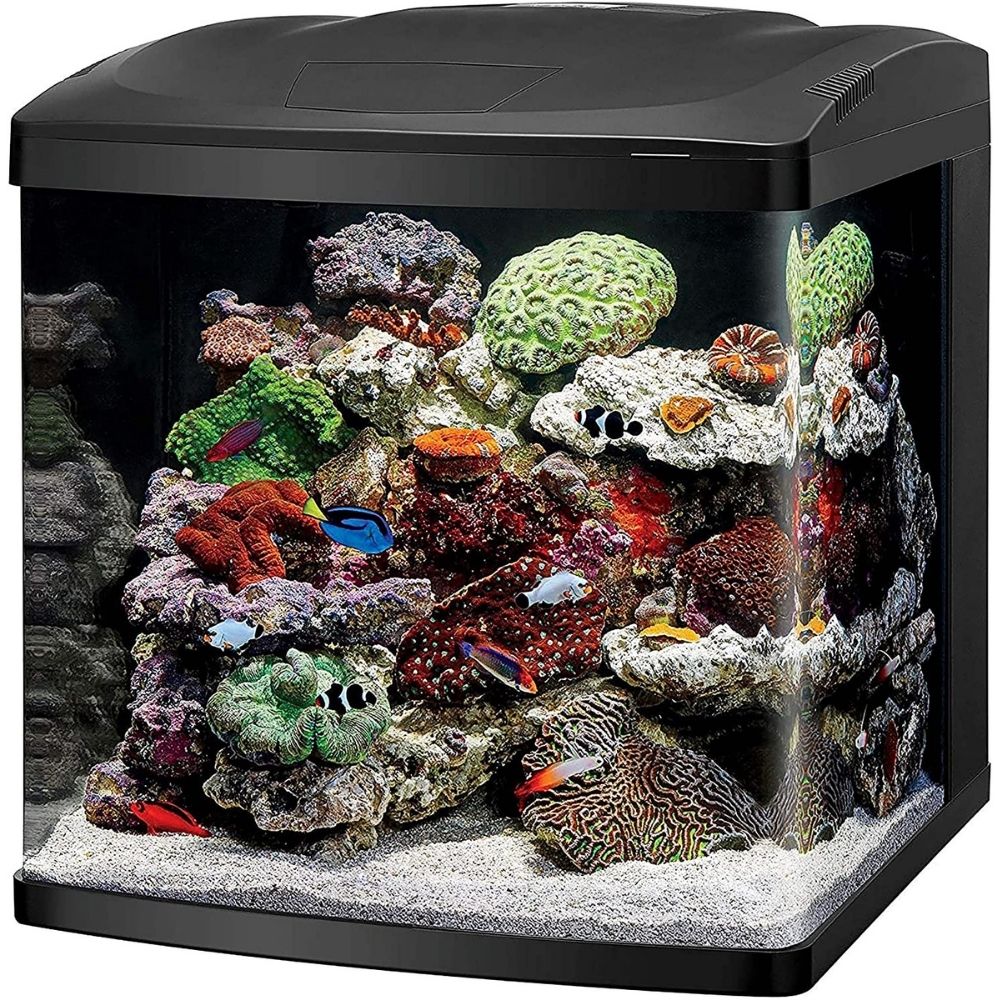 In all honesty, this modern, round-edged design, all-inclusive, and innovative aquarium is elegant and suitable for all of your expectations, making it one of the best fish tanks.
Coralife Biocube 32 has LED lights, a 24-hour integrated timer to control each of the three separate light channels, 30 and 60-minute capabilities to imitate your fish's natural day and night cycle, and the tank itself, which is the main draw, are all near-flawless.
The Coralife Biocube LED bonus bundle includes everything listed below. It's also ideal for beginners because maintaining it is uncomplicated and straightforward. If you are thinking of setting up a saltwater aquarium, this tank is your best option.
Product Specs
Lighting: Color enhancing LED light with remote
Filtration: 3-stage filtration
Ideal for: Saltwater and reef
Style: Edgy
Extras: Sparkling blue Moon Glows for nighttime
Size Options: 16 and 32 gallon
Read More: Coralife Biocube 32 Review
As the name implies, the fish tank is a kit that includes all necessary care equipment. We're talking about devices like the 7W 110GPH power filter, which runs quietly while delivering high-efficiency pumping. You may rest confidently because the water is always safe for your fish.
The tank is also constructed of robust and ultra-transparent glass. Multi-mode LED lights are installed in the tank, allowing you to choose between blue, white, and red lighting. It will look fantastic in any setting.
Because of its unusual convex arc curve form, the Hygger Horizon Glass Aquarium Kit, as seen above, gives a dynamic panoramic vision. You'll always have a great view no matter where you view the tank from. As a result, the Hygger Horizon Glass Aquarium Kit is appropriate for an office or a living area. It is a wonderful option if you're looking for something a little different in your setup, and it'll definitely get some attention.
Product Specs
Lighting: Mutil-modes LED lights
Filtration: 7W 110GPH power filter
Ideal for: All kinds of setups
Style: Unique
Extras: 3D rockery mountain background
Size: 8 gallon
If you're looking for quality and value for money, this would be your best bet. No product can compare to the quality of this tank and how pleasant it feels to use it from the moment you unbox it to the moment you set it up.
SeaClear can fulfill even the most lavish aquatic dreams for anybody, whether novices or seasoned fish keepers. Because this tank is acrylic rather than glass, it is more resistant to chipping and cracking, making it safer for children and dogs. This set also comes with an electrical light fixture. It offers plenty of room for as many decorations as you like. This bow front aquarium can be used in both saltwater and freshwater environments. You can't go wrong either way and with the unique bow front design, this one is sure to turn some heads.
Product Specs
Lighting: Electrical light fixture
Filtration: None
Ideal for: Larg stocks
Style: Bold
Extras: Air-injected nozzle
Size: 26, 30, 40 ,46 and 50 gallon
Advantages
Curved front models have an advantage over their square counterparts in terms of aesthetics and novelty effect. In the States, a well-made bow front aquarium with quality materials, appealing designs, and excellent craftsmanship may efficiently serve as a focal point for hobbyists and enthusiasts and even be the bragging subject with their peers.
With the curved front comes easier upkeep. It might be challenging to reach and clean corners, which is certainly not the case with bow-front aquariums.
The curving glass panel tanks give the impression of being bigger than they are. The tank's design might deceive you by making objects within look larger than they are and making the whole setup look bigger and more majestic when you see the fish colors move around that beautiful curved glass.
It provides a unique perspective of the tank's inside. Because of the curved glass tank, the fish and decorations appear larger, more distinct, and more appealing. The best way to showcase your fish and your beautiful tank's design.
But it's not all a visual illusion. The bow front aquarium design creates a larger space for fish and other aquatic pets more than other traditional tanks. According to a veterinarian, this is always beneficial to the fish. It's a healthier alternative than typical aquariums since there's more water and space for them to swim around.
Disadvantages
On the other hand, there are a few disadvantages to using this sort of tank. First and foremost, these variants are more expensive. Bow front fish tanks need a substantial financial commitment from the owner, for they are more costly than regular ones. Prices are important to most individuals, so this might not be the best choice for you if you consider it a significant factor.
The other problem is that most of them need a bespoke aquarium stand and lot, which are significantly more expensive than standardized alternatives on the market and more difficult to find, whether online or in a physical store. It's possible that this will be an issue and interfere with creating that perfect setup for your fish and tank.
You won't be thrilled to hear that curved glass tank produces poor images if you're into the whole influencer jazz. The pictures were distorted and flat, lacking the "wow" factor these tanks had in real life. If you want a high-quality photo or material, whether it is to wow your online audience or show it to your long-distance friends, choose a different method if you're going to capture the great essence of a tank.
Our Verdict
All of the items listed above are excellent options, and your final decision will be based on your budget and simply the aesthetic you wish to uphold with the tank in your setup. A bow front aquarium might not be the most conventional piece out there, but it's sure to visibly enhance the looks of whatever place you put it on around your house or office.
Although we managed to compile a list of the best bow front fish tanks out there, you'll need particular expertise to choose one that will fit your desired aesthetic well and be safe for your fish. The SeaClear Acrylic Aquarium would be great if you're looking for a bigger tank with a unique design that attracts people. In case SeaClear is not your type, then Tetra Connect Curved 29 gallon can your ideal choice.
There are quite a few to choose for smaller alternatives, and either one has its value to it, and we recommend them all equally. Keep in mind that you will need to do some research on bow front aquarium stands as well, for most models require a specially-designed stand for bow fronted fish tanks.
Anyway, you can't go wrong with either of the items mentioned for whatever you're looking for, even if it's just a simple tank that you want it to function well and for a long time.
How We Choose the Best Bow Front Aquarium
A tank is an essential component of any system, and bow front aquariums aren't the easiest to study and review. It's critical to make the best decision possible, taking into account all of the relevant elements.
We scoured the market for the finest of them and compiled a list of the ones we believed would improve the performance of your fish and make life simpler for you and them. We considered all aspects and hazards and are confident that we have created the most comprehensive list of the best bow front aquariums available.
We are sorry that this post was not useful for you!
Let us improve this post!
Tell us how we can improve this post?