A 40 galllon fish tank is not a light aquarium. It's actually at the border of some of the heaviest home aquariums! And you can be sure it needs a good, sturdy stand to keep it safe.
There are many different things you need to consider when buying the best 40 gallon tank stands. Not only do you need to make sure that the stand is big enough to hold the tank, but you also need to make sure that it is sturdy and can support the weight of the water and the fish inside.
In this article, you'll find everything you need to know to find the best 40 gallon breeder tank stand. From types of aquarium stands and tips for buying the best one to certain products that we hand-picked for you out of thousands in the market.
Best 40 Gallon Fish Tank Stands Reviewed
While choosing the best 40 gallon aquarium stands, we took into account all of the factors. Every product on this list has been thoroughly researched and tested to ensure that you have the greatest possible experience and that you will not have any difficulties in the near future.
There are different sizes depending on the tank dimensions. As long as the stand is equal to or bigger than the below dimensions or dimensions of your tank, everything will be perfectly set for your tank.
Before purchasing a 40 gallon breeder tank stand you must know your tank dimensions. These are the most common dimensions for a 40 gallon breeder tank, and a 40 gallon long tank.
40 gallon breeder tank dimensions: 36″ x 18″ x 16″ (LxWxH)
Long 40 gallon tank dimensions: 48″ x 12″ x 16″ (LxWxH)
*(Height isn't important)
If you have a bigger aquarium than what's mentioned, consider getting a 55 gallon fish tank stand.
The Flipper Wildwood White Aquarium Stand is crafted from weathered white wood veneer and has dark gray metal hardware accents. It's the perfect design for any rustic, transitional, or shabby chic living space. The weight distribution is done in such a way that your floor won't get damaged. It suits both, long and breeder 40 gallon tanks.
With this beautiful piece of furniture, you're able to create a stunning centerpiece for any room. The 4 doors open up to 4 spacious shelves so it gives you plenty of storage space for all those extra supplies you need on hand when caring for fish or other aquatic life forms. And with its easy assembly process, putting it together won't be a hassle at all! It even comes with everything you need – no tools required!
Product Specs
Dimensions: 50 x 15.7 x 30 inches (LxWxH)
Suitable for: 40 gallon long tank and 40 gallon breeder tank
Material: Wood
If you're not into a big and bulky stand, this option will be a good choice for you. Made with durable solid steel and sturdy construction, this 40 gallon tank stand features adjustable feet for leveling before you add your tank. Sleek and modern design with black finish looks great with any aquarium or terrarium.
It's not easily scratched, it's well built and it looks like something that could be in a modern art gallery. For all the minimalists out there, and people that don't want furniture, just a fish tank stand, this is the perfect choice for your 40 gallon aquarium.
Product Specs
Dimensions: 36.5 x 18.5 x 29.5 inches (LxWxH)
Suitable for: 40 gallon breeder tank
Material: Metal
This stand is perfect to display your fresh or saltwater aquarium and it has plenty of space for all your supplies. The sleek black finish on the laminated particleboard and MDF contrasts with the brushed nickel door handles creating a modern look. The large doors with 2 adjustable and 2 fixed shelves keep all your fish food, nets, water treatments, or cleaning supplies hidden from view.
You can finally have an organized space for all of your fish supplies without sacrificing style or design. This stand will keep everything hidden from view while still allowing you to enjoy a beautiful aquarium every day. It even fits snugly up against a wall so you don't lose any floor space!
Product Specs
Dimensions: 33 x 14.6 x 30.3 inches (LxWxH)
Suitable for: 40 gallon breeder tank
Material: Wood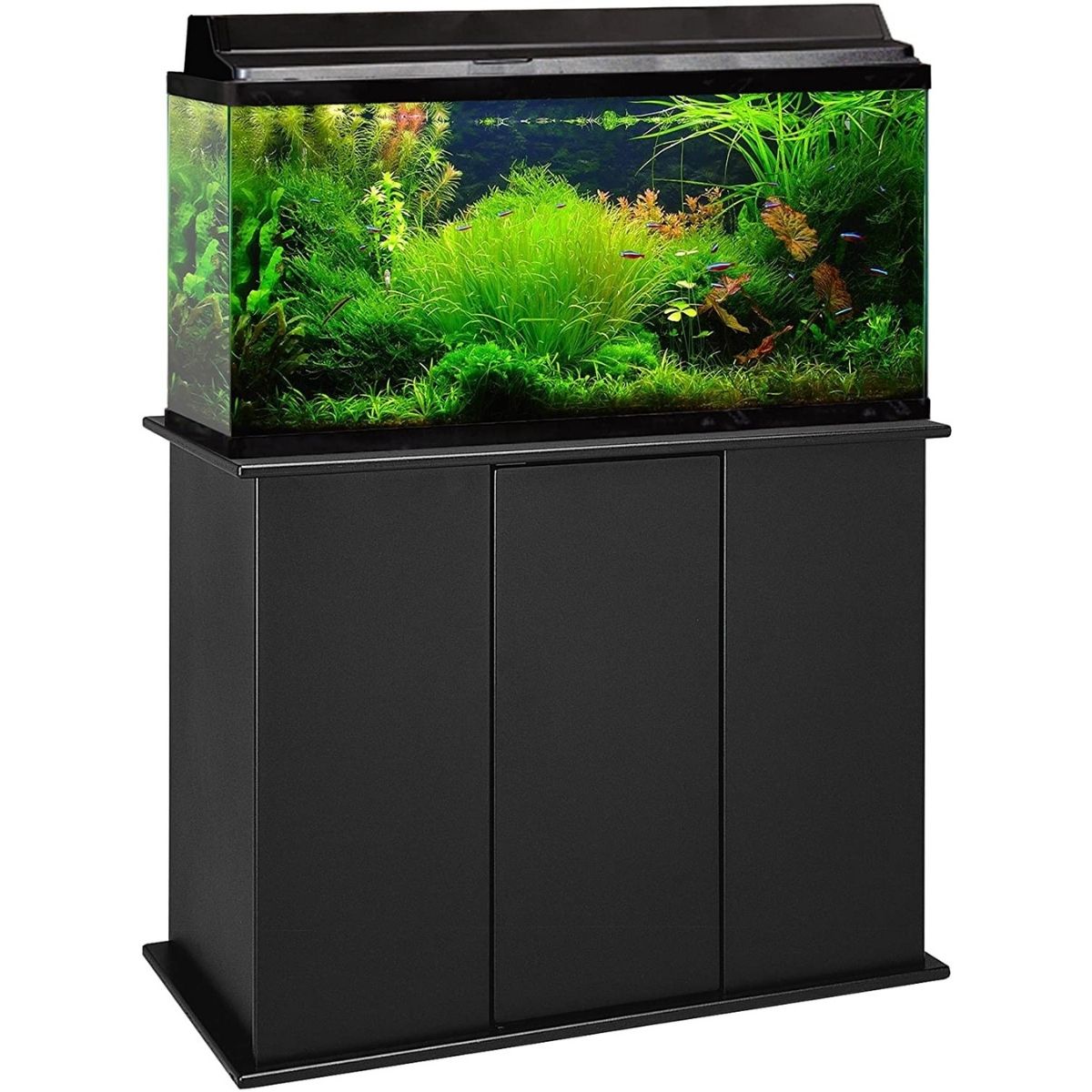 When searching to purchase anything, the main purpose of the buy usually is value for money. It's important for each purchase you make to get the best bang for your buck. With that said, this stand is the embodiment of it. It's good-looking, sturdy, well built, and has all the qualities of a good, long-lasting fish tank stand. It's so all-inclusive, everyone on our team felt like that would be a great choice for each.
That being said, this stand can handle anything you put on it and anywhere you put it on. It's a little bigger than a 40 gallon aquarium, however, that makes it perfect for extra storage. It's such a nice option and so inclusive, you're not only getting all your money's worth, but all you could ask for at any price point.
Product Specs
Dimensions: 37.3 x 19.3 x 28.2 inches (LxWxH)
Suitable for: 40 gallon breeder tank
Material: Wood
This one has a special place in all our hearts, for it's definitely one of the most aesthetically pleasing pieces of furniture we've stumbled across. It can do whatever other stands can do, but in style.
Black will never go out of style, and this stand is sure to contribute to that. It's gonna last you long and is sure to receive many compliments during its lifetime. If you're looking for a beautiful yet good-looking stand, this is the product of choice.
Product Specs
Dimensions: 48.7 x 14.2 x 27.7 inches (LxWxH)
Suitable for: 40 gallon long tank
Material: Dense fiberboard
Types of Aquarium Stands
Aquarium stands come in a variety of shapes, sizes, and materials, as well as distinct patterns. It is a good idea to research what is available on the market before purchasing an aquarium stand.
Bowfront Aquarium Stand
A bowfront aquarium (or stand) means that the front of the product is oval like a bow (hence the name). If you have a bowfront aquarium, you'll need a stand that can suit the aquarium's form without any problems. It needs to fit right without the tank going out the edges.
The best choice is to buy the bowfront tank and stand combined. This way, you won't have to seek a stand that suits your aquarium's exact form afterward.
Aquarium Stand with Wheels
A not very common practice, some people put wheels on their aquariums, which allows them to relocate their tanks while cleaning or re-designing. This avoids having to rebuild the aquarium every time you move it.
When not in use, the wheels must be held in place so they won't accidentally make your tank and aquarium ride around your house.
Double Aquarium Stand
This type of stand is an excellent choice if you want to save some money and space. It must be sturdy enough since it's going to support two tanks. However they're a hazard to children, pets, and probably your waist considering the second tank is below the waist, and you might need to bend down to maintain it and kids or pets might be tempted to reach it.
Tips for Buying The Best 40 Gallon Tank Stand
When purchasing a 40 gallon stand, there are requirements that need to be met in order for the product to function correctly. In the wide spectrum of home aquarium stands, you can find aquarium tables or aquarium cabinets, if you sort them by type. Metal aquarium stands or wood aquarium stands when you sort them by material. You can find a 40 gallon long aquarium stand or a 40 gallon breeder stand if you divide by dimensions.
Whatever you go with for your home aquarium it's important to make the right decision that will last you several years without much hassle. We'll discuss below all you need to know to choose the best option out of all the variety of products on the market.
Size
When choosing a stand for your precious aquarium you must make sure that it actually fits on it. The edges of the tank should never be hanging outside the top of the stand and for this reason, it is suggested for the stand to have a larger surface. This means that the surface of the base should be the same as or greater than the actual tank to keep away from dangerous and expensive accidents.
This aspect of your stand is very important as not paying attention to it while making the purchase could result in other expenses in the long term which you would rather avoid.
Build and material
The main function of the stand is also dependent on the material. They are mainly made of metal and wood, but either way, the material must ensure long-lasting stability and guarantee no problems in the future.
Holding tanks of this weight is not exactly easy. That's why you need to make sure that your stand is built accordingly and is sturdy and capable of holding your tank without moving around when touched accidentally. The main qualities of a fish tank table with a good build are :
Good weight distribution: This is especially important for tanks of this size. If the weight distribution is not as it should be, the stand will most likely not stay straight upwards, it will not look appealing and there would be a high chance of it falling at any minute.
In that situation, slight pressure on the wrong side and the disaster you most want to avoid will happen.

Well-made materials: The three main materials of most aquariums stands are metal, plywood, and particleboards. Each one of these materials serves its own purpose, differing only in price or in their water resistance capabilities. Despite that, if the surface of your stand has hydrophobic qualities, the water-resistance aspect shouldn't be something to worry about.

When considering the price, you need to keep in mind that the best idea isn't to get the cheapest nor the most expensive one. It is understandable that the decision of the material can be hard and confusing, but the stand of your choice needs to adapt to your particular environment and situation, financially and aesthetically.

Steady base: The surface where your aquarium will be standing is the most important part and impacts the general stability of the furniture, therefore it must be properly leveled and balanced. An unsteady and curved base would apply unnecessary pressure to your tank or even make it slide off completely.
Design
Aesthetics are completely subjective to each individual, and for some, they are quite important. After all, the first thing you notice is looks, and a good first impression never goes out of style.
We included stands that match a variety of decors and preferences, so they'll look great anywhere you set them. You'll find some truly gorgeous stands that are simple enough to fit in with the minimalistic concept, and you'll see other ones that are less focused on aesthetics but have several purposes for those multi-purpose aficionados.
Surroundings
Do you live in a large house?
Do you live in a smaller apartment?
Do you have other pets?
Do you have kids?
These are all elements that inevitably must be taken into consideration as they could fundamentally affect the experience of having such a big water container with live animals in it indoors.
If there is a presence of children or pets such as cats or dogs, it is definitely a better option to get a larger and especially taller stand. This would avoid very obvious but devastating incidents.
If the case is that your house is spacious, you would prefer a larger piece of furniture that compliments the large space and the other furniture, and avoid getting a smaller one that would make it barely noticeable. In a small house, however, you would rather not have a cramped space and an aquarium that stands out in an unpleasant way, and for this reason, you should consider the smaller table-like options.
In any case, your indoor environment plays a big role and it needs to be complemented by its new addition.
DIY: Is It Worth It?
Maybe some of you are picky and would rather do it yourself the way you want it, besides purchasing one. Or maybe you can have one built for you according to your preferences and needs which might not be fulfilled by ones already existing.
However, thanks to the large and diverse catalog of products, then chances are you will find your desired fish tank stand that has all the marks checked and possesses every element that you would want from it. The only problem you might stumble upon is the lack of an option of your desired color, which can be easily solved by simply painting over it or if you have access to an actual carpenter who could take on your request.
Consider the Space for Equipment
A fish tank stand doesn't have to be the only furniture that holds your tank. It can have different functions as well, all in use for your fish and you; who is raising them. It's more than convenient to have the equipment necessary for your daily fish-care business near the fish itself. A 40 gallon tank stand with storage is the one I'm talking about.
For example, if the stand you have has a cabinet, it's a great option to hold your fish food, filters, and other equipment necessary. Some stands don't have shelves but instead just doors to hide cables so they're not in the way.
Another option is to get a stand with a base a little bigger for your tank so it can fit the food or similar things around the tank. This is also a great option for people that have children. If the equipment is in the right place, you won't have accidental food spills or possible food poisoning.
Conclusion: How We Chose the Best 40 Gallon Tank Stand
All options are viable and are dependent on your unique circumstances. Each product was thoroughly studied and tested before being chosen. Our staff spent time with each product to make sure you know everything there is to know about it. They all have their own small peculiarities that distinguish them from one another.
This article covered all you need to know, from things to consider to items, all in an easy-to-understand way. We set out to make the process of selecting an aquarium stand for your 40 gallon fish tank as simple as possible. Finally, we hope we were able to help you with your hustle.
At the end of the day, the most essential thing is to treat anything you buy kindly since each of the items listed here will last you several years.
FAQs
40 Gallon tank stands can be great furniture in your home. If you still want more information on the best way to choose and use them, read on for the answers to some of the most common questions about these fish tank stands.
Q: How much does a 40 gallon fish tank weigh full?
Typically, a 40 gallon fish tank full of water will weigh around 405 pounds. Including decorations and equipment, it can go up to 420 pounds. That's not something that you want to try moving.
Without proper aquarium stands your floor can get damaged and broken. That's why is important to choose the best aquarium 40 gallon tank stands. We would suggest using Imagitarium Brooklyn Metal Tank Stand to balance the weight of your aquarium so it won't cause damage to the floor.
Q: How do you make a 40 gallon aquarium stand?
Using a power drill and some screws, you can make your own aquarium stand.  It will take some work and it won't be as sturdy or stable as one that is pre-made. That is why we won't suggest that option.
It's better to spend a few budgets and purchase a durable stand like Imagitarium Brooklyn Metal Tank Stand rather than risking breaking your expensive aquarium. If you would like to learn how to do this on your own, follow a DIY guide.
Q: Can I make my own aquarium stand?  
Yes! But why would you when there are so many affordable options available online? You can find some great pre-made stands that will work perfectly with your 40 gallon aquarium.
One of them is Flipper Wildwood White Aquarium Stand. Budget-friendly fish tank stand that can work for both long and breeder 40 gallon aquariums.
We are sorry that this post was not useful for you!
Let us improve this post!
Tell us how we can improve this post?