Owning a fish tank is a popular hobby for many people. There are a variety of aquariums to choose from, and each has its own benefits and drawbacks. If you're looking for the best 30 gallon fish tanks, you've come to the right place. In this blog post, we'll take a look at some of the best tanks on the market and give you our top picks.
We'll also help you decide which equipment to choose for your 30 gallon fish tank kit based on your needs and budget. So, whether you're a beginner or an experienced aquarist, read on to find out more about the best 30 gallon aquariums on the market and what to consider when choosing one!
Best 30 Gallon Fish Tanks Reviewed
There's a lot of options when it comes to choosing the best 30 gallon fish tank. If you're not sure what kind would be best for your needs, the following list should help point out some popular varieties on today's market so that choosing is easier.
Before purchasing a tank, keep in mind that a 30 gallon fish tank weighs around 348 lbs when filled with water and it would break immediately if you put it in a TV stand or a table. You must have a 29 or 30 gallon aquarium stand so it can stay durable and safe.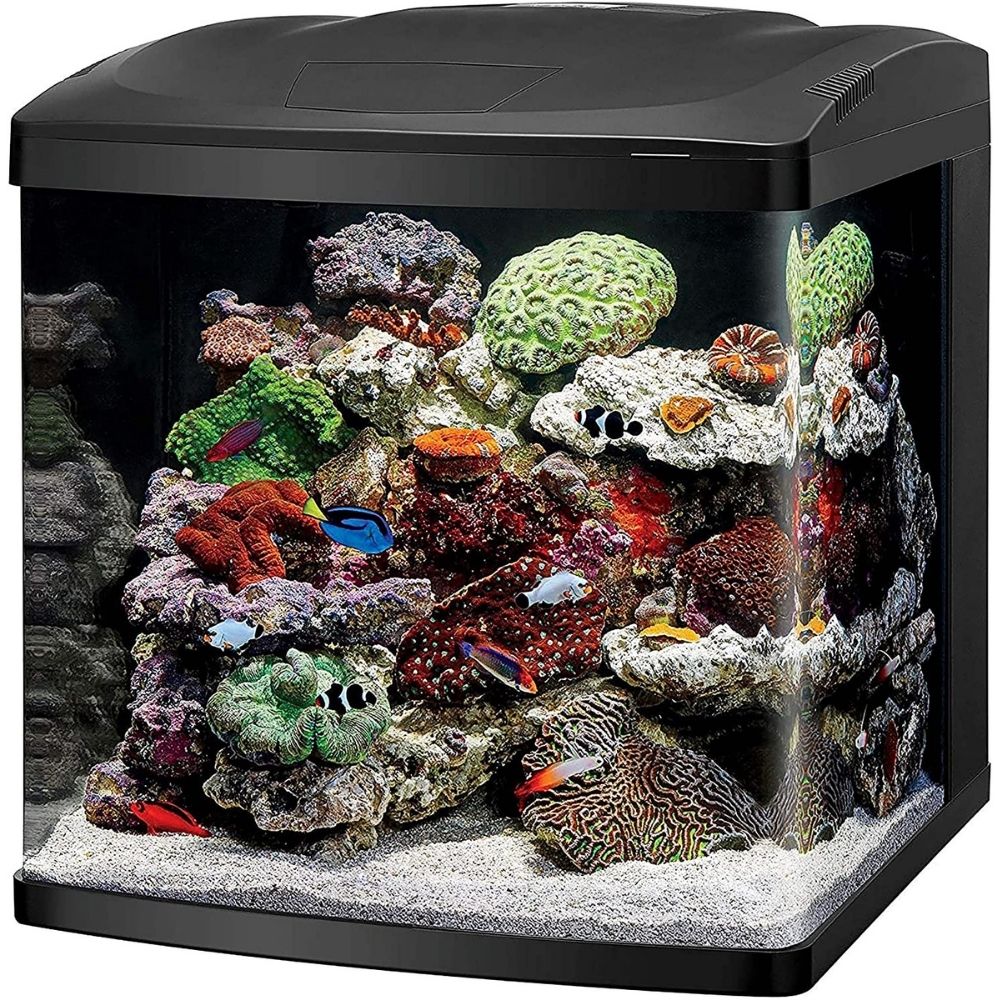 The Coralife Biocube 32 reef tank is an excellent choice for individuals who are new to saltwater aquariums. It's designed so that everyone has enough space to work with, but not so much that it becomes overwhelming. In all honesty, this modern, round-edged design, all-inclusive, and imaginative makes this aquarium sleek and fit for all of your expectations.
LED lights, a 24-hour integrated timer to manage each of the three independent light channels, 30 and 60 minute capabilities to mimic your fish's natural day and night cycle, and the tank itself, the primary attraction, all nearly faultless.
The Coralife Biocube 32 is a handy option that can hold a variety of fish while still leaving room for plants and décor. If you're just getting started with saltwater fish, this is an excellent tank for teaching you the basics. You can't go wrong with this selection whether you're looking for a reef aquarium, a saltwater fish tank, or anything else that fits inside the Coralife biocube 32 dimensions.
Read More: Coralife Biocube 32 Review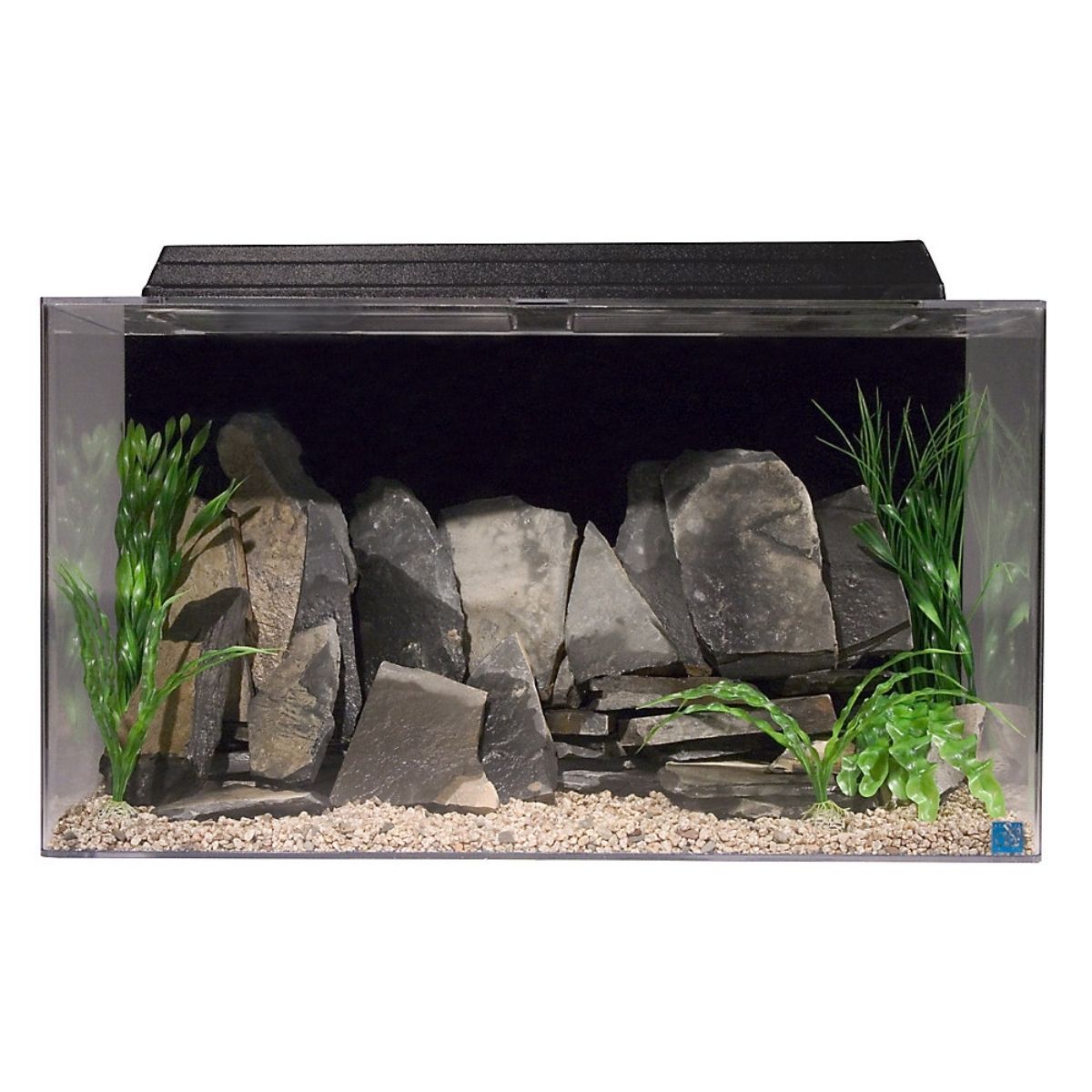 If you're looking for quality and value for money, there's just one option: SeaClear. Nobody can compare to the quality of this tank and how pleasant it feels to use it from the moment you unbox it to the moment you set it up.
SeaClear can fulfill even the most lavish aquatic dreams for anybody, whether they are novices or seasoned fish keepers. Because this tank is constructed of acrylic rather than glass, it is more resistant to chipping and cracking, making it safer for children and dogs.
This 30 gallon aquarium kit also comes with an electrical light fixture. It offers plenty of room for as many decorations as you like, and it can be used in both saltwater and freshwater environments. You can't go wrong either way.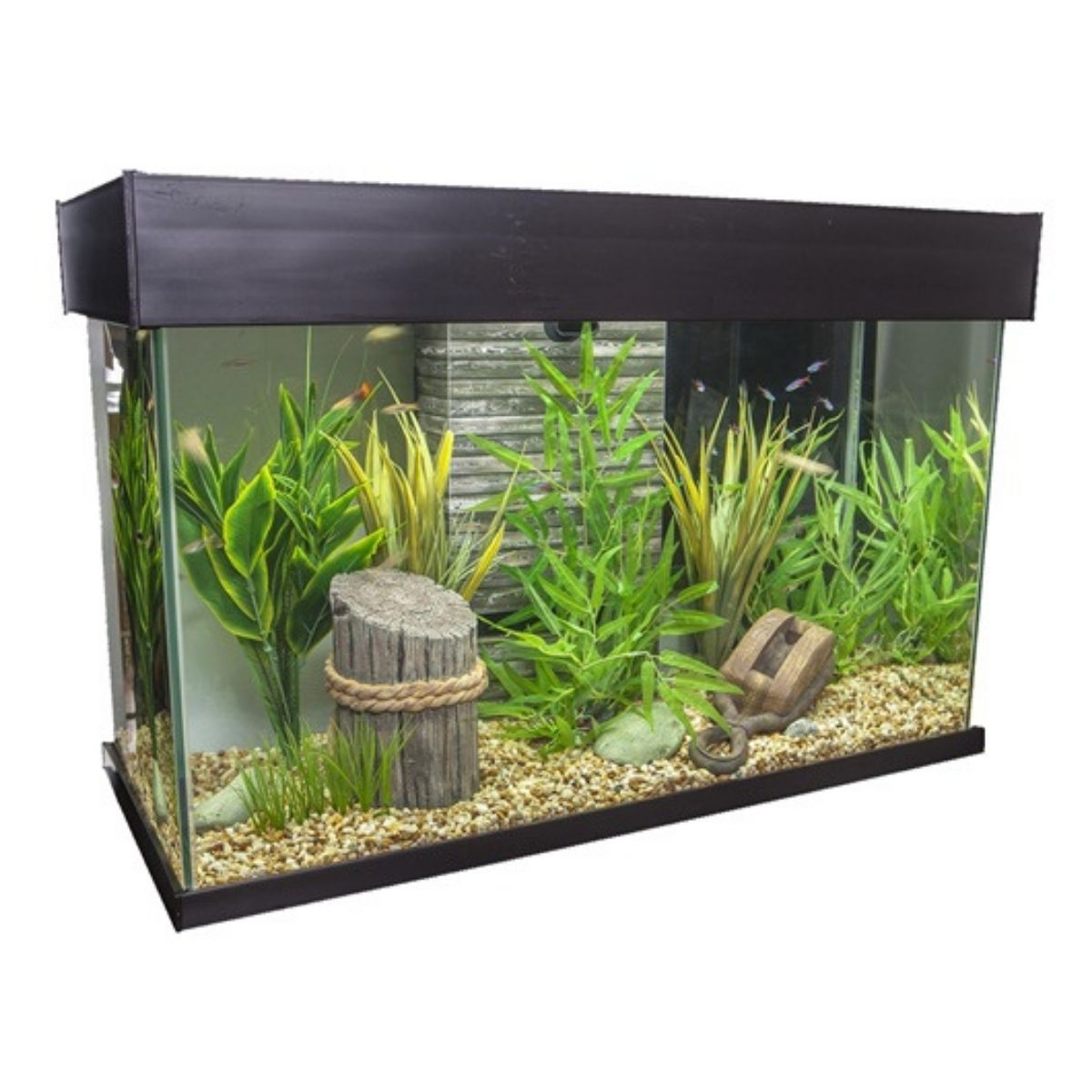 As Fluval is a very well-known brand, this one might be the most stunning aquarium you will ever see. This is without a doubt one of the best-looking tanks out there and if you're all about that this will be ideal for you. The gorgeous bezels, lid, and bottom, as well as the brick-like structure in the tank's core, are all fantastic and unique. And besides the aesthetic part, this tank works insanely well for that price and visually.
This tank includes a one-touch filtration/water change maintenance mechanism, which you won't find anywhere else. While you enjoy the beauty of your aquarium, it may help you relax in a real sense and calm even the heaviest of thoughts. We recommend getting it even if you don't think you need a good-looking tank, by remembering that it will probably end up being a centerpiece on your home and you need to make sure that.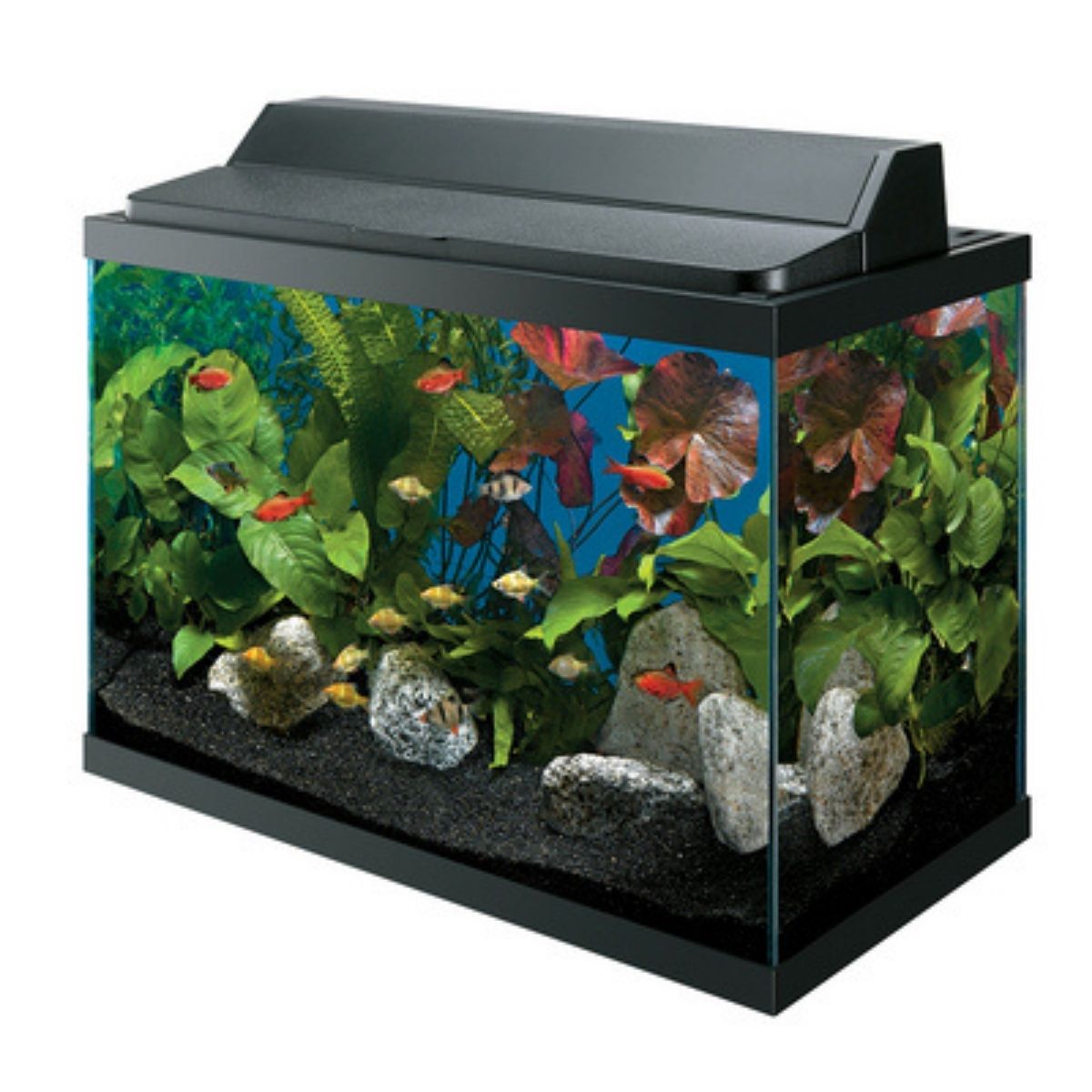 This LED fish tank kit from Aqueon gives a complete ethereal atmosphere with eye-catching LED lights to bring the aquarium to life. The energy-efficient low-profile hood has a simple feeding entrance in the front and breakout sections in the back for accessories.
A heater, a QuietFlow LED PRO power filter, fish food, a water conditioner, a fishnet, and a thermometer that clings to the tank are all included in this kit for a healthy aquatic habitat and for convenience so you won't have to shop for anything separately.
You'll also receive step-by-step instructions to assist you in correctly setting up your aquarium. Cleaning will be a breeze with the filter, and the lights will provide that additional sparkle that all tanks require. Overall, this is a fantastic option that you will not regret.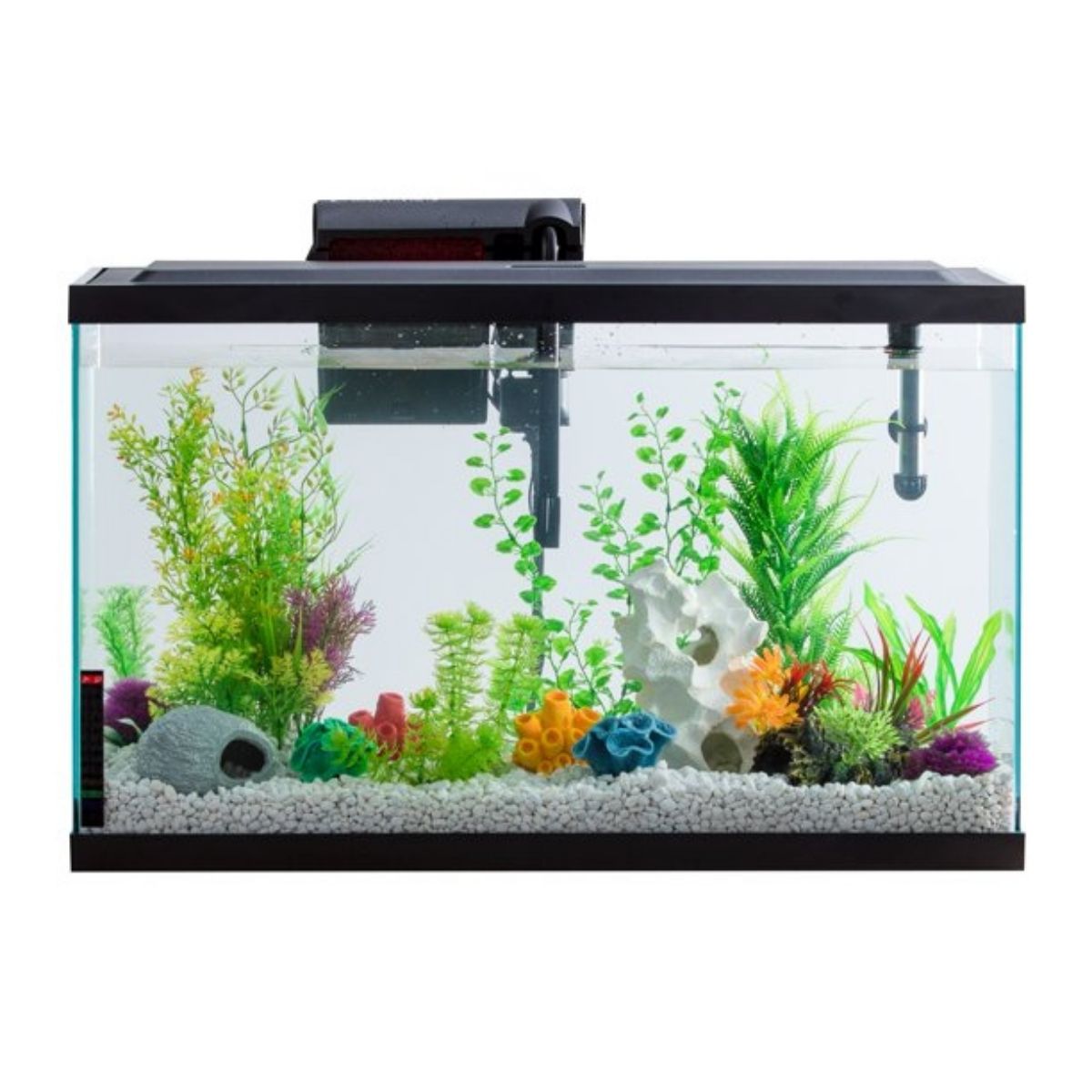 The Aquaculture 29-Gallon Aquarium Starter Kit is a fantastic way to bring a little bit of nature into your house. Due to its low profile, the hood of the Aqua Culture Starter kit makes natural light shimmer in your aquarium, and it also incorporates energy-efficient LED lighting that mimics natural sunlight.
This kit includes an inside Tetra filter that provides a powerful yet gentle filtering system to keep your fish healthy and their water clean. There's no need to remove the hood because this tank has built-in cutouts that provide room for it. Overall, an excellent pick for the majority of people, and it comes in a kit to save you money and time over buying everything individually.
Essential Equipment For A 30 Gallon Fish Tanks
Even the most expensive fish tank kit will require additional equipment in order to operate properly. There are unlimited types of products that you can find on the market but only a few of them are essential.
Let's get into each of them and why they play a critical role in your best 30 gallon fish tank.
Best Aquarium Stand
An aquarium stand is necessary to hold up your 30 gallon fish tank. It's also a convenient place to store all of your essential equipment, such as the filter and heater or fish food.
Ameriwood Home Aquarium Stand
Best 30 gallon aquairum stand
4 shelves
Affordable
Sleek black
Modern look
CHECK PRICE
There are many different types and styles of 30 gallon aquairum stands on the market, but our favorite is the Ameriwood Home Aquarium Stand. It's made with high-quality laminated particleboard and MDF and provides a strong foundation for your 30 gallon long aquarium. Plus, it has a beautiful design that will complement any room in your home!
Best Heater
A heater is a must-have for your new fish tank. It's one of the most important pieces of equipment for any tank, regardless of its size. The correct water temperature will determine whether your pets thrive or not.
If you have species of fish that need warm water to survive, keeping them at the wrong temperature by using an inadequate heater can lead to their death.
Many aquarium kits don't really include a heater, so you probably will have to purchase them separately. There are several types on the market and choosing one isn't as simple as it may seem.
Cascade Heat 10
Best heater for a 30 gallon fish tank
Accurate
Great price
Safe
Easy to set up
CHECK PRICE
The Penn-Plax Cascade Aquarium Heater is the perfect way to keep your 30 gallon fish tank at an ideal temperature. It's fully submersible and comes with dual suction cups for easy placement in your tank.
It features both Fahrenheit and Celsius temperatures on an easy-to-read gauge and is designed to maintain tank temperature within 1 degree of accuracy. Comes preset to 76 degrees Fahrenheit, but it can be manually reprogrammed to any temperature.
Best Filtration Unit
A filtration system is an essential device for a healthy fish tank. It's responsible for removing harmful substances from your aquarium, including solid fish waste and excess leftover food. There is one only product that is proven to deliver results on a 30 gallon long aquarium:
Fluval U2 Underwater Filter
Best filter for 30 gallon fish tank
Waterfall feature
Flip-top lid
Biological media included
Three-stage filtration
CHECK PRICE
The Fluval U2 Underwater Filter is sleek and easy to use. Not only does it provide all of the filtrations that a 30 gallon fish tank need but also comes at a great price point so anyone can afford one!
With its convenient flip-top lid, you can easily access the cartridge to maintain or replace it when needed! No other product on the market we have reviewed offers this convenience at such an affordable price point.
Best Light for Corals and Plants
Corals and plants need light to survive, just like humans and other animals. If they don't get enough, the result won't be good for these aquatic species. Most 30 gallon fish tanks come with a built-in hood and special lighting that's designed to support plant growth.
Most of the included lights on a 30 gallon fish tank kit are good for low-light plants. Those lights aren't powerful enough to thrive corals or other aquatic plants. If you want to keep those as well, then we recommend purchasing a separate light.
AquaIllumination AI Prime Reef Aquarium LED
Best reef light for 30 gallon fish tank
Excellent brightness
Ideal for any coral size
App control
AI support
CHECK PRICE
The AI Prime 16HD is the perfect way to meet your 30 gallon fish tank needs for growing plants and corals. This easy-to-install and adjustable HD LED light creates vibrant colors and delivers the optimal intensity every aquatic plant and coral needs to thrive.
It's perfect for 30 gallon fish tank and comes with moonlight mode that provides true-to-life color rendering. Best of all, the AI Prime 16HD can be controlled via an APP from your smartphone.
What to Consider When Choosing the Best 30 Gallon Fish Tanks
Choosing the best 30 gallon fish tanks can be a challenging task. You need to consider several factors, such as material, shape, and more.
Now that you have chosen the essential equipment will take you through some important things to consider and help you pick out the best 30 gallon fish tank for your needs.
Budget
The first thing you need to consider when choosing the best 30 gallon fish tanks is your budget. When it comes to fish tanks, you get what you pay for. This doesn't mean that the most expensive tanks are always the best, but if you're on a tight budget, you'll need to purchase a kit that includes most of the essentials.
If you have a little extra money to spend, we recommend investing in a high-quality filtration system and light. These pieces of equipment are crucial for keeping your tank healthy and thriving.
Material
When it comes to 30 gallon fish, there are three main materials that they can be made out of: acrylic, glass, and plastic. Each material has its own benefits and drawbacks.
Glass is the most popular material for fish tanks because it is shatter-proof and doesn't scratch easily. It also allows you to see your fish and decorations inside the tank very clearly. The downside to glass tanks is that they are heavier than other materials and they can be more expensive.
Acrylic is a strong and lightweight alternative to glass. It is less likely to shatter than glass, but it can still scratch if not taken care of properly. Acrylic tanks are usually cheaper than glass tanks and are available in a variety of shapes and sizes.
Plastic is the cheapest and lightest material for fish tanks. However, it is not as strong as glass or acrylic and can scratch easily. It is also less likely to be clear than other materials, making it difficult to see your fish and decorations inside the tank.
Shape and Size
When choosing a fish tank, it's important to consider the size and shape of the aquarium. A 30 gallon fish tank has more length than height or width. This makes it perfect for long, narrow spaces. If you have a smaller room to work with, a 30 gallon tank might not be the best option.
There are several different shapes of fish tanks available on the market. The most popular shapes are rectangle, bow front, and hexagon.
Rectangle tanks are the most common shape and they come in a variety of sizes.
Bow front aquariums have a curved front that gives the illusion of a more spacious tank.
Hexagon tanks are not as common as rectangle and bow front tanks, but they are growing in popularity because of their unique shape.
Design
Design and color are some of the most important things to consider when purchasing a 30 gallon fish tank. You need to decide what type of design suits your needs and home. Some of the popular designs for a 30 gallon fish tank are rectangular, hexagon, and bow front.
You also need to think about the color. Do you want a tank that blends in with your home décor or one that pops and stands out? The color can also affect the mood you want to create in your aquarium. For example, if you want a relaxing environment, brighter colors may be ideal for you.
Our Verdict
It takes a lot of research to properly comprehend, much alone be prepared for, the numerous aspects that go into the construction of fish tanks that must be considered before acquiring one, ranging from the wants of you and your fish to your current circumstances.
When clicking on this article you made the best decision for your fish. Out of all the options we had to go through, there are some that shocked us for their value from money like Aqueon Deluxe LED 29 Gallon Aquarium Kit right from the unboxing, and some that left us exceeding our expectations after weeks of usage like Coralife Biocube 32 gallon. Either way, we're certain we came up with a great list containing the best 30 gallon fish tank tanks out there for you and your fish.
How We Choose the Best 30 Gallon Fish Tank
Our staff explored every possible possibility when compiling this list. All of the products were picked to check all of the boxes while also meeting the standards. If you don't consider variables like having other pets or children in the house, choosing the right tank might be tough.
All of these tanks are built to last and will keep your fish safe in any situation. To their credit, all of the companies are well-known for their fish-related items. In any event, we made sure to run a background check on the companies themselves. Finally, we've put together a thorough list of the top 30-gallon fish tanks currently available.
FAQs
If you're wondering how much it costs to maintain a 30 gallon fish tank or how many fish can you keep inside, read on for answers to these and other questions about 30 gallon fish tank kits.
Q: How many fish can I put in a 30 gallon tank?
It always depends on the fish species you want to keep. Generally, you can put up to 30 fish in a 30 gallon tank, but you should keep in mind that the more fish you have, the more bio-load your filter will need to be able to handle.
That's why we recommend using a powerful filter for your 30 gallon fish tank. The only filter that can handle such a high volume of water is the Fluval U2 Underwater Filter.
Q: How much does it cost to run a 30 gallon fish tank?
On average, the cost to run a 30 gallon fish tank is about $10-$15 per month. This includes the costs of electricity for running the aquarium equipment as well as the replacement of filter cartridges and other consumables.
The costs of setting up a 30 gallon fish tank are around 300$ if you choose an aquarium kit and more than 700$ if you decide to purchase equipment separately. 
Q: How much money is a 30 gallon tank?
The average cost of a 30 gallon aquarium is between $120 and $130. This price can vary depending on the size, accessories included in the kit, and whether you choose an acrylic or glass tank.
Q: Is a 30 gallon tank good?
Yes, 30 gallon tanks are good for beginners who do not want to invest much at first. The size is not too small and not too big either. And the cost of a 30 gallon tank (and everything that goes along with it) is lower compared to aquariums of other sizes. That makes this tank perfect for people who are new to the hobby.
Choosing 30 gallon aquarium kit where all the essential equimpent are included can make your dedication more worthy and affordable.
We are sorry that this post was not useful for you!
Let us improve this post!
Tell us how we can improve this post?