Choosing the best 29 gallon aquarium stand is not an easy task. It comes with its hardships and many things to consider. Each fish tank size has a stand made to hold its exact capacity; therefore, it's necessary to be careful and choose the right fish tank stands for your 29 gallon aquarium. There is a variety of choices for everyone that fit your 29 gallon aquarium dimensions and your taste.
There are modern aquarium stands or vintage ones. There are metal aquarium stands, and wood aquarium stands to suit your needs and your fish tank. There are aquarium tables or aquarium cabinets.
Whether you choose to go for any of the above in this article, we make sure to provide you with the best products for your tank and all you need to know for finding the perfect 29 gallon fish tank stands.
Best 29 Gallon and 30 Gallon Aquarium Stands Reviewed
Every product listed below has been tested and studied to bring you the best experience and not give you any problems in the present or the foreseeable future.
Each product will last years if taken care of properly and would be an excellent choice for everyone regardless of their taste. We awarded several products based on their best qualities and on what impressed us the most. All these stands are for up to 29-30 gallon tanks.
If you're a person that wants all of the above in a single, well-built stand, the Ameriwood Home is the choice for you. It's made of laminated particleboard and has a sleek black finish, checking it in the looks department.
It has great storage space with 4 shelves behind the doors making it convenient and functional. It's strong, sturdy, and can hold up to 450lbs. It's everything you could ever ask for in a single product, making it the perfect choice for most people and their situations.
Product Specs
Dimensions: 33 x 14 x 30 inches (LxWxH)
Material: MDF
Storage space: Sufficient
Color: Black
Suitable for: 29 and 30 gallon aquariums
As we mentioned earlier, one of the best qualities of your aquarium stand would be the storage capacity. This stand comes with an adjustable shelf that's convenient to keep and hide your equipment. It's got a solid construction and an attractive design.
When we tried several aquariums we noticed that it's a perfect fit for all of them. It's easy to set up and it won't give you any concerns about sturdiness or durability. It covers all the fundamentals for your tank, has huge space for storage and it will give your room a nice and rich look.
Product Specs
Dimensions: 30 x 12.5 x 29.5 inches (LxWxH)
Material: Solid Wood
Storage space: Sufficient
Color: Dark Brown
Suitable for: 29 gallon aquariums
If you prefer something sleek, solid that's simple, this is the choice for you. This stand covers all you need in such a modest way, leaving all the spotlight for your tank and your fish. It's built so well, you won't have to worry about durability issues at all. It's built…well…like a tank, for your tank.
You can be safe to put any 29 gallon aquarium and it'll handle it like a champ. It fits in well in any decor, and the minimalists will especially like it.
Product Specs
Dimensions: 30 x 12.5 x 29.5 inches (LxWxH)
Material: Steel
Storage space: None
Color: Black
Suitable for: 29 gallon aquariums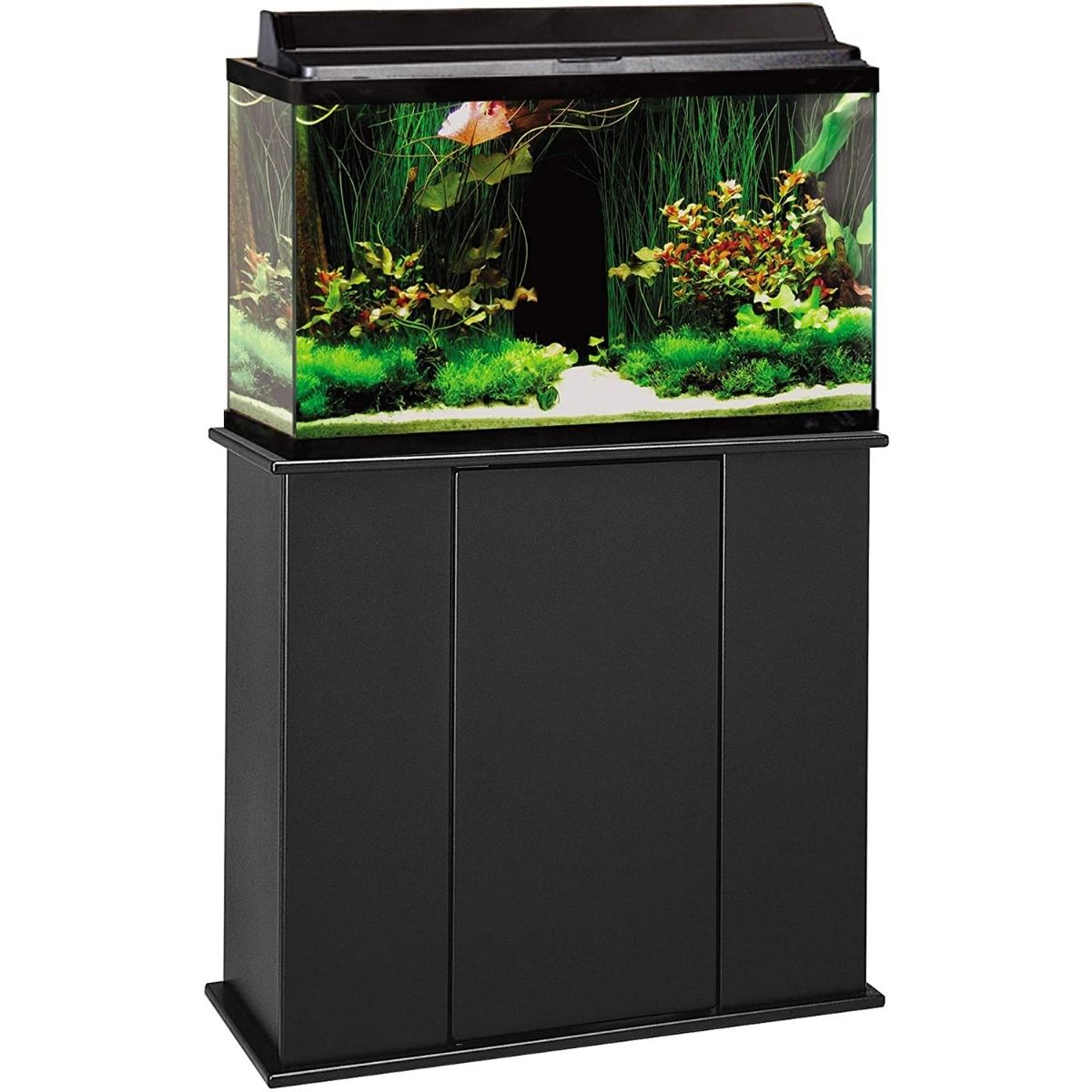 However, if your cuppa tea is something modern and attractive, this fine piece of furniture will be all you've ever dreamt about. It has a black moisture-resistant finish, it's sturdy and it will make your 29 gal aquarium look even better.
It distributes the weight perfectly and it has space for your cables to be put behind the door. It looks so nice and complements the tank so well, one of our team members took it home (hopefully just as friends)! Jokes aside, it's a great choice if you're into all black or furniture that would fit in a futuristic movie's living room.
Product Specs
Dimensions: 31.3 x 13.1 x 28.2 inches (LxWxH)
Material: Wood
Storage space: Sufficient
Color: Black
Suitable for: 29 and 30 gallon aquariums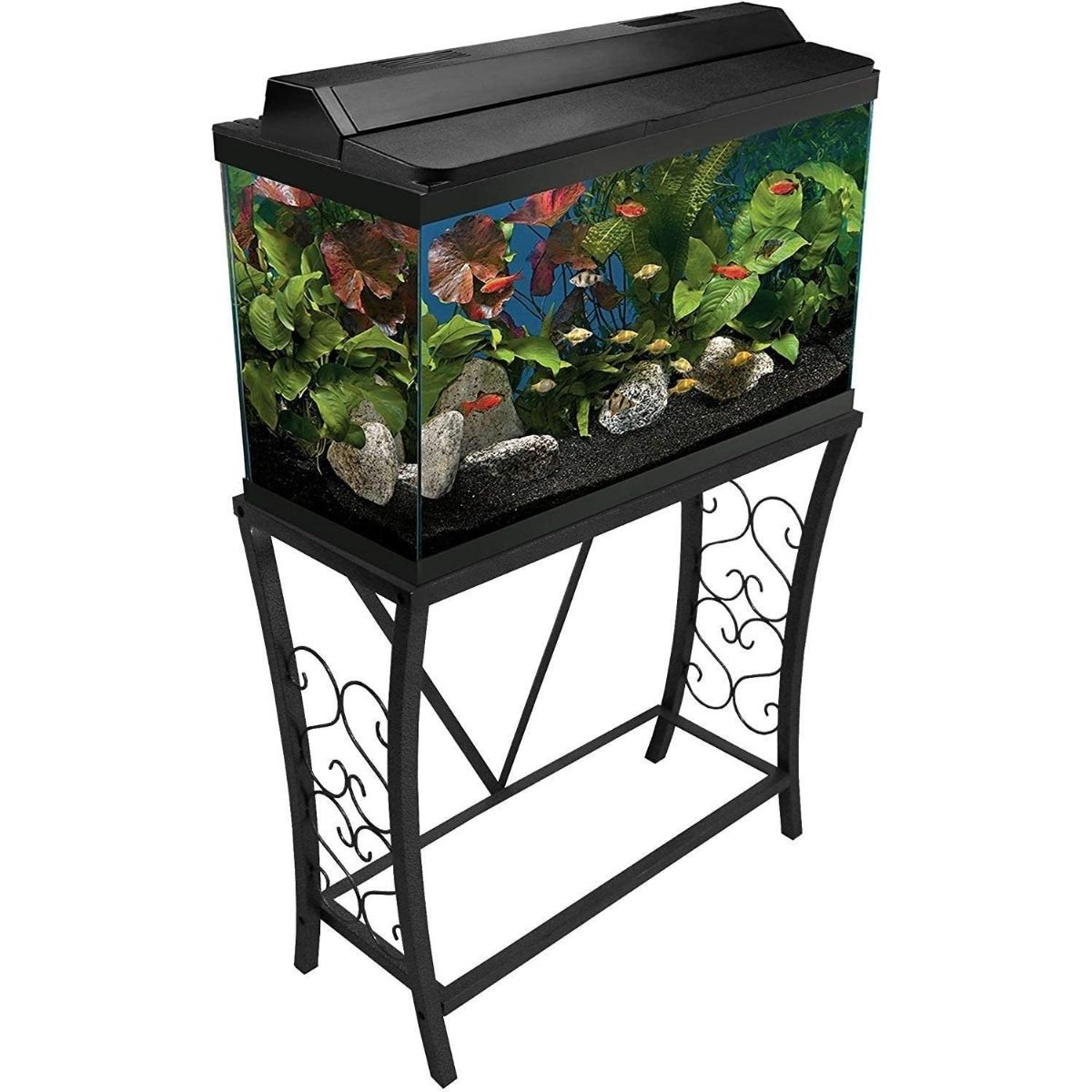 What about our vintage enthusiasts? We have a perfect choice. If I would give this stand a time period, I would put it into a Victorian house and no one would suspect a thing.
It's tough, made of steel and it can hold up to 290 lbs. It's easy to assemble and easy on the eyes so it won't be a hassle at all. There's classic scrollwork that runs down each side of the stand that will take you back in time every time you stroll past it.
Product Specs
Dimensions: 30.3 x 12.5 x 27.8 inches (LxWxH)
Material: Metal, Steel
Storage space: Not much
Color: Black
Suitable for: 29 gallon aquariums
A durable, high-quality stand that's modern and professional? Sign me up. It's a sturdy option that has a nice design that will fit in with your contemporary interior design perfectly.
It's big enough, has storage placements, and is well built to make it age-proof. It'll be perfect for any modern apartment and will add even more to it.
Product Specs
Dimensions: 30 x 14 x 27 inches (LxWxH)
Material: Wood
Storage space: Sufficient
Color: Black
Suitable for: 29 gallon aquariums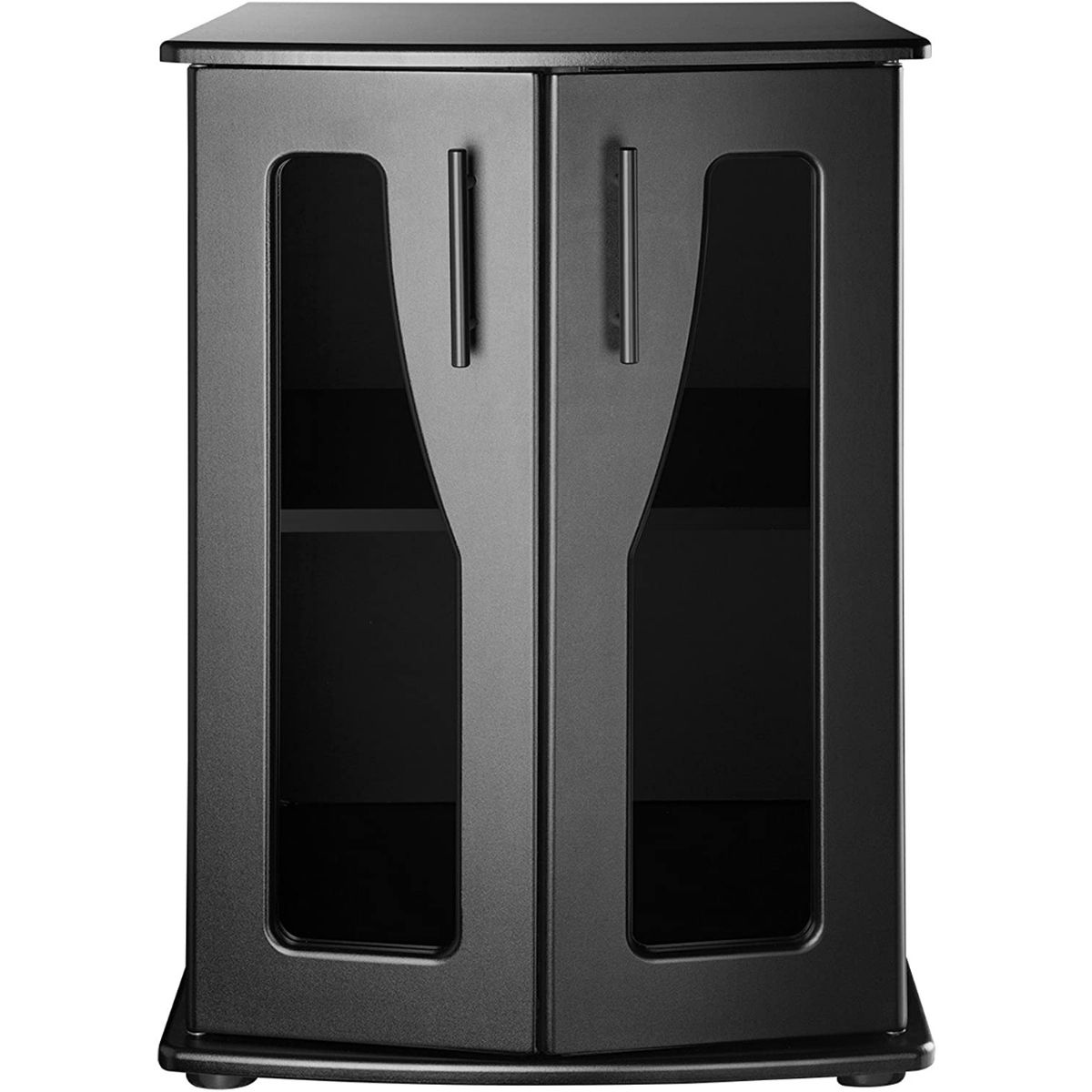 This cabinet will not only make your house interior look nicer and fancier, but it will also make you never want to get another one. It's sturdy, built well, does what it's supposed to do, and does it in style.
The glass windows are a great addition to your setup, matching well with any tank you put on it. It's good for storage too and overall the perfect choice if you need a fish tank cabinet.
Product Specs
Dimensions: 21.5 x 20.5 x 29.5 inches (LxWxH)
Material: Wood and glass
Storage space: Sufficient
Color: Black
Suitable for: 29 and 30 gallon aquariums
What to Look for When Buying a 29 Gallon Aquarium Stand
Aquarium stands are available in numerous materials and styles. They also feature different weight distributions and some offer space for equipment too. Understanding all of these features will help to guide your search for the best 29 gallon aquarium stand, regardless of your budget.
Type of Material
Fish tank stands are made from various materials that contribute to a specific aspect. Each of the materials that make up an aquarium stand is good, with subtle differences that make for the perfect stand on various occasions. It's important to know that there's no good or bad choice; it all comes down to personal preferences and specific scenarios.
Metal stands are mainly made for heavy aquariums and provide sturdiness, strength, and durability. The cons are that metal is open to Rust and corrosion, which is a problem that can only be fixed by covering the stands with a waterproof finish. If the said finish is not applied, the metal will gradually weaken and bring bad news to you and your tank.

Wood, specifically plywood, is expensive; however, it is more robust and durable against water. You can find it in cabinets in your kitchen, and it's excellent for any weight you put on it.

Particleboard is the cheapest choice of all it smells for used to make lightweight stands; however, it can uphold all sizes of tanks if built correctly. It's vulnerable to water, but that's no problem since it's usually coated with a waterproof finish. it will be great with a 29 gallon tank; however, don't expect it to hold up to 100 gallons tanks
Space for Equipment
Whoever owns fish knows that they require equipment daily. The most convenient way is for that equipment to be near the fish itself, to access whenever you're feeding them or taking care of them.
There are some stands that have space for equipment under or behind the tank. It would be wise to consider the space for equipment so as not to put everything around the house.
Height & Weight
A 29 gallon fish tank might not seem like much, but it becomes much heavier with everything on it, from the water to the fish. When choosing the best 29 gallon aquarium stand, you must consider the weight that it holds. You can't use a 10 gallon fish tank stand for a 29 gallon one because it will be small in dimensions and will most probably collapse from the weight.
29 gallon fish tanks weigh about 330lbs when filled with everything. Therefore, when you choose a stand for it, it must have good weight distribution, a sturdy base, and be built so that it won't collapse from the weight. You must make sure that everything is correct unless you want to deal with a broken stand or, even worse, a broken tank.
Height is significant for several reasons. One of them is that if your fish tank is too low, it might be a problem for filters dependent on gravity. Besides that, you must make sure that the fish are always in your field of view to see when something is wrong immediately.
Weight Distribution
The best 29 gallon aquarium stand must have some qualities to make it ready for a tank to be put on it. Weight distribution is one of these qualities. A tank, regardless of its size, weighs too much for the whole weight to stand on one spot.
It's important for that weight to be proportionally divided so as to not put pressure on a single place.
This is not only important for the cabinet, so it won't break or bend, but it's also important for your floor. Especially in old apartments, the floor might be vulnerable and it might actually crack from the pressure of the weight. Therefore, a stand that distributes the weight correctly is crucial to the longevity of your floor, tank, and the stand itself.
Design
When choosing a fish tank, you always try to get the best looking, functional home for your fish. However, the stand supporting it is just as important. You can't get a nice tank and then cheap out with the thing that will impact its look the most.
There are different designs of fish tank stands to adapt to all lifestyles and tastes. There are big and bulky ones, small and sleek, medium and sleek, black, brown white, or if you dare, you can even dye it neon pink!
Whatever design fits your interior or your expectations, chances are, you'll find it. It all comes down to your personal taste. There's plenty of stands to choose from and they're all at your fingertips. You only need to scroll down.
Size
Aquariums come in different sizes and shapes. It's important for your stand to fit your tank properly, with nothing standing out too much. There are certain dimensions for every stand to fit the specified tank.
These are the most common dimensions for 29 and 30 gallons aquarium, make sure to measure your tank before choosing the best aquarium stand. If your tank dimensions are equal to or below 24 x 12 x 18 inches (LxWxH) consider getting a 20 gallon fish tank stand.
29-gallon tank size: 30″ x 12″ x 18″ (LxWxH)
30-gallon breeder tank size: 36″ x 18″ x 12″ (LxWxH)
*(Height isn't important)
As long as the stand is inside these parameters, the tank will fit snuggly. Even if the stand is a little bigger that's alright for it provides more safety for your aquarium and space for equipment as well. The main thing to consider is to make sure it's not smaller than the actual tank. That might cause the tank's edges to stand out and an accident waiting to happen, especially if you have kids or pets.
The Advantages of Owning a Ready-Made Aquarium Stand
Building things, in general, isn't that easy. You need to make sure that all the dimensions of what you're working with are correct and exact to avoid future problems. When building a stand yourself, you're taking the risk of the weight that it upholds the base, its sturdiness, and its overall quality.
Whereas when you buy it pre-made, other people have tested it for you, built it for you, and made it specifically for what you're looking for. All the specs are written out for you, and everything will be less stressful and time-consuming.
Conclusion: How We Chose the Best 29 Gallon Aquarium Stand
As for the final words, all choices are solid and depend on your own personal situation. Each product was tested and researched when choosing every single one. Our team worked with each product to give you all you should know for each of them.
A 29 gallon tank isn't a very big tank, however, it's heavy enough to make you wonder about their sturdiness. If you have children or pets, it's best to choose one of the higher, bigger stands to avoid accidents.
You should keep in mind that it's never a good idea to put your tank on a coffee table or anything of the sort. Coffee and TV Tables are made to hold exactly just coffee and TV, therefore chances are they'll collapse the second you put a 290lbs tank over it.
Another thing to keep in mind is that your tank shouldn't be put in the ground or low. Not only to avoid accidents but also because certain filers are gravity-dependent and won't do their job properly. Tank stands are made to hold certain sized tanks, so make sure to always check that before purchasing.
Finally, our last word is that you should never feel pressured to make a choice right away. Sleep on it and if you're still up to it in the morning, go along with it. At best, each of these stands will last you a couple of years, so think in advance and take care of your stand as well. This was our ultimate guide to buying the best 29 gallon aquarium stand, and we're glad to contribute to another fish tank's home.
We are sorry that this post was not useful for you!
Let us improve this post!
Tell us how we can improve this post?