It's not every day you get to review a tank. I'm lucky enough to have been given the opportunity and would like to share my thoughts with you on the Fluval Flex 32.5 gallon tank kit. This is a well-made, great-looking aquarium that can be set up in no time at all!
If you are an aquarium hobbyist, chances are good that you have heard of the Fluval Flex. Fluval Flex aquariums are a unique take on the traditional fish tank. They are designed to be flexible and customizable, so they can fit in with your lifestyle and display preferences.
Best Saltwater Aquarium for Coral Growing
Fluval Flex 32.5 Gallon
Sleek design tank, powerful filter, and Marine 3.0 light. Everything is included in this all-in-one saltwater aquarium kit. Best choice if you are looking for a saltwater tank to grow corals while staying in a budget.
Marine 3.0 LED controlled from mobile device
Control over vibrant customizable colours
Powerful and silent 3-stage filtration
Different sizes to choose from (9, 15 and 32.5 gallon)
Can't adjust the flow rate
The Fluval Flex 32.5 (Fluval Sea Flex) saltwater aquarium makes for a great saltwater fish tank, making it a serious competitor for the best saltwater aquarium on the market.
There are many things to love about this tank, and many things to know as well. Below you'll find a full review of Fluval Flex 32.5 gallon, its features, other versions of Fluval Flex, and some alternatives to consider choosing.
If this sounds like something that might interest you then read on below for my full review of this product.
| | |
| --- | --- |
| Walls Material | Glass |
| Shape | Cuboid |
| Color | Black / White |
| Style | Cuboid |
| Size Options | 9 , 15 and 32.5 Gallon |
| Light | Marine 3.0 25000 K LED Light |
| Filter | 3-stage filtration |
| Heater | No |
| Air Pump | Yes |
| Lid | Yes |
| Accessories/Decor | No |
| Require aquarium stand | Yes |
| Ideal For | Saltwater, reef tank |
| Extras | Daylight/moonlight LED light settings |
Fluval Flex 32.5 Overview
The Fluval Flex 32.5 is an aquarium that comes with a filter and lighting system which makes it perfect for any novice aquarist who wants to set up a tank in their home without spending much money. It has an adjustable flow rate, so you can control the water level as needed.
The LED lights are energy-efficient and come with three color settings: blue, purple, or green. You also have the option of using natural sunlight if you want to save on electricity costs! With its sleek design and high-quality materials, this aquarium will make your house feel like a tropical paradise.
The Fluval Flex 32.5 is a great option for those looking to house smaller aquatic species such as bettas and guppies, or those who want an easy-to-clean filter with low maintenance requirements for their tank. It's perfect for the beginner aquarist with its simple upkeep and ease of use.
It's honestly so cool to look at and it's one of the best fish tanks out there. From a respectable company, the Fluval Flex 32.5 is one of the Fluval fish tank series that doubles as a marine aquarium. It comes in 2 other sizes if you're looking for something smaller, and it's sure to last you years to come and never disappoint.
Fluval Flex 9 and 15 Gallon Version
Now, to be fair, there's not a noticeable difference between Fluval Flex 9 and 15 gallon model and Fluval Flex 32.5 model besides the size. Features and all that are basically the same including the set up. Now when it comes to aquarium maintenance, smaller aquariums are easier to maintain, easier to operate and lighter to move around and fill/refill.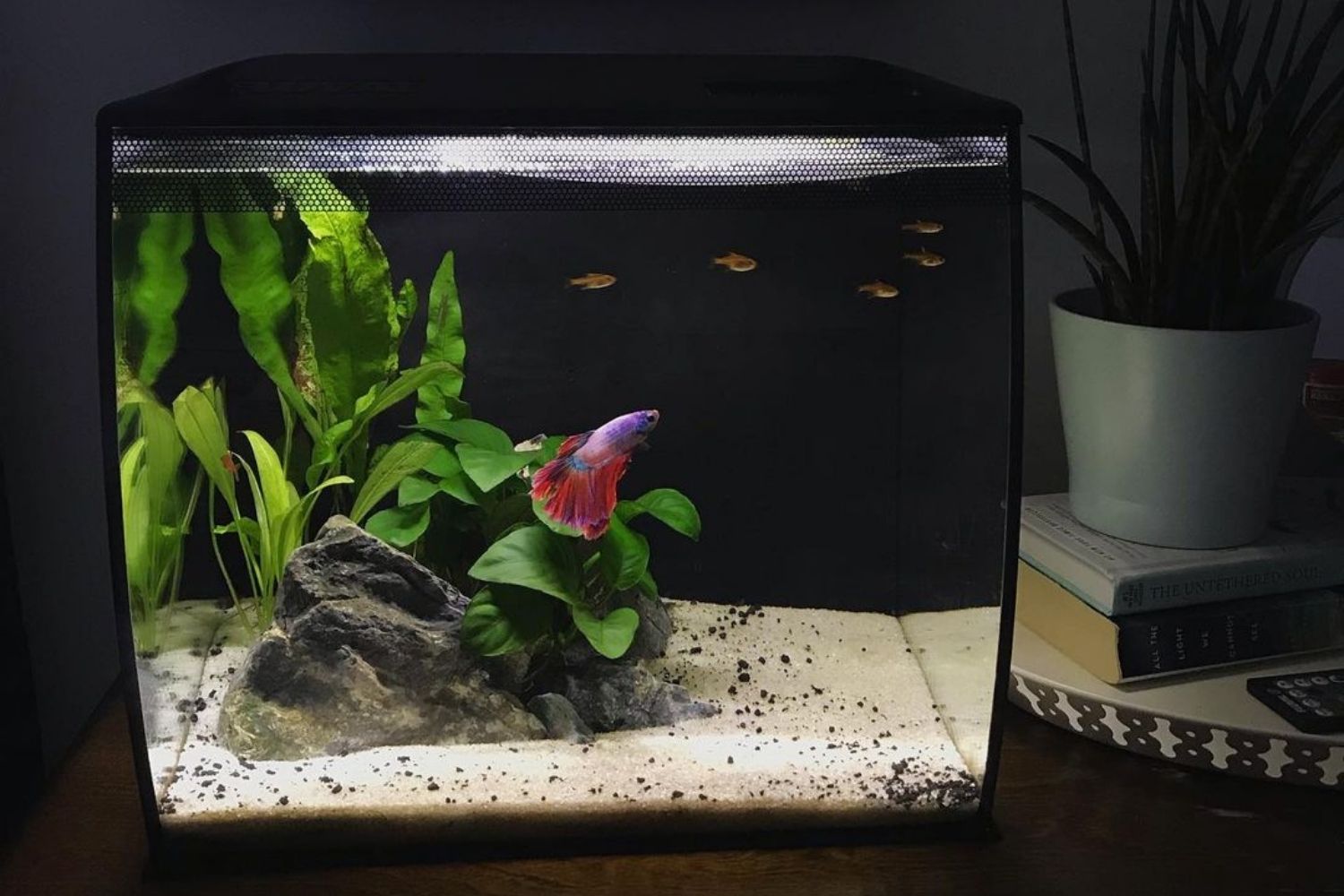 The compromise is a more limited space, with less options to put in the tank, with limitations to the kind of fish you put in or the number of decorations. Depending on your priorities, this is your choice to make, for it's subjective and there's no right or wrong.
The dimensions are as follows:
The 9 gallons might not need a stand, but from 15 gallons and up a tank stand is necessary to avoid your tank breaking whatever you put it on. If you are going for the 32.5 gallons model make sure to purchase the best 30 gallon aquarium stand or get a 20-gallon fish tank stand for the 15 gallon version.
What's Included in the Box?
You get more than just a tank; you actually get everything you need to get started with an aquarium. This is a saltwater fish tank kit, meaning there are several products on it that are made custom for this tank and without additional fees.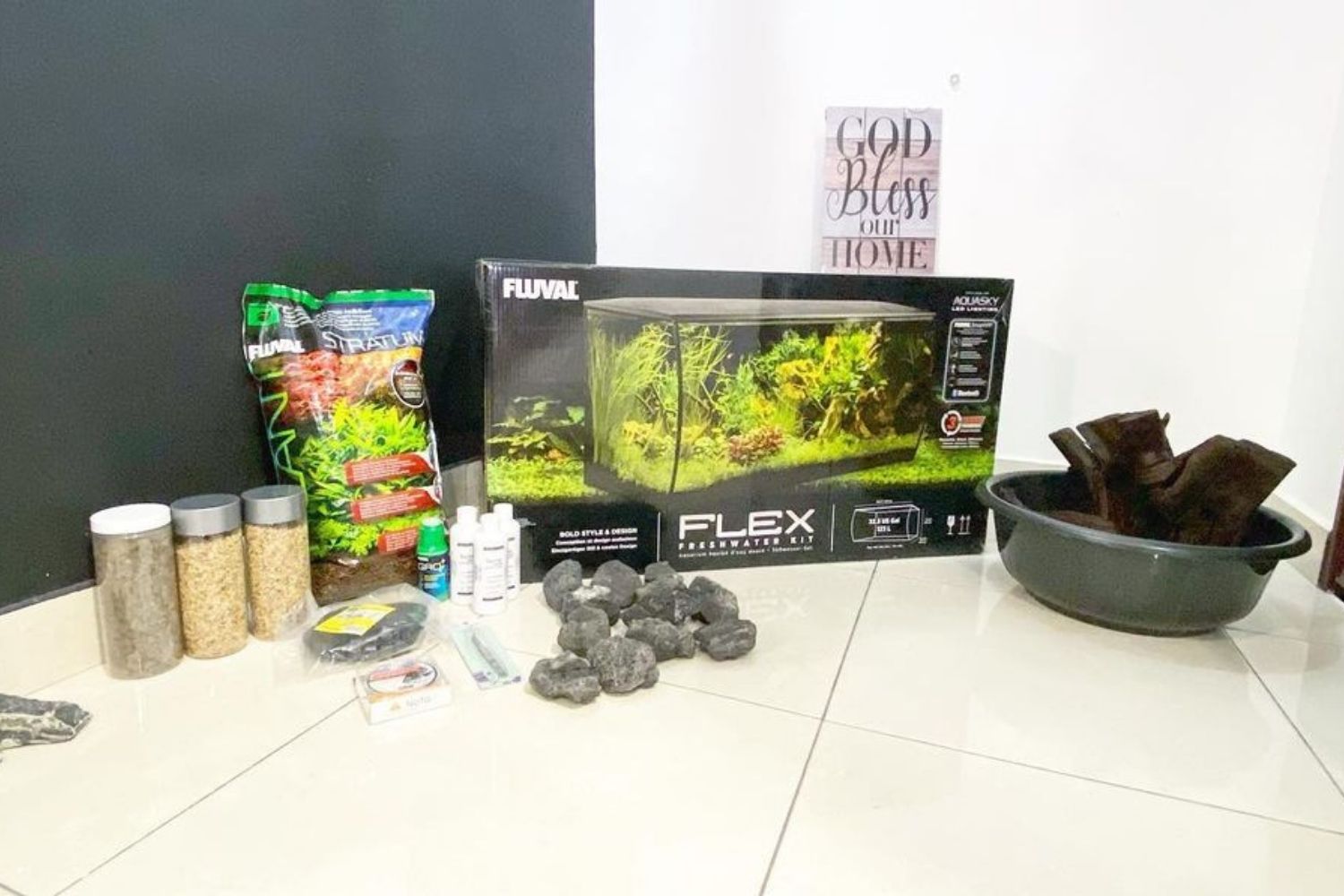 Here's what you'll get:
3 stage filter with all its components
The tank and its components
LED lights and its components
Set Up and Maintenance
The Fluval Flex 32.5 gallon is easy to set up and should only take around 30 minutes. Setting it up as a saltwater aquairum reuqires more effort and time. The first thing to do is to check for leaks, put some water in it, examine and if all is set move on to the next step. 
You'll need to put the tank where you want it and set it before you can fill it up with water, because it'll get too heavy and if you manage to lift it you risk breaking your brand new Fluval Flex. 
Plug in all of the components and turn it on after the tank is full with water and wait for it to cycle. Now, some people wait a couple of hours, some a full day, each is fine and you'll be able to tell by eye when it's time to introduce your fish to their new home.
Key Features of Fluval Flex 32.5
There are many things to appreciate about this tank and things to go over. Keep in mind that unless stated differently, these stand for all 3 sizes of a tank model.
Design
The Fluval company has made a name for itself when it comes to aesthetics and design. They make their products with the customer in mind without compromises in functionality. The Fluval Flex 32.5 has a unique design with a curved glass that makes it look very modern and unique. It's definitely non-conformist and it might not fit with classic antique interiors.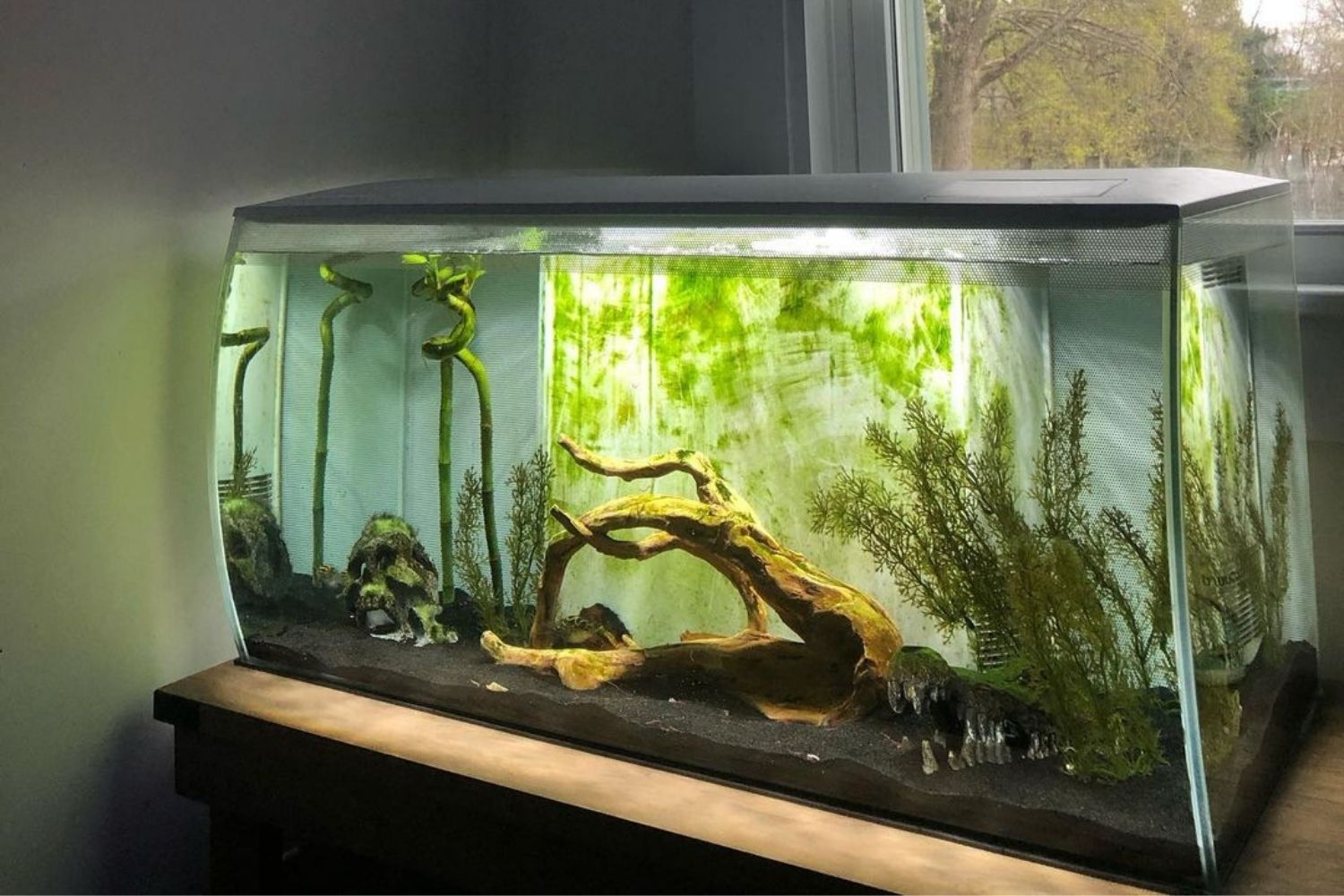 For any other aesthetic, it will be a great fit and will make the room feel a bit fancier. There's a honeycomb line in the top of the tank to mask the waterline for that edge to edge look and keeping the edgy astronaut theme. Overall, it's indeed a brave design, made for brave interiors. Even with a minimalistic aesthetic, it'll be the centre of attention, giving your fish the attention they deserve.
Filtration System
That is quite a performance for a kit. Fluval's 3 stages biomax medium which houses beneficial bacteria and activated carbon to remove harmful chemicals are included in the package, as well as an enlarged mechanical filter that keeps debris away. Extra room on the filter means that you can add more media to the filter. Things such as water polishers can be stored at the rear. If you choose one of the smaller options of the Fluval Sea Flex, this is very useful.
One of the positives of getting a kit is that ensures that they're going to be effective as well as reliable because they're made by the same brand custom for that certain aquarium. The filter might be somewhat hard to clean, but that's solvable. It's a quiet one and can be put in an office or bedroom with no acoustic pollution.
Lighting System
The lights are strong enough to sustain plant growth and dim enough to not stress the fish or warm the water too much. They look great and fit the tank well. The LEDs are functional to the point you won't need to do anything else. The light can be adjusted to a number of different brightnesses of white light, moreover, and they may change colour as well.
Alternatives
Hey, look, we get it, sometimes you just wanna keep your options open, explore, test the waters and see just how far you can reach. Take no shame in it, we'll even provide you with the best and most worthy options just so you can see for yourself how high the bar for your fish home should be.
Coralife Biocube 32
This modern, round-edged design, all-inclusive and innovative aquarium is sleek and suitable for all your needs, making this product the first competitor to be a very close-cut in all honesty. It lacks almost absolutely nothing: LED lights checked, a 24-hour integrated timer to control each of the three independent light channels checked, 30 and 60 minute functions incorporated to replicate a natural day and night cycle for your fish checked!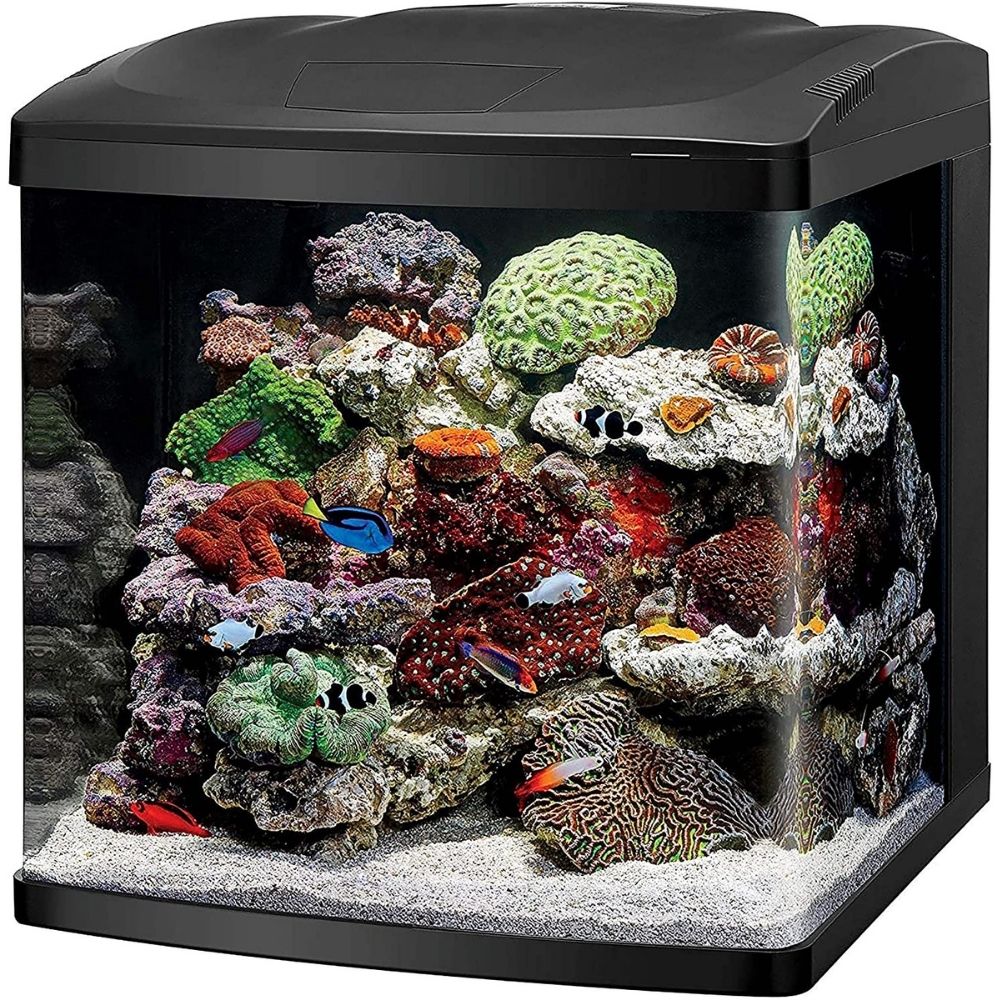 Coralife Biocube 32 Gallon
Best reef aquarium
Well- built
Easy to operate
Integrated 24-hour timer
Color enhancing LED
Check Latest Price
The Coralife Biocube 32 comes with a kit that includes all of the above with no additional cost. You might need a stand for it due to its size, but regardless of that you're pretty much set. It's also great for beginners because it's easy to maintain and set up so you won't have much to dwell on. Perfect, isn't it? So let's talk details:
Product Specs
Brand: Coralife
Colour: Black
Material: Glass
Shape: Square
Filter: 3-stage filtration
Light: Color enhancing LED light
Size options: 16 / 32 Gallon
Item dimensions LxWxH: 21.7 × 20.2 23.2 inches
Fluval Sea Evo 13.5 Gallon
Make sure to not let the size fool you, Fluval Evo 13.5 packs the same features as a tank several times its size, and yet is slick enough to fit on any desk or countertop. With optimal conditions for healthy coral growth, colour and conditioning provided by an insanely vibrant 14000K LED aquarium light and potent 3-stage filtering of the water with oversized media which delivers amazing water quality, we would like to let you know, the sky is the limit! Endless possibilities await.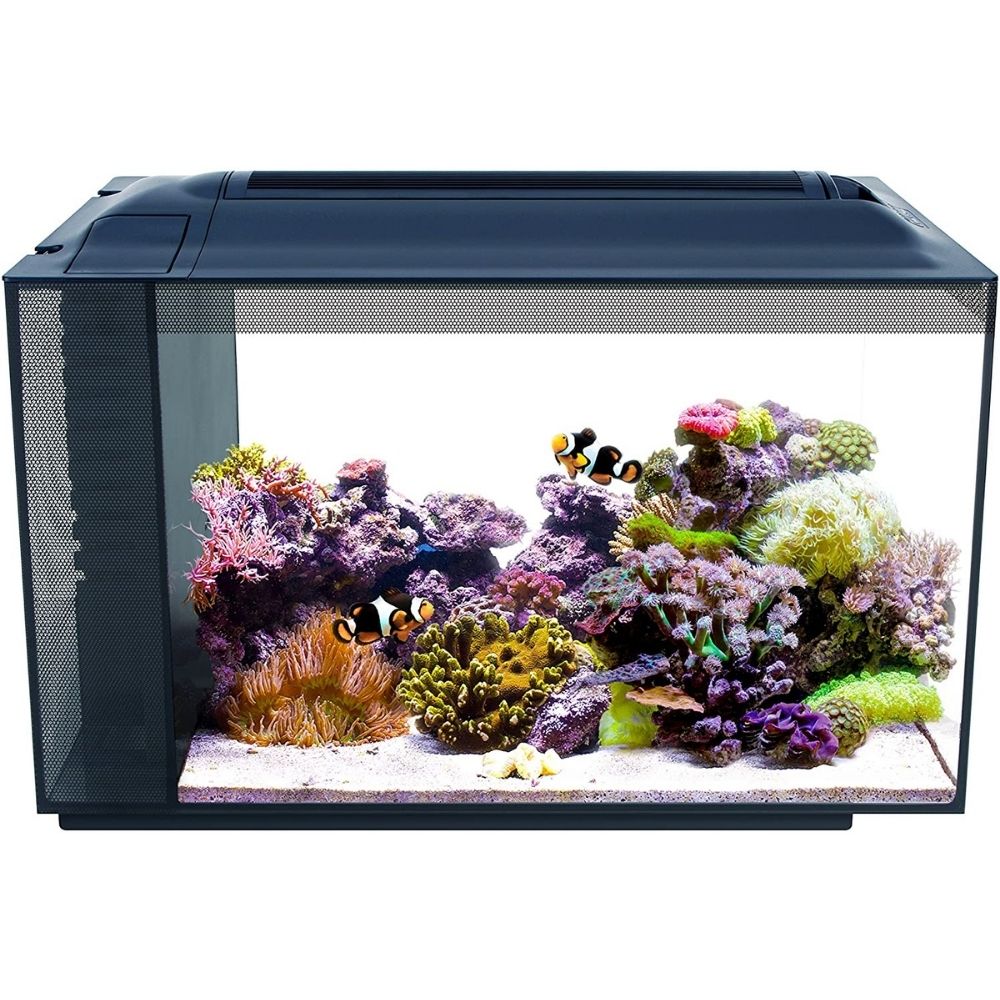 Fluval Sea Flex 32.5 Gallon
Best saltwater aquarium for beginners
Circulation pump
5 and 13.5 gallon version
Waterproof casing
Stylish and modern
Check Latest Price
From aquarium filters, filter media, aquarium air pumps, lights, heaters, thermometers, right onto fish tank decorations and aquarium stands, you really get an extensive variety of products perfect for your fish to enjoy in any large, small, fresh or saltwater tank. 
Separately from this FIuval aquarium you can purchase the Fluval Submersible Heater or the Fluval Sea Protein Skimmer to make keeping the home of your fish waste-free and at a stable temperature a breeze.
Product Specs
Brand: Fluval
Colour: Black
Material: Glass
Shape: Rectangular
Filter: 3-stage filtration
Light: 11000K LED Light
Size options: 5 – 13.5 gallon
Tank dimensions LxWxH: 23.4×13.5×15.6 inches
Our Verdict
Being a fish parent, it is understandable that you would always strive to make the best choice of a home for your water children, which however is not to suggest that that in itself is an easy or even a highly entertaining task. As we approach the end of this very wordy journey we hope to have been of assistance in making a very important decision.
Best Saltwater Aquarium for Coral Growing
Fluval Flex 32.5 Gallon
Sleek design tank, powerful filter, and Marine 3.0 light. Everything is included in this all-in-one saltwater aquarium kit. Best choice if you are looking for a saltwater tank to grow corals while staying in a budget.
Marine 3.0 LED controlled from mobile device
Control over vibrant customizable colours
Powerful and silent 3-stage filtration
Different sizes to choose from (9, 15 and 32.5 gallon)
Can't adjust the flow rate
Honestly, the facts speak for themselves and we think it is very clear why this product is a total steal, between the ease it provides in functionality, its versatility, ability to fit in and stylishly add to any area giving true sci-fi energy to your life and that of your fish; what more could you dream of?
It should go without saying how obviously unmatched Fluval Flex 32.5 proves itself to be in side-by-side comparisons to its alternatives and yet, the freedom to explore all the endless possibilities is all in your hands. It also gives you the option to chose between smaller sizes with its Fluval Flex 9 and 15 gallon model.
Luckily, our team has enclosed those thousands of products out there to just a few that are tested and reviewed to bring the best possible option for whatever you might be into. Undoubtedly, the Fluval Flex surpassed our expectations and was deemed worthy to be called a proper home for the precious fish.
We are sorry that this post was not useful for you!
Let us improve this post!
Tell us how we can improve this post?