Come into the dark side! We have fish and fish tanks! Star wars, a beloved movie series that helped shape our childhood and imagination can even be found in other fields of life, even ones you didn't know it could be, like fish tanks.
Star Wars is actually so popular with aquarists, there's quite a variety of Star Wars fish tank decorations and tank themes on the market to choose from and we managed to find the extra cool ones to bring to you. Just like we did with SpongeBob fish tank decoration.
Unfortunately, there isn't a Star Wars themed fish aquarium kit available, so you'll have to buy the decorations separately. We sifted through a plethora of Star Wars fish tank decorations to offer you the best star wars fish tanks decorations.
Without further ado, let's enter the dark side and answer all your questions.
Best Star Wars Fish Tank Decorations Reviewed
Our staff compiled a list of the most relevant and high-quality goods for your fish from all of the products available on the market. Each of these is a wonderful complement to a Star Wars themed tank and will give you a realistic perspective of "The Dark Side".
A four-legged combat walker that helped to overthrow The Empire during the Clone Wars, this piece is sure to up your Star Wars setup. It leaves room for your fish to swim through, rest, sleep, play, hide, and breed. The unique color and fake moss make it look realistic.
The Ulifery Robot Dog is an amazing aquarium decoration that will make your fish tank look like it's walking on the bottom of the ocean. It's made with eco-friendly resin material, so there's no need to worry about toxic chemicals or fading. This is an amazing aquarium decoration that looks like a fantastic moving castle. Plus, if you accidentally break it, just use some glue and it will be as good as new!
For adding some fictional darkness to your tank, this Darth Vader helmet is sure to be recognized even by people that aren't fans of Stars Wars. The thing about this one is that it also has swimming holes in it that not only serve for your fish to go through them but also serve as a shelter if your fish are anxious or stressed. The product itself is of high quality and will last you longer and serve you well.
his high-quality product is made from durable resin and has been designed specifically for aquarium use. If you're a fan of the movie, then this is the perfect Star Wars fish tank decor for your home aquarium. It will make it look like Darth Vader is swimming around in there with your fish or reptile!
The Hallmark Keepsake Star Wars ornament is a great way to show off your fandom. It's made of high-quality materials and features incredible detail, making it the perfect addition to any collection. his aquarium decoration will add a touch of class to your tank and make it look like an authentic scene from the Star Wars movies.
It's easy to clean and due to its high-quality plastic won't cause any problems in your tank. Plus, it comes with fake moss that makes it look very realistic. The base of this aquarium decoration is flat, which means it will never float and can be stably placed on the bottom of the tank with no worries.
The Fighter Jet Wreck Aquarium Ornament is the perfect addition to any tank. It's hand painted in exquisite detail and made of 100% fish-safe materials. This hyper-realistic jet plane replica is cast in resin and hand painted in incredible detail. Not only is it an excellent artistic addition but it also helps make an enriching environment your fish can enjoy.
Use this intricate underwater ornament to create a Star Wart theme in any freshwater or marine tank setup. This Star Wars Fish tank decor includes two parts of a jet wreck which makes it a unique design. The two-part of a jet wreck make this aquarium ornament unique. Fish can swim and hide between those parts, making your Start Wars setup enjoyable.
The force will definitely awaken with this one, for this kit comes in 85 pieces and will be really fun to put together, rather it is alone or with friends and/or family. The fastest junk in the galaxy and has all the details to make for a perfect replica that will make your tank look stunning. High quality, with adjustable parts and it'll make everything look way cooler and in character.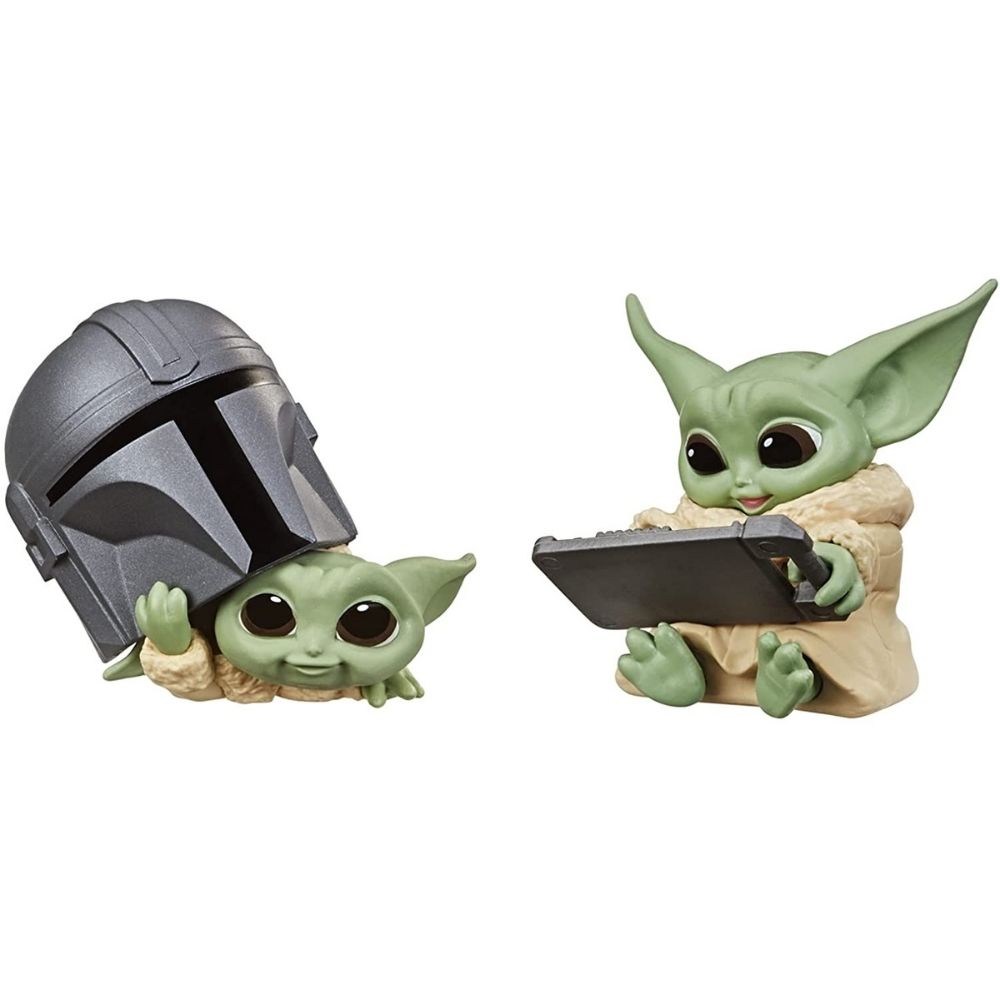 This collection has Baby Yoda figurines that are styled to be not only just cute but also in different poses for you to choose from depending on what fits your tank the best. They're small and well built making them perfect for long-term decoration but will also blend really well with anything else we've recommended.
One of the best fish tank decorations to have close to your tank. If you want to up your setup, this one is animatronic, which means it can move and do all the cool stuff robots do, all from your tank. We'd suggest not to make any sudden movements for it might scare your fish, but keeping it lowkey is sure to make your guests interested and even give everything a sci-fi vibe. This one isn't for the people that want a kind of lowkey theme, but a perfect choice for someone that's looking to go all out.
The Bestgle Aquarium Decor Ornament is the perfect decoration for your fish tank. It's made of premium resin and plastic, non-toxic and pollution-free, absolutely safe for your lovely fish. Combined with some of the best Star Wars ornaments, it gives your fish tank a unique "Dark" theme.
You won't believe how much fun your fish can have swimming around their new toy! The pirate captain is great at keeping them stress-free while also adding some style to your aquarium decor. It even comes in two sizes – small and large – so there's one that fits perfectly into any size of an aquarium!
What to Consider When Choosing the Best Star Wars Fish Tank Decorations
When it comes to decorating your tank, everyone gets excited and wants to design their tank in the most unique way. In order to choose the best Star Wars fish tank decors, you need to take some criteria into consideration.
Materials
First, you need to check if they're made from high-quality plastic or resin. In this way, you can be sure that it won't degrade or decompose in water and cause bacteria to grow in your tank. High-quality material will also ensure that your product doesn't break easily and is very safe for use by your fish and pet reptiles alike.
Waterproofing
Just like with materials, you need to consider waterproof properties in order to rule out any material or design flaws that could cause problems down the road. This is crucial when considering products such as aquarium decors because many of them aren't waterproof and can cause issues in your tank and to the decor itself.
Price
Not all aquariums are cheap, and the same goes for fish tank decorations. Make sure that whatever you purchase is affordable and within your budget. A high price doesn't always mean a high-quality product. Always check the ratio of material and size compared to the price tag it has.
We understand that not everyone has an unlimited budget, which is why we've included products at different price points. You should be able to find something that fits into your budget no matter how tight it may be.
Our Verdict
All of the above-listed products are incredibly well made, durable, and sure to offer an exceptional experience for you or your aquatic pet. Because of this, they deserve a place on our list of the best Star Wars aquarium decor. If you're looking for a way to add some extra flair to your tank or want to show off your love of Star Wars, any of these products will do the trick.
Two must-have Star Wars aquarium decors are Ulifery Robot Dog Cool and Fighter Jet Wreck Aquarium Ornament. They're both made of high-quality materials and are sure to last for a long time without causing any damage to your tank. So go ahead and pick up your favorite today!
How We Choose the Best Star Wars Aquarium Decorations
When looking for the best star wars aquarium decor to include in this article, we considered a few factors. The first and most important was quality. All of the products on our list are made of high-quality materials that will last for a long time without causing any damage to your tank.
Another factor we considered was realism. We wanted to make sure that all of the decorations on our list would look natural and realistic in a Star Wars themed aquarium. Finally, the price was also taken into consideration. We wanted to make sure that all of our readers could afford at least one product from our list.
When facing other products not listed above, just consider your options carefully because not all of them are high in quality and built to last in the water. That said, we hope you enjoy this list of the best Star Wars fish tank decorations and that it helps you in your quest to find the perfect one for your needs!
Star Wars Movies
Star Wars is divided into three trilogies, each of which was (illogically) created out of sequence. The good guys (the Rebellion and the Jedi) fight the bad people in that trilogy. These are the movies that are referred to as the "original trilogy." The majority of this lexicon will be devoted to these films, which are usually regarded as considerably superior to the prequels.
There's a bunch of characters in the movie series, the main ones being the Jedi Knights. There used to be a lot of Jedi Knights who preserved the peace and fought the Sith back in the day. However, the Sith eventually gained control and murdered all but a few Jedi. The Jedi team up with the Rebellion to destroy the Empire in Episodes IV, V, and VI. A Padawan, also known as a Jedi trainee, is a person in training to become a Jedi who works one-on-one with a Jedi Master.
Some of the good and bad guys as well operate with The Force. A Jedi's strength comes from the Force. It's an energy field that all living things produce. It envelops and enters us. It is the glue that holds the cosmos together."
We are sorry that this post was not useful for you!
Let us improve this post!
Tell us how we can improve this post?