If you want to keep your environment healthy and well-maintained, regular aquarium care is essential. Beginner enthusiasts are often aback by how much effort goes into upkeep. There are different types of waste that contribute to an unclean environment in your fish tank. Ammonia, nitrites, and nitrate are all waste products of decaying fish waste, uneaten food, and general debris, and they all pollute your aquarium water and strain your biological filtering system.
A fish's health depends on clean water just as much as humans' lives depend on clean and breathable air. An aquarium gravel vacuum cleaner is a must-have piece of fish tank maintenance equipment, as obviously, a filter isn't enough.
When you use an aquarium vacuum cleaner, it removes waste from the substrate layer by sucking it up. Products like aquarium magnet cleaners remove algae and hard water from your aquarium glass, a vacuum cleaner is utilized to remove fish waste and uneaten food that has been trapped beneath the substrates' surface. This prevents trash or uneaten food from decaying inside the tank and releases potentially toxic chemicals that might make your fish sick. Using them both results in a super clean tank.
Best Gravel Vacuum Cleaners Reviewed
There are several items to choose from, ranging widely in price and functionality. If you buy a low-quality product, you run the risk of having to buy more products to fulfill what it couldn't. The following gravel vacuums are superior in every way and will serve you and keep your tank spotless for many years to come.
From automatic gravel vacuum to a manual siphon one, these gravel vacuums offer something for everyone from the professional aquarist to the beginners in the hobby.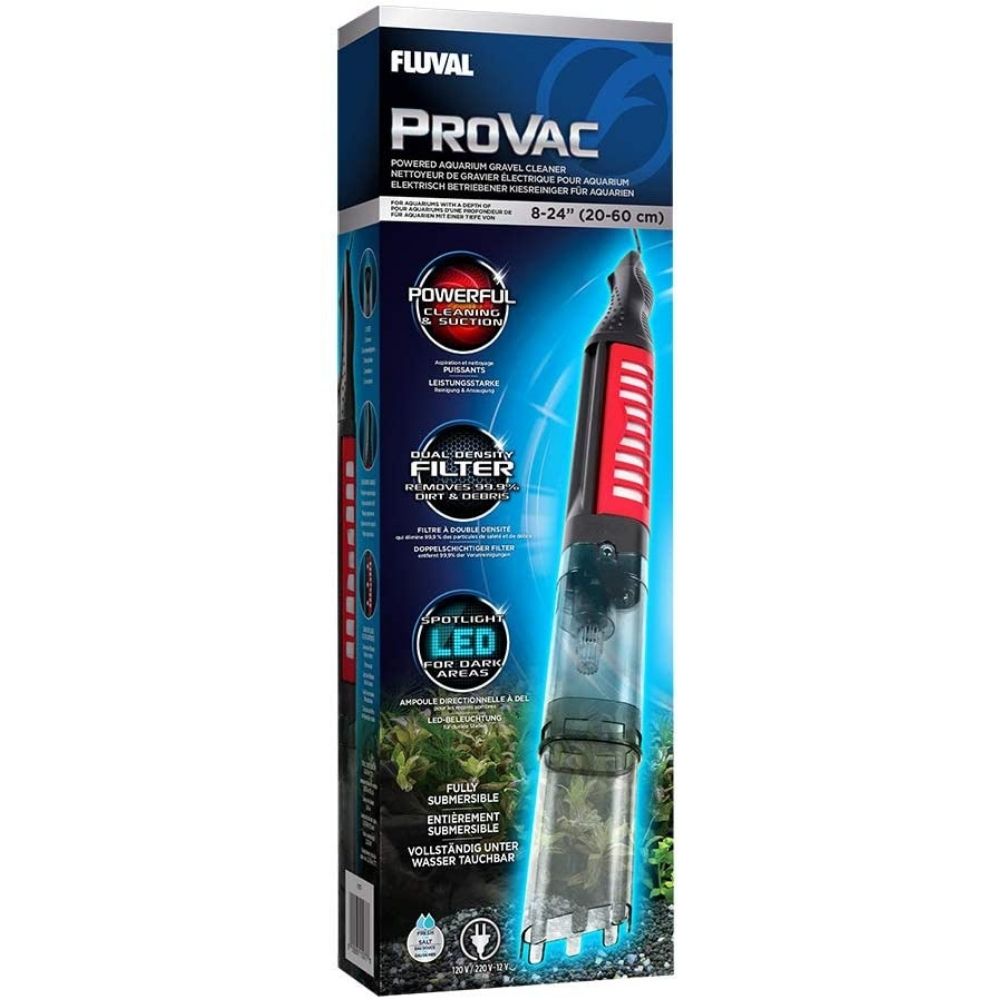 This product is our best choice because out of not only that it does its job perfectly, it's got some little perks and plusses that not many other gravel vacuum cleaners have in the market. For example, have you ever been stressed because you couldn't see what you were doing while cleaning? On the Fluval Pro Vac, a LED light glows on the gravel when it's cleaning, making it easier to see what you're doing and how.
If you're worried about getting things stuck to the fan and ruining your new cleaner, there's a region that prevents bigger objects from obstructing the fan blades. It's easy to use and turn on/off, and actually, even the motor may be stopped temporarily by holding down the on/off button.
If you find yourself between this and the battery version of this cleaner, this one has a more powerful AC motor and the difference is obvious. Overall if you're looking for a gravel vacuum that will make your life tons easier, this is the way to go.
Pros
Plug-in electric gravel cleaning (no battery required)
Ergonomic handle for comfortable use
Spotlight LED for cleaning dark corners or hard-to-see areas
Traps large and small waste particles
Extender nozzle for large aquariums
Ideal for up to 30 gallons tank
Cons
Not recommended to use on sand substrate
If you're anything like me and tend to overspend on everything, you'll find yourself with little budget left for finishing your tank setup. Thankfully, this is a low-cost item that finishes the job without additional purchases.
You don't even need to link it to a sink or faucet. However, the tank also comes with a self-starting siphon on the vacuum, meaning you won't have to spend minutes of your precious time pumping to obtain a good water flow. A wider area than possible with a typical aquarium gravel cleaner may be cleaned with this cleaner's broad nozzle.
Pros
Affordable
Good for the impossible spots to clean
Self-starting
Options to choose: from 1 to 40 gallons
Cons
Manual and a little hard to manage and assemble
There are a lot of decent options for aquarium gravel cleaners on the market, but Python's is one of the best. Integrated faucet attachment that works with any type of faucet or sink is included as part of the package from the manufacturer.
The built-in faucet adapter also simplifies the process of attaching the water cleaner. The system is all ready to use, so all you have to do is connect it to a sink to get it to work. You may also stop the flow of water quickly using the hose's flow switch.
You won't even have to clamp the tube to adjust the amount of water that siphons off. Overall this is an easy product to use that has every inconvenience possible solved and also will last you quite a while for any tank you use it with.
Pros
You'll receive some extras in the box
It's simple to utilize
It regulates the water flow
It works with any faucet or sink
Priced affordably for the great quality you get
Ideal for aquariums up to 10 gallons
Cons
For the suction to build up it takes more time if the faucet pressure is low
The TeraPump Aquarium Cleaner may be used in tanks with a variety of fish and substrates. It works perfectly well with gravel and sand substrates. The vacuum has two nozzles, one for cleaning up fish waste, plant detritus, and uneaten fish food, and a shorter one made for drainage.
Also, you may pass it over ornamentation, using it to clean rocks and collecting any dirt or debris that has amassed there. The device collects waste from the tank while also draining the water without disturbing the life in it rather it be the fish or the plants or whatever other aquatic pet you might have. This vacuum cleaner is incredibly efficient, removing 1.5 gallons of water per minute.
Pros
Good, well balanced speed
Priming the siphon is easy
Good value per money
Simple to operate
Free of BPA materials.
Great fit for 15 to 55 gallons sized tanks
Cons
The Eheim electric gravel vacuum makes it simple to clean gravel between water changes. Filtering the water using a fine mesh filter removes waste while recirculating the cleansed water and will spare you the water as well as the effort to make laps around your home or office.
This device removes water and then filters it. This product's suction is intended to withstand even the most tenacious muck. There is no need to drag dirty water out and clean water in with buckets when using this vacuum since this product just removes the waste and restores the water back to the tank.
Pros
You won't need to change the water
Easy to handle and beginner friendly
Strong and durable
Good for all sizes of tank
Cons
Not appropriate for other substrates
Needs careful treatment for its fragile
Have you ever been frustrated with the mess of your aquarium gravel? The hygger Aquarium Gravel Cleaner is a handy tool that makes cleaning your aquarium a breeze. It is a new product in the aquarium industry that has revolutionized the way people clean their aquariums. Simply place the cleaner in the tank and use it to scrub away algae, debris, and other organic material from inside your tank.
With a press of a button, you can push the water out naturally. It can reach a maximum length of 32 inches making it perfect for large fish tanks. With its small size and lightweight design, this device is perfect for traveling aquarists who want to keep their tanks looking great.
You can use it for water changes, sand-washing, and excrement delivery. I had the chance to review this product from Petnannystore. This company provides professional aquarium equipment that will help you with your hobby.
Pros
Unique design
3-in-1 function (dirt suction, sand washing, water changing)
Energy-saving
Easy to use
Great for large tanks
Cons
Hard to use for small hands
Why Vacuuming Your Tank Is Important For Fish and Plant Health
Removing fish waste, plant detritus, and uneaten food is the main purpose of vacuuming your aquarium substrate. Cleaning a fish tank is essential, if you leave the waste in the tank, it will break down over time and release a highly toxic element called ammonia into the water. Ammonia is processed by your biological filtering system, which keeps the environment clean and safe.
However, you may reduce the strain on your filters by removing particles from the tank before they have a chance to degrade. This will keep your fish happier and healthier and your filter will last longer and do its job properly.
Additionally, anaerobic bacteria colonies can flourish in the substrate when huge pockets of debris are accumulated in it. These are sulfur-eating bacteria that produce a poisonous toxin known as hydrogen sulfide when bothered. These eventually form certain dead zones in your tank. You may avoid these "dead zones" appearing in your fish tank by vacuuming it regularly and thoroughly.
What to Consider When Buying the Best Gravel Vacuum
When selecting a gravel vacuum for a fish tank, it's crucial to understand the different types in order to purchase the right product for the job, as some gravel vacuums are only suitable for small aquarium use. Ahead, learn about the different types of gravel vacuum and other factors you should consider when shopping for one of these aquarium cleaner products.
Power Source
You will come across two types of vacuum cleaners for your aquarium:
Manual siphon gravel cleaners: Gravel vacuums in the siphon form are easy to use and extremely efficient. They clean the substrate while also doing a partial water change. However, they function best in gravel and coarse aquarium sand (substrates that include particles that are too heavy to be dragged in), although they also work well in fine sand. Only a little stirring before vacuuming is required; then, siphon the top layer of sand out with a siphon.
Electric gravel vacuum cleaners: Electric gravel cleaners are the second variety you'll come across. They are battery-operated and come in 2-in-1 varieties. In other words, an electric gravel cleaner may be used to clean the outer as well. Electric gravel cleaners are easy to set up, and all you have to do is place them upright so they can begin to remove gravel. The disadvantages of utilizing electric gravel cleaners include the need for batteries, higher costs, and vibration/sound.
Tank Size
As mentioned, there are a few types of gravel vacuum cleaners. Electric gravel vacuums rely on a submerged water pump to work, and they won't operate properly if the pump isn't submerged. Similar to some filters, that needs priming before use or otherwise the motor will burn out.
Just like that, electric gravel cleaners motors are designed to work underwater, and if they are not used as such, they will either not function at all or spin until they burn out. While an electric aquarium vacuum isn't a smart choice for a 5 gallon aquarium, it may save a lot of time and hassle if your aquarium is bigger in size.
Besides this, you need to also adjust the size of your tank with the size of the vacuum. If the latter is bigger than your tank, a strong water flow can endanger the fish, and a small vacuum in a bigger tank will probably not do you much work at all.
Substrate
There are things you need to be aware of, and the kind of substrate is one of these things. Fine-grained substrate such as dirt or sand will end up being a problem for you if you're trying to use a vacuum made for gravel only. They're going to end up making a mess by clogging the engine of the vacuum and giving you more things to worry about and clean.
On the other hand, if your substrate is gravel, which is the most common substrate you'll need a gravel vacuum cleaner that can handle its size and weight which is noticeably bigger than other substrates. So, when choosing a gravel vacuum, you need to keep your substrate in mind in order to avoid ruining a vacuum that won't even help your cause and having to spend the same amount of money twice to purchase the right one afterward.
Our Verdict
All of the goods listed above are excellent choices, and you may make your final decision based on your own particular tastes. An aquarium vacuum, although not the first thing that popped to mind when getting fish, but it's one of the aquarium cleaning tools that you'll use the most.
Aquarium gravel might be found everywhere, but you need certain information to choose one that will actually work and not frustrate you when cleaning your tank. Remember that a small gravel vacuum will work only as a gravel vacuum for small tanks and a large gravel vacuum will…well you know where this was going. Anyway for whatever you're looking for, even for just a normal fish tank vacuum that will simply do its job, you'll find all you have to know to make the perfect choice with no regrets.
How We Choose The Best Gravel Vacuum
Based on our expertise and judgment, our staff makes it a priority to provide you with the most cost-effective options available on the market.
Every product was chosen to meet certain requirements to the market standard and we made sure each of these products checked all the boxes. All of the items above are built to last and give a safe and secure approach to cleaning a tank. It's worth noting that all of the companies are well-known in the fishing community for their contribution. Finally, we've collected a thorough rating of the best gravel vacuum cleaners available, and we're certain that it will help everyone, their fish and tank, whether it's acrylic or glass.
How to Properly Gravel Vacuum a Fish Tank
Maintaining the health of your aquatic life requires routine removal of organic debris from the substrate, a procedure known as gravel vacuuming. Solid waste, such as ammonia, nitrite, and nitrate spikes is what makes this process necessary for these products are toxic to fish and can cause problems to their health and aggravate whatever disturbances they already might have in their system. That's why cleaning the fish tank plays an important factor in your fish life
Gravel vacuums have a certain design that might remind you of paper towels with a solid stiff tube with a top that attaches to a thinner aquarium tube that's really flexible. A gravel vacuums' suction may be achieved in a number of different ways with different products and steps to undertake. Don't be scared though, for each method has a little step-by-step manual that if done correctly once will be stuck in your memory just like guitar chords to a guitarist.
Gravel Vacuums That Work With a Faucet
This gravel vacuum is the simplest to use, but you need to take the space from the sink to the tank into account when deciding to settle for this one. You need to have the tank and the sink close enough for the hose to reach the tank while being connected to a faucet. Most kits include a hard tube for collecting waste, a faucet adapter, and a long flexible tube for transporting the dirty water to the sink.
The way you use it is by draining and replenishing the tank by turning the faucet adapter to its drain setting, then turning it to its fill setting when finished to get water back to the tank. The drain setting will cause a vacuum to form as the water rushes past your tank's tube opening, which pulls it back toward the faucet and into your sink via the rigid and flexible tube. Turn your faucet all the way on and make sure your hose is free of any problems or tiny obstacles to guarantee maximum flow.
Gravel Vacuums That Work With a Pump
There is a product that employs some of the same fundamental components as the faucet version in a more compact way. This product is a hard tube with a cap that transforms into a smaller and more flexible tube.
However, there is an inline pump that empties into a bucket, instead of a sink and faucet. Give the bladder a few pumps to get water flowing from the tank into the bucket only after submerging the stiff tube on the tank and inserting the flexible tube's end in the bucket. Keep the rigid tube submerged and start gently siphoning after you see the air being replaced by water.
Gravel Vacuums That Work Manually
This is the most difficult of the bunch, but once you get the feel of it, it's no different from the others. Now, although sometimes it might be frustrating and you might be tempted to use your breath to start a siphon, it's not the right way to go with it because although tank water might not make you sick, there are health issues that might occur.
With that out of the way, a bucket is also required for this version. So the whole thing consists of a hard tube with a cap that turns into a flexible tube that's also softer. To operate it you should put one end of the soft tube over the bucket in a position that makes it easier for you to cover it with your finger.
The rigid tube should be sunk with your other hand right on top of the gravel. Now you should start to tilt it up and lift it with the motion as if you're digging by simultaneously slowly releasing air from the other end of the tube. Now, this motion if done right will start a siphon once the air is out, and you should remove your thumb from the tube in the bucket. You can then start to vacuum. If nothing happened you should repeat the steps by keeping in mind that the water will replace the air from the line.
We hope that you selected the best gravel vacuum for you and after mastering the start-up process you can now focus on siphoning as effectively as possible. It's important for everything to be done as fast as possible too so you won't stress your fish and obviously to avoid wasting unnecessary time with this.
The siphoning is basically the same for all types of vacuum so whatever you choose, this process will be the same. You should begin by gently pressing the gravel vacuum into the substrate until it forms a hole in the gravel and the vacuum comes in contact with the bottom of your tank. You'll notice how the waste separates from the gravel and then goes from the tube into the bucket.
During this process keep in mind to put the substrate to its place after you're done with that part. You can then finally move on somewhere else and repeat until the whole tank is clean and free from waste.
We are sorry that this post was not useful for you!
Let us improve this post!
Tell us how we can improve this post?