When talking about aquarium filters, there are quite a few different opinions going around. This range depends on the age of the aquarist, experience, and obviously personal opinions. However, there are models of filters that all hobbyists can agree on, one of them being the AquaClear filter.
Best Budget Hang on Back Filter
AquaClear Filter
The AquaClear HOB filter is a great solution for keeping your tank clean. This filter uses patented refiltration technology to preserve beneficial bacteria while using less energy. It also helps create oxygenation in your tank.
Gentle waterfall design creates oxygenation
Multi-stage filtration system
Available in 5 different sizes
Patented refiltration system
A little noisy but can be fixed
AquaClear hang on back filter is the perfect filter for any fish tank. They are great because they have a variety of different sized models to choose from, depending on the size of your tank. AquaClear filter also has awesome features that make it easy to use and maintain your filter system. With all these awesome features, AquaClear filter is definitely worth checking out!
We invite you to read more about this filter, its alternatives if this one is not the exact fit for you, and all else you need to know about hang on back filters.
| | AquaClear 110 | AquaClear 70 | AquaClear 50 | AquaClear 30 |
| --- | --- | --- | --- | --- |
| Type | HOB | HOB | HOB | HOB |
| Color | Black | Black | Black | Black |
| Aquarium Capacity | Up to 110 Gallons | Up to 70 Gallons | Up to 50 Gallons | Up to 30 Gallons |
| Pump Output | Max 500 Min 166 GPH | Max 300 Min 100 GPH | Max 200 Min 66 GPH | Max 150 Min 50 GPH |
| Filter media included | Mechanical, chemical and biological | Mechanical, chemical and biological | Mechanical, chemical and biological | Mechanical, chemical and biological |
| Size | 13 x 4 x 9 inches | 8 x 6 x 8 inches | 7" x 4 x 5 inches | 6 x 4 x 5 inches |
AquaClear Filter Overview
The AquaClear filter is a hang on back (HOB) filter that is available in 5 different sizes to fit at any different aquarium volume. AquaClear filters are easy to set up and use and only require minimal maintenance They are simple, efficient, and quieter than most other hang on back filters, but they do produce some noise when they are running.
AquaClear is a filter with very powerful and rare unique selling points. One of them is that you can remove the 3 filters' segments without having to remove the entire unit. You can clean the 3 filter segments and put them back in the entire unit. This makes the product one of a kind and it gives a lot of points against other products when it comes to cleaning.
The other unique selling point to be mentioned is that the bio media attached to it is as big as it gets. You have a lot of room to improvise and fill it with whatever you want. These are what make it the best hang-on back filter. The filter also has a motor that can filter 250 gallons of water per hour. With this filter, the motor stays outside the aquarium.
If you are thinking of buying this product you also have to think of what comes with it. It is ideal for people who want to improvise on the big bio-media box the filter has. With the five variants that this product has you can find the best that suits your aquarium.
What Is in the Box?
When you open the package you will notice there are very few items in it, which makes the whole process of setting it up pretty easy: firstly there's the filter unit, a reusable filter that serves for mechanical filtration, a ceramic biomedia in one mesh bag and activated carbon in another. The sponge and biomedia are of high quality and really stand the test of time.
The appearance of this unit is minimalistic, gray and the material on the outside is plastic.
An additional lift tube that comes in the box allows you to potentially submerge the filter deeper into the tank.
AquaClear Versions: Which one is for You?
The AquaClear filter doesn't come in just one version but in five different versions that you can choose from. It is essential to know which one is best for you? That depends on how big your aquarium is. If you have an aquarium of up to 20 gallons the best is AquaClear 20 and it can go up to 60 to 110 gallons with AquaClear 110.
Features Of AquaClear Filter
Features of this filter are endless. Considering its low price and with all of the features it provides., this product is the best bang for the buck. Not only that but the AquaClear hang on back filter is made to last with a high quality sponge and biomedia which makes this filter last for years.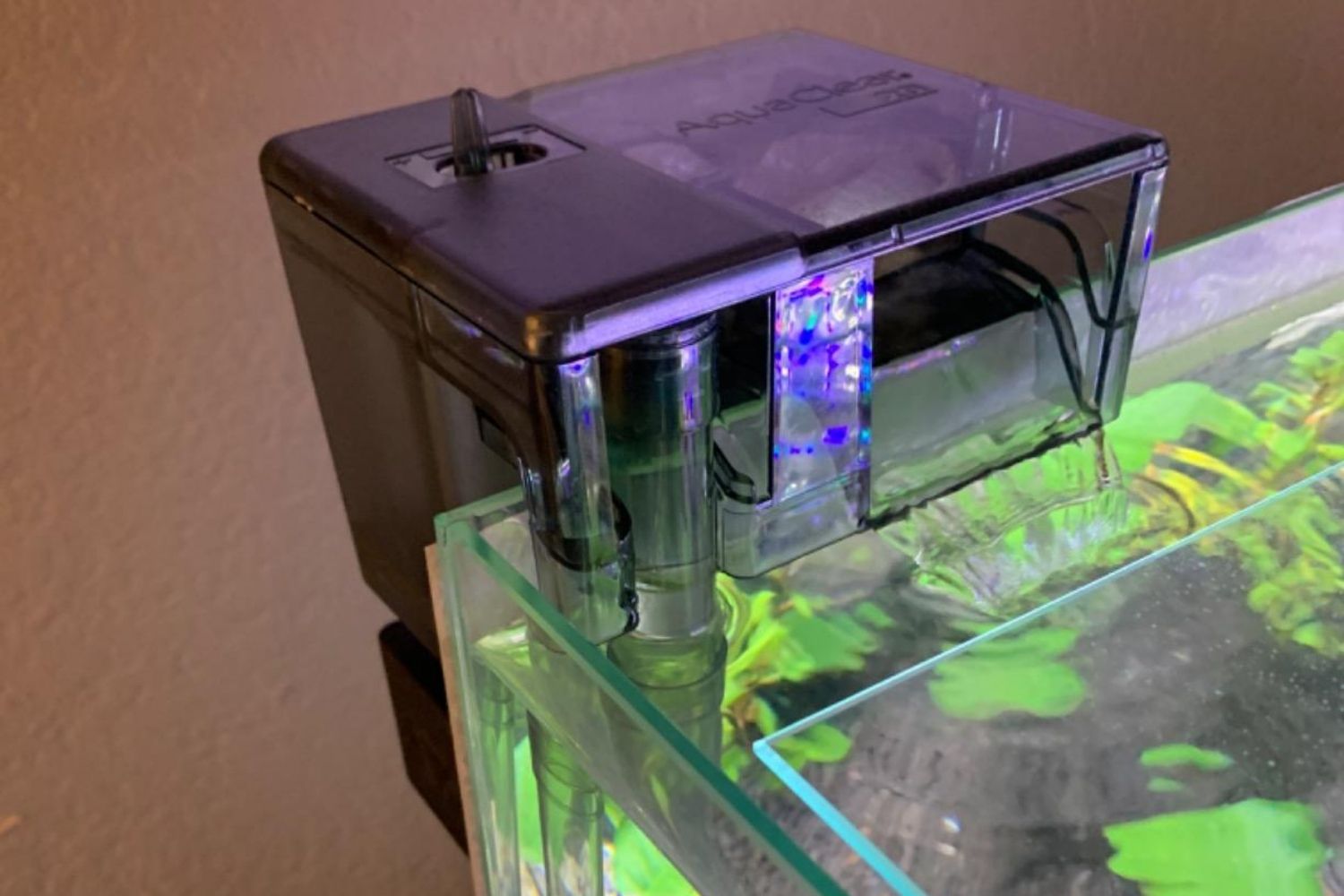 Now that you know this product would be totally worth your money, let's see what features you get when purchasing it/
Excellent Filtration and Durability
The filtration with this filter is top-notch. It doesn't bring up any problem whatsoever. AquaClear is a hang on back filter that doesn't just provide mechanical filtration, it also provides chemical and biological filtration as well. It is one of the filters in the market that does this in the best way.
The only problem people might experience is that AquaClear comes with the smallest models where it can create some small flow problems. But it is easily solved with thorough cleaning so don't panic if you are a new aquarist.
AquaClear filter models are well known for their durability and it is not uncommon for these filters to work without problems for even decades. I never had any problem even with the smallest model that it offers even though I have used it for two years.
Simple Installation
AquaClear HOB filter has a really simple and easy installation process that won't take much time. It will only take you a couple of minutes to finish the whole installation setup process.
The first thing you need to do is unpack. Now you will see all the parts that this filter comes with. Besides the essential parts of the filter when you unbox it you will also find the AquaClear foam system, the activated carbon, and the ceramic rings. These will take care of the mechanical, biological, and chemical filtration
Then you need to adjust all the parts in the manner you need. There isn't actually much to do just need to fill the bio-media box with what you want. After that, all you need to do is stick it wherever in the tank that you want it to be and you are all set.
Noise
AquaClear filter creates a peaceful waterfall natural noise that everyone loves it. It makes your fish tank looks natural. If you are a fan of white noise you will love falling asleep with this noise in the background.
Besides waterfall noise, a con you might experience with this filter is that the motor unlike other filters is not on the inside of the aquarium. But rather it is outside. That doesn't quite seem like a big problem at first but it creates a small noise. It is not something that will bother you in any way.
But sometimes people might want their filter to be extremely quiet. To solve that "noise issue" put some Vassilne into the shaft that runs into the engine at the impeller that sits on. Personally, the noise of the motor on this filter has never disturbed me. Quite the contrary it gives a good background noise when the house is completely quiet
Alternatives
Now, if AquaClear wasn't the ideal choice for you, we've selected some similar products that can potentially be your product of choice. We've taken products from brands that are trustworthy and ones we've reviewed ourselves from a professional standpoint.
Marineland Penguin Filter
The Marineland Penguin Filter is a great alternative to the AquaClear. It provides three stage filtration, mechanical, chemical, and biological filtration, it comes ready to use and it guarantees efficient removal of not only waste but discoloration and any unpleasant odors as well.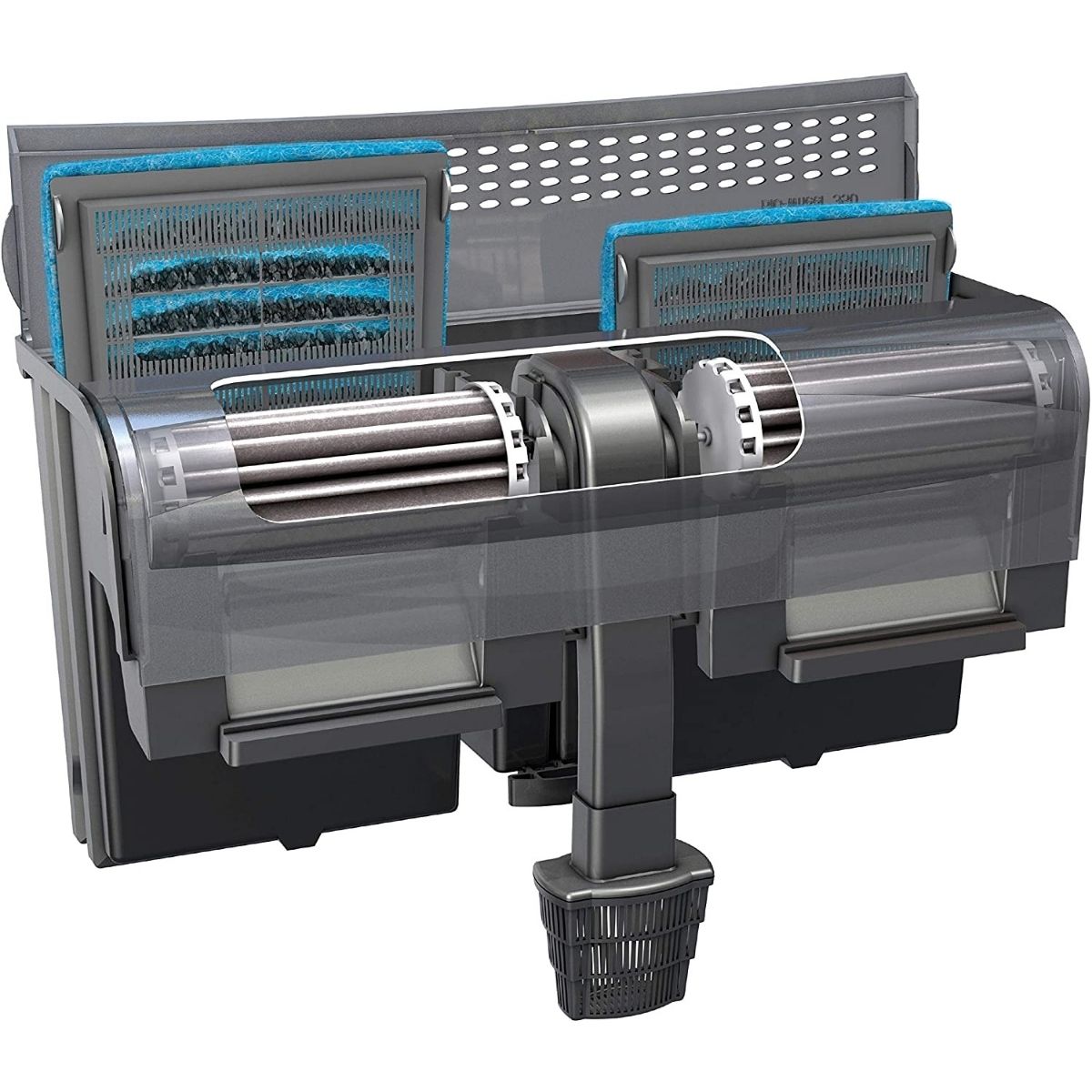 Marineland Penguin Filter
Best silent HOB filter
Rotating bio-wheel
Multi-stage filtration
Compatibility
Five sizes
CHECK PRICE
One of the best things about the Penguin filter is that it is whisper-quiet. This makes it perfect for people who want a quiet aquarium without all the noise! It is easy to install and comes with a helpful guide to make sure you get it set up correctly. It is also compact, so it doesn't take up too much space in your tank. It is important to mention that the bio wheel also has mid-level intake strainers which are adjustable.
Another great thing about the Penguin filter is that it comes with a built-in 6-month filter cartridge. This means that you don't have to worry about changing or replacing the filter media for half a year!
The three stage filtration technology is made possible by this gadget for aquariums up to 10 gallons. If you are looking for the perfect filter for a new aquarium, or if your intention is to upgrade your filtration system, you will find this product to be a perfect choice.
Seachem Tidal Filter
Seanchem Tidal Filter is another great alternative to AquaClear. It comes with a powerful motor that makes it really efficient at filtering your fish tank. It also has a large capacity, so it can handle tanks up to 150 gallons!
Seachem Tidal Filter
Most powerful HOB filter
Surface skimmer
Heater holder
Maintenance alert
Self-priming pump
CHECK PRICE
Tidal Power Filters are designated to provide easy to operate high-quality filtration and adaptability to a wide range of aquatic environments. This product ensures maximum efficiency in keeping any aquarium clean and healthy by utilizing a number of features such as:
Adjustable flow regulation: This feature adjust the performance of your filter to be fit for any volume aquarium and to create an environment with your desired amount of oxygenation.
Adjustable flow intake: Wthe dual intake feature pumps the water below the surface through the telescoping pipe and above the surface through the surface skimmer. Easily adjust the amount of flow passing through below and above the surface.
Surface skimmer: It captures water right under surface level and removes debris on areas where exerted fish oils reside.
Heater holder: Optionally attach a heater to the side to easily disperse heated water throughout the tank.
Clean and monitored maintenance: A fully removable basket that snaps onto the filter lid will make cleaning a breeze. An outlet on the side will direct water around the filter when the filtration media clogs because of detritus and slows the water flow. The pressure from the redirected water pushes the blue alert up to let the user know it is time for cleaning the unit.
Self priming pump: This feature cancels any chaotic standard procedure you would need to go through when you purchase and set up a new filter and it also means the filter will restart on its own after any power outages.
If you are looking for a high-powered filter that can handle a large tank, the Seachem Tidal Filter is a great choice!
Hacks and Upgrades for AquaClear Filter
There are a lot of upgrades, hacks, and accessories made available to the AquaClear filter. While it is not possible to list all of them here, some of the most common will be listed below.
Use Reusable Filter Media
When you first buy the filter the company will give you disposable filter media. But that might not be the best option for you and your budget. Since you have to change them regularly it might cost you a lot of money.
What you want to do is purchase reusable filter media that you can clean. A good example of them are sponges that are responsible for the mechanical filtration of the water, bio rings for biological filtration, and Secahem Purigen for chemical and mechanical filtration.
Add a Prefilter Sponge
A prefilter sponge will help prolong your filter's life because of its ability to catch large particles that can clog your AquaClear 300 or 500. This doesn't just help with keeping your motor safe but also with water filtration as it will pass a double sponge cleaning. Just make sure to clean it regularly.
Grow a Plant
Growing a plant in your filter might sound bizarre but it sure helps keep the filter clean. Just go ahead, get a leaf, cut it, and put it there and it will start to grow roots. This will keep your filter clean of toxic nitrogen waste but this would require you to keep the lid of the filter off.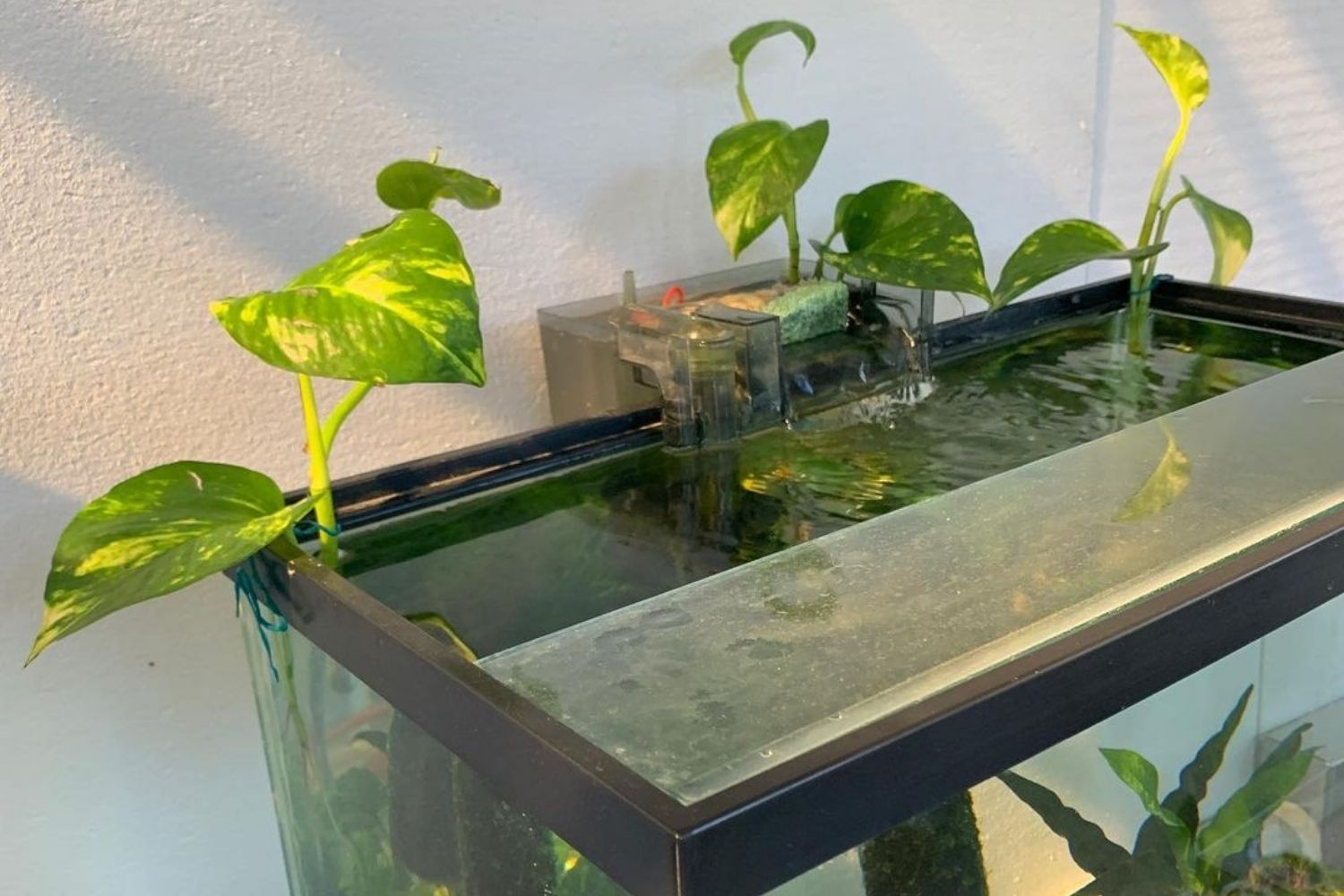 Minimize Any Vibrations
The best way to completely silence your filter is to minimize the vibration it produces. How do you do this? Well, it's easy, you just take a rubber band, take the lid off, put a rubber band across the lid, and put it back on. You are all set!
Baffle the Flow
If you have a strong current in your tank then you might want to baffle the flow. This can be done by using an aquarium sponge or even a cut piece of an egg crate. This will help reduce the noise and turbulence caused by the filter and also prevent any water from being splashed out.
You can get a decorating flower and put it right under the filter. This would not only make the aquarium look good but also baffle the flow of the water.
Add a Mini Heater
If you want to add a mini heater to your AquaClear power filter then you can do that. This will help keep the temperature of the water in your tank at a consistent level. Not only that but it will help the fish to not get stuck accidentally in the filter.
Use a WIFI Timer
If you want to make your life a little bit easier then you should consider using a WIFI timer. This will allow you to control your filter from anywhere in the world as long as you have an internet connection. We find WIFI timer very helpful when we go on vacation. It helps save energy costs and check if the filter is working properly.
Final Verdict
In the end, the AquaClear power filter is the best hang on back filter that you should consider purchasing if you are looking for a new filtration system. It provides excellent filtration and has an affordable price. As long as you follow the instructions on how to clean it, this filter will last for many years.
Best Budget Hang on Back Filter
AquaClear Filter
The AquaClear HOB filter is a great solution for keeping your tank clean. This filter uses patented refiltration technology to preserve beneficial bacteria while using less energy. It also helps create oxygenation in your tank.
Gentle waterfall design creates oxygenation
Multi-stage filtration system
Available in 5 different sizes
Patented refiltration system
A little noisy but can be fixed
The Seachem Tidal Filter and Marineland Penguin Filter options are also solid filters that offer similar features. But, for the price and quality AquaClear offers, it is hard to beat. We can guarantee that you can't really go wrong with either, and we're certain that you'll see just how great the quality of these filters are.
When making our review we kept our readers in mind from budget to quality control, so you can be sure you'll find what you need.
FAQs
We've said almost everything you need to know about the AquaClear power filters, but of course, there are still some questions that might arise. Here are some common issues with Fluval AquaClear and how we responded:
We are sorry that this post was not useful for you!
Let us improve this post!
Tell us how we can improve this post?