Fish are the second most popular pets, making up a whopping 12% of the most popular pets in the world. You'd think that wasn't the case, but these amazing creatures won everyone's heart by just simply existing. Like every living thing, though, fish need proper care and housing to live a healthy and good life.
Best Reef Aquarium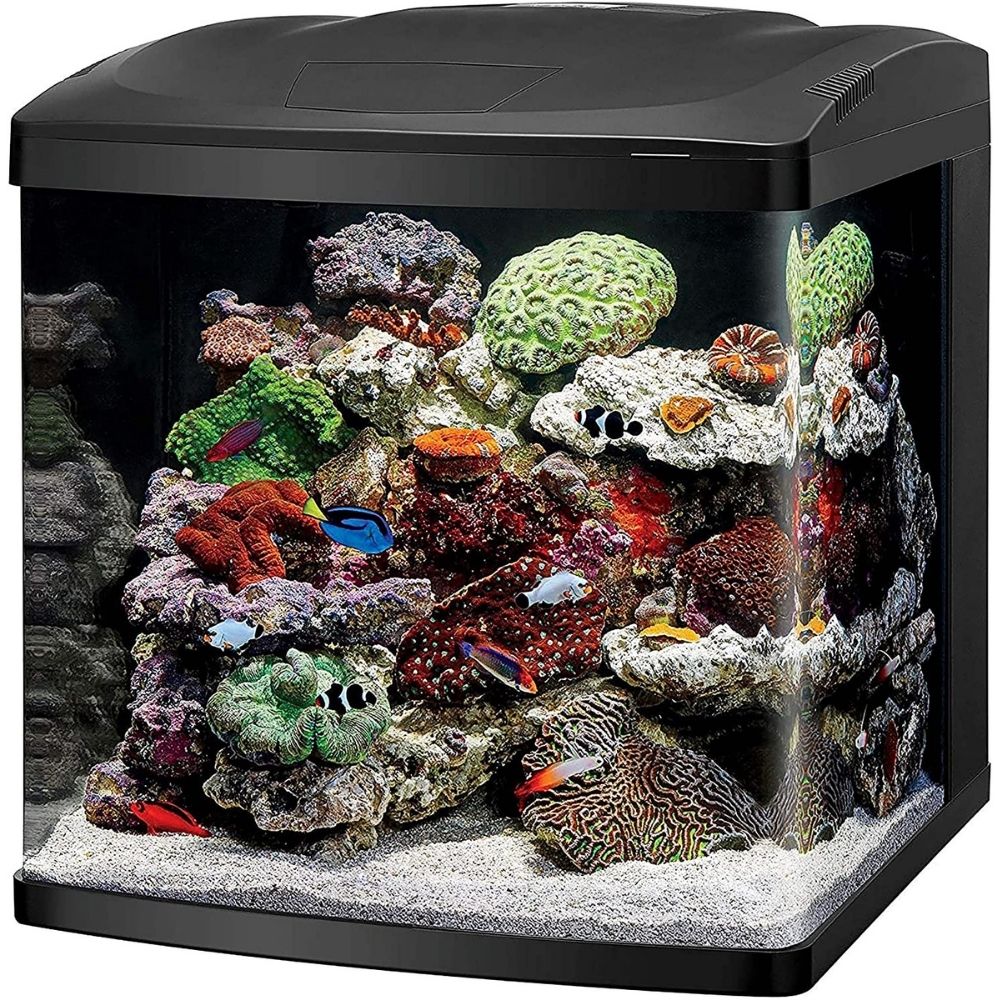 Coralife Biocube 32 Gallon
Silent filter, LED light, heater, and everything essential to start your first reef tank is included in Coralife Biocube 32, making it the best option for saltwater set ups. A few MODS can make it a bit better and easier to care.
Well- built and easy to operate
Integrated 24-hour timer
Color enhancing LED light
Available in two versions 16 and 32 gallon
Might need to upgrade it for added functionality
Considering you clicked on this article, you're probably already part of the fish-fan club and are looking for the best fish tanks that not only fulfill their basic needs but also extend past them to provide the best for these precious pets. An all in one saltwater fish tank with a good design and manageable size? Does that even exist?
It does, and we found it. Coralife Biocube 32 is a modern fish tank, at 15 and 32 gallons, which is neither big nor small and can fit several fish comfortably with room to spare for plants, reef, and decor. It's undoubtedly a choice you can't go wrong with, no matter if you're looking at setting up a saltwater aquarium, a reef aquarium, or anything else that fits under the Coralife Biocube 32 dimensions.
We can even say this is hands down one of, if not the best saltwater aquarium in the market, weighing all its perks and positives. There's much to talk about the Coralife Biocube aquarium and how you should take care of it. Below you'll find out all about this saltwater aquarium kit and how to take care of it.
| | |
| --- | --- |
| Walls Material | Glass |
| Shape | Cube with round corners |
| Color | Black |
| Style | Marine tank |
| Size Options | 16 / 32 Gallon |
| Light | Color enhancing Led Light |
| Filter | 3-stage filtration |
| Heater | No |
| Air Pump | Yes |
| Lid | Yes |
| Accessories/Decor | No |
| Require aquarium stand | Yes |
| Ideal For | Saltwater, reef tank |
| Extras | Sparkling blue Moon Glows for nighttime |
Coralife Biocube 32 Overview
Coming at a very favorable price point, the Coralife Biocube 32 reef tank is quite attractive to people just getting into saltwater tanks. This tank is built to give everyone enough space to work with but not overwhelm them.
It's quite collected as a tank and does a great job teaching only what you need to know, with no additional problems if you're just getting introduced to saltwater fish. Now you can set it up as a freshwater aquarium. However, the best way to utilize it and show its best is as a saltwater aquarium.
What's Included in the Box?
The Coralife Biocube 32 gallons is packed quite nicely, and everything is nice and well-built. Inside the box, you get:
the tank itself,
the filter,
filter chamber,
the pump,
and the LED lights.
All of these are included in the box with no additional payment. We weren't kidding when we said this is an all-in-one fish tank. Everything you see is custom-made and high quality, meaning you don't have to go shopping for accessories too besides a stand, of course. We'll catch on to that later.
Set up and Maintenance
The Coralife Biocube 32 setup is pretty straightforward. You get the things out of the box, remove the protective styrofoam, and everything after that is pretty much self-explanatory. You can focus on the inside when you're done with the outside.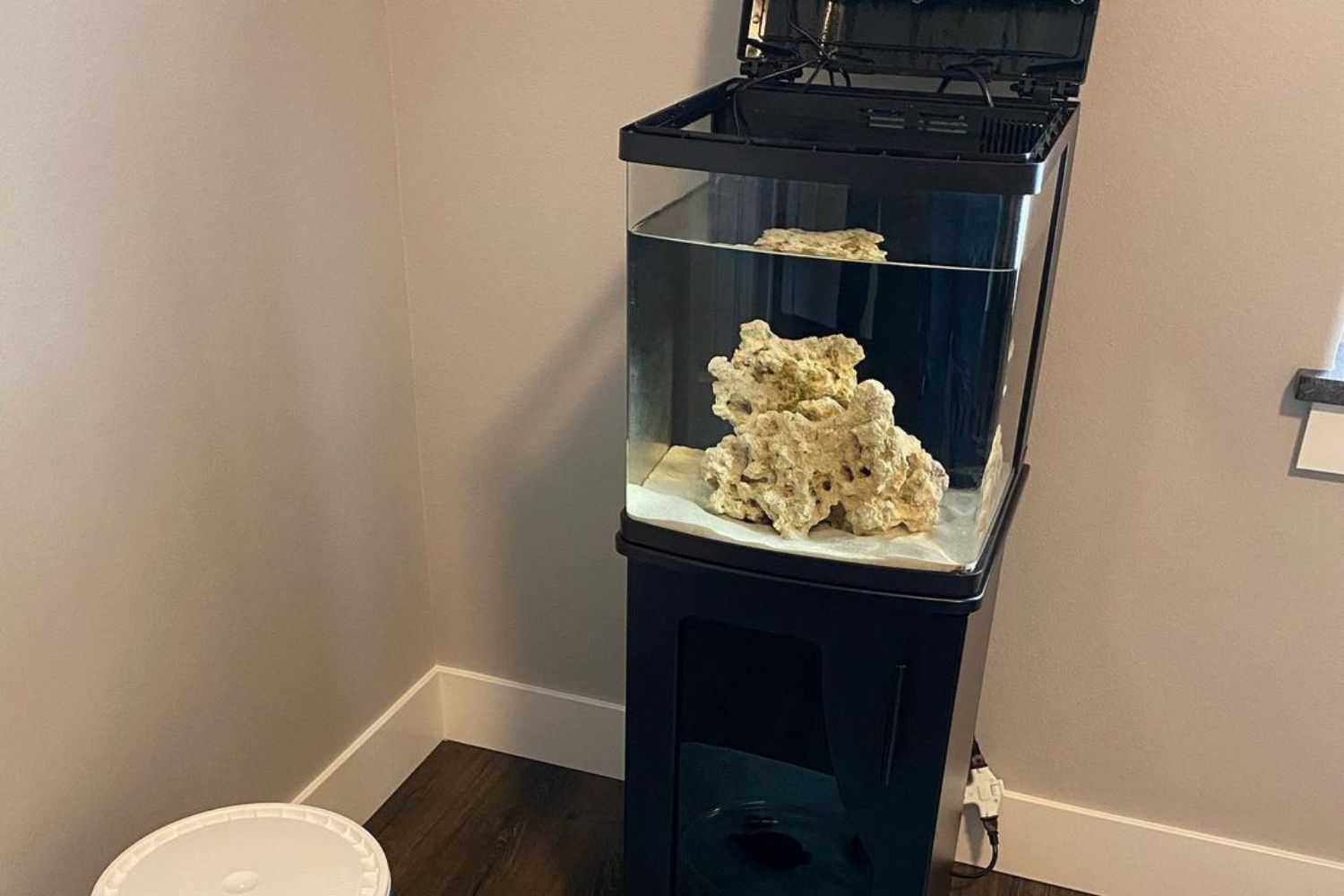 Now it's important to leave enough space for the fish to swim around and leave some cracks to go through like they normally would. After arranging the interiors, you can then add the saltwater. The water will probably cloud; no need to worry, it'll clear soon enough. It's recommended to wait for 1 to 2 hours before putting the fish. However, some people like to let everything work first for around a day to ensure everything is clean, filtered, and ready.
When it comes to the Coralife Biocube 32 maintenance, there's nothing special to keep in mind besides the usual checks and changes. This is one of the easiest tanks to set up and maintain so you won't have any problems on either of those departments.
Key Features of Coralife Biocube 32 Reef Tank
The Coralife Biocube 32 seems like it was created to assist you in realizing your goal of having a tank, regardless of your previous experience. It's not an easy task to find such an age-proof product that's sure to last you years to come. There are several features that give this tank the name it has for itself, and we're going to discuss them below.
Design and The Tank
This cube aquarium has an excellent and elegant appearance that appeals to any fish keeper. The cube's hood and canopy style will add to the attractiveness of the side where you install it. It will show you three different perspectives.
Because the tank's filter is adjusted at the back of the tank, you don't have to worry about that. As a result, you won't even have to bother about the placement and adjustment of ornaments like plants, corals, or stones. It's basically foul proof in design, and it can't look good even if you actively try to make it look not good. It weighs around 62 pounds, it's square and made of glass with black borders, and the dimensions of Coralife Biocube 32 are 27.5 x 25.5 x 27 inches.
Filtration System
Filters are a must-have for any fish tank. There are several alternatives out there, and without the proper research, you'll feel like you're never going to find the right one and end up making a random impulsive buy. Besides, purchasing a filter does not finish your task; you must also handle it well. With it comes a ton of upkeep, cleaning, and tweaking that must be done before you might even reconsider buying the tank at all.
However, you won't have to worry since the Coralife BioCube 32 has its built-in filter that will eliminate making a choice altogether and provide a quality and compatible filter system for this tank.
You may personalize the filter by selecting a media type. It is compact, has dual intakes, and has a submersible pump. Also, it has an adjustable return nozzle, and you can thus control if or not the water cascades into the tank or trickle.
Lighting System
Such an amazing product undoubtedly doesn't lack an equally amazing lightning system. The low-profile hood integrates luminous Cclor enhancing LED light capable of maintaining and growing otherworldly vibrant corals and plants full of life.
It also includes nothing short of a built-in 24-hour timer, making it easy to control the three independent light channels for maximal charm: bright white, sparkling blue, and color-enhancing LEDs.
Just when you thought nothing could top that off, this product goes off to combine automatic functions of 30-minute sunrise/sunset with 60-minute moonrise/moonset, to flawlessly replicate a natural cycle of day/night for your aquatic environment. We tested the lighting of the Coralife Bopcube 32 with Candy Cane Coral, and our coral thrives thanks to this powerful lighting system.
Temperature Control
I cannot stress enough how vital it is to keep your aquarium at the proper temperature. To have a healthy aquatic ecosystem, the water must be at the appropriate temperature. If the water is too cold or too hot, there will be consequences on your fish and reef to the point of losing them.
There's no doubt that Coralife fish tank has taken all of this into account. The user has complete temperature control with a temperature control system in this tank. For example, the water is often heated by the LED lights and is cooled by cooling fans inside the system. It all is indeed an amazing thing, finally giving your fish what they deserve and giving you peace of mind knowing your pets won't freeze to death one day.
Coralife Biocube 32 as a Freshwater Tank
It would be simply extensive to go on and find any more reasons why we know for sure that this tank is just as good as a freshwater tank. No matter how specialized this tank is for saltwater, it does the job either way and won't be a problem on both occasions. Follow proper freshwater aquarium maintenance tips to ensure your freshwater aquatic pet a happy home.
Must-have Products for Coralife Biocube 32: Upgrades & Mods
"You can be the juiciest, best peach on the tree, and there's still going to be someone that just doesn't like peaches". If this is the case, don't worry, you can modify this one "peach" to however you prefer.
Below you'll find a list of products that will make your fish tank seem like you 3D printed it with the level of customization they enable. They're also 100% compatible, if not tailor-made for the Coralife Biocube 32. You'll be glad to know they're affordable and not necessary if you're on a budget; however, we recommend them based on our experience with the Coralife Biocube 32 to give the best house and provide the best environment for your fish.
Biocube 32 Light Upgrade
The lighting will need to be changed if you want to put corals with higher lighting requirements in your Biocube 32. This tank's integrated LED illumination is excellent for soft corals and some LPS corals that require low light levels. As one of the tops LED lights for tanks.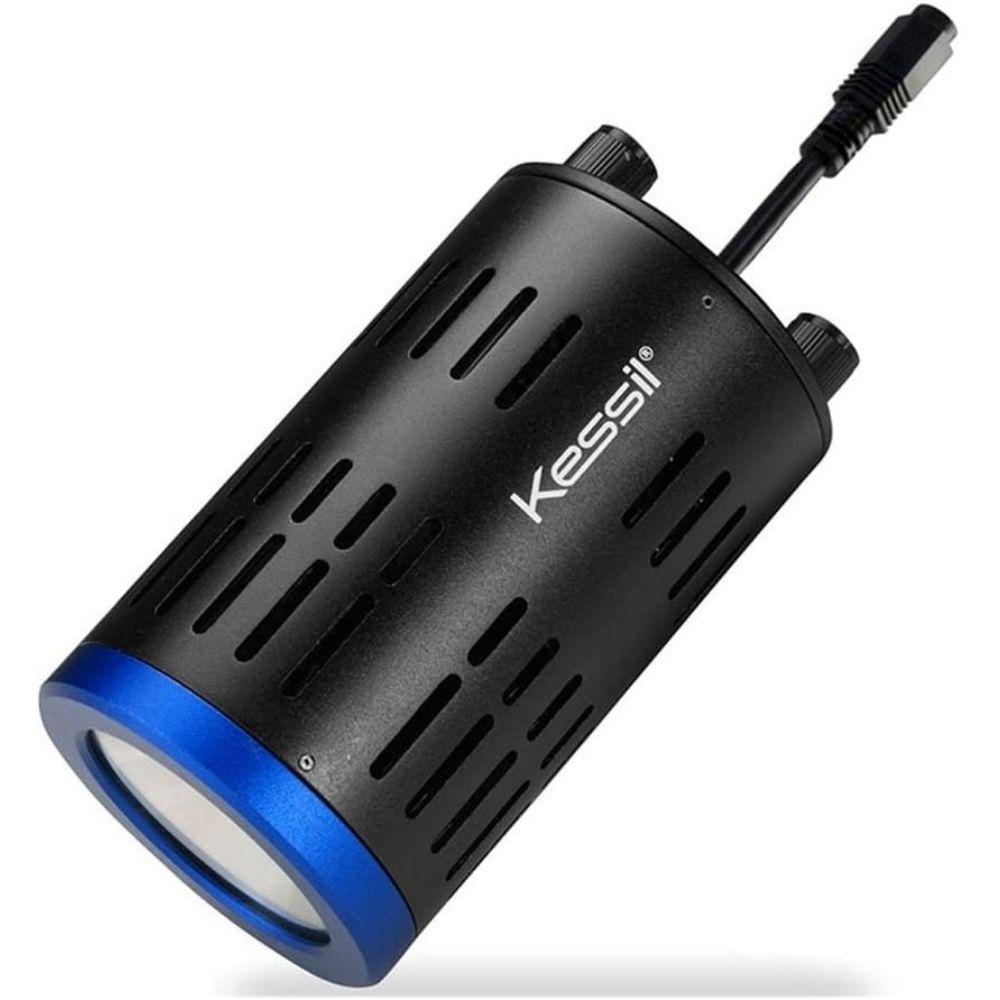 Kessil A160WE Tuna Blue LED
Best reef light upgrade for Coralife Biocube 32
Easy to assemble
Ideal for any coral type
Easy to hang
AI support
CHECK PRICE
The Kessil A160WE Tuna Blue LED can handle all sorts of corals and plants with no "side effects" to your fish or environment. Kessil is a safe bet. This light on the Coralife Biocube 32 looks fantastic, and the design is clean and contemporary. This light is enough to make you want to live in the aquarium yourself when you see how good it looks. Jokes aside, adding it to a Coralife Biocube 32 gallon tank is a great addition.
Coralife Biocube 32 Stand
On bigger tanks like this, it's important to have a tank stand for them to sit on. By not finding the right stand, you risk your aquarium and whatever stand you put it on because coffee tables or TV stands aren't made to withhold big weights like this. Even if this wasn't the issue, the stand also plays an aesthetic role.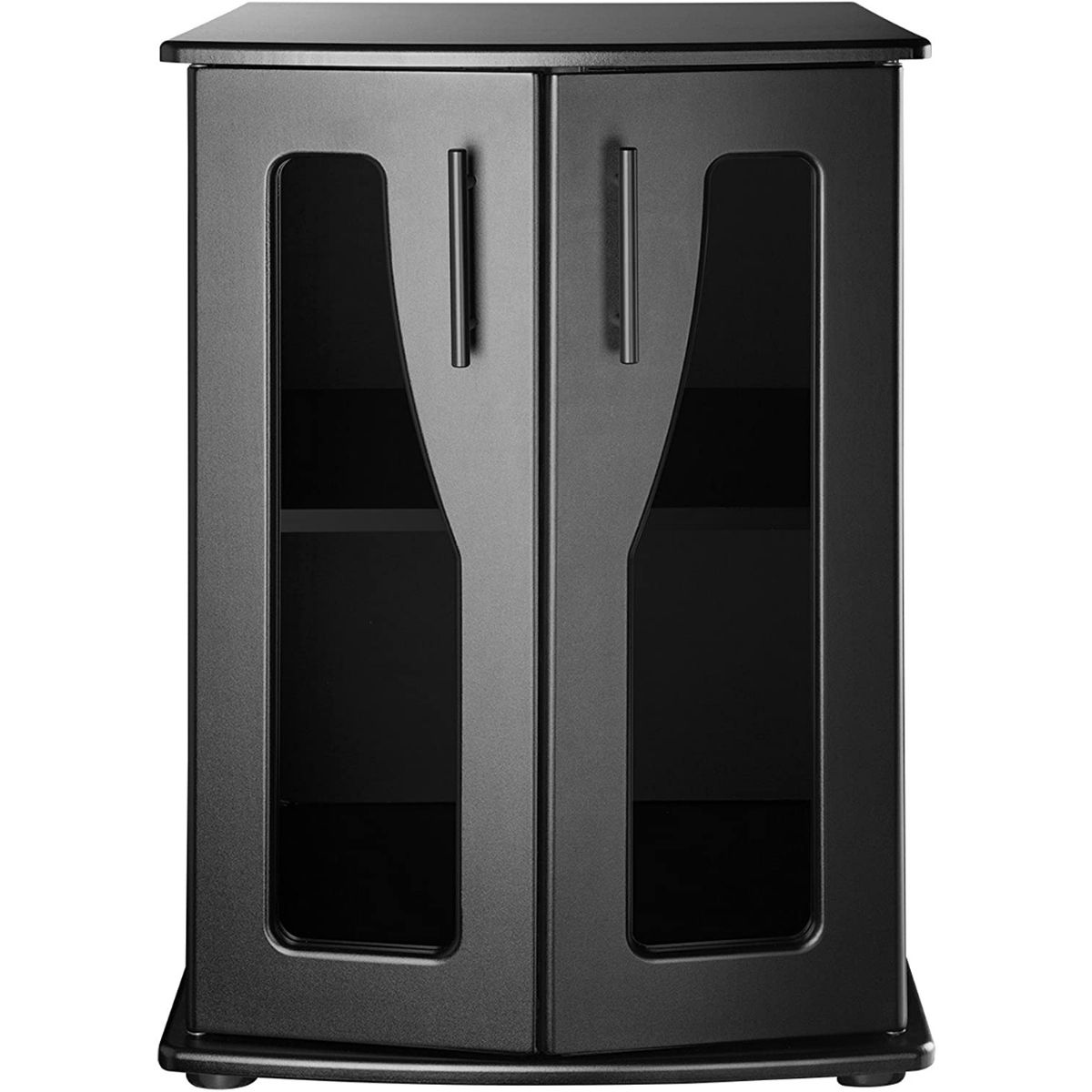 Coralife Designer Biocube Stand
Best aquarium stand for Coralife Biocube 32
Magnetic doors
Designed for Biocube
Solid back panel
Stable
CHECK PRICE
We highly doubt there is a better way to showcase your precious aquatic habitat than on a Coralife Designer Biocube Stand. Fresh and updated black panel for increased stability; no glue needed. Designed to complement the Coralife BioCube aquarium, with slim black handles and black tinted acrylic door panels.
A shelf for convenient storage of food, equipment, and tool along with strong and durable feet to aid the base in remaining elevated. It is made of water-resistant materials. Coralife is a reliable brand of marine aquarium supplies, counting from the all-inclusive BioCube tanks all the way to a full range of lighting and equipment; it is generously manufactured to meet the requirements of advanced aquatic hobbyists.
If somehow you don't want to go with this stand, you can purchase any 29 gallon and 30 gallon aquarium stand that fits Coralife Biocube 32 dimensions.
Best Protein Skimmer for Biocube 32
What better way to make a Coralife Biocube 32 upgrade than a Coralife product. A wonderful complement to any Coralife Biocube aquarium would be the Coralife Biocube Protein Skimmer. As they are particularly intended to fit into chamber 1 of the rear portion, they allow you to close the tank's lid without modifying it.
Coralife Biocube Protein Skimmer
Best protein skimmer for Coralife Biocube 32
Adjustable air flow
Self-priming pump
Quick installation
Designed for Biocube
CHECK PRICE
You need to be clear on what you're doing because it's easy to misuse them. It takes time for them to break in and start operating correctly, just like any other skimmer. You may want to change the pump to a more powerful one during usage if you happen to have one lying around. If not, air pumps rated for 10 gallon fish tanks work well on this occasion. This skimmer won't solve all your problems, but it'll definitely solve one permanently.
Circulation Pump Upgrade
There's nothing wrong with the pump that comes in the box. Actually, it's pretty good. However, as we've mentioned all this time, everything is relevant to your situation. The Biocube 32 gallon tank's return pump is rated at 264 gallons per hour (GPH). With an average tank turnover rate of eight.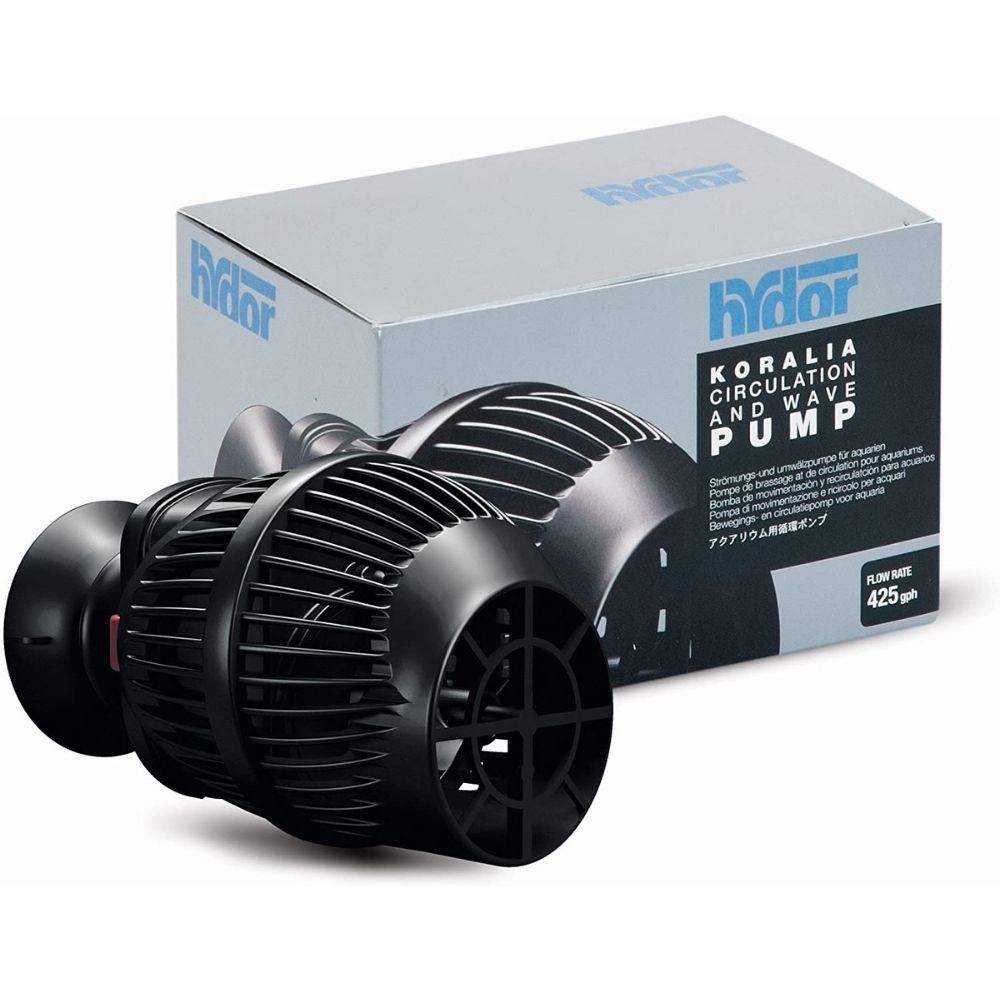 Koralia Nano Pump
Best pump upgrade for Coralife Biocube 32
Energy efficent
Flow rate: 435 GPH
Compact design
Small size
CHECK PRICE
Your tank's typical water turnover rate should be 20-30 times your tank's water capacity. Depending on your setup, this may work for you if you only have just fish or soft corals. If you plan on putting something other than that that requires more flow, adding a wavemaker or aquarium powerhead to the Biocube 32 will increase the flow rate.
The size of the return pump can also be changed to increase the flow. However, with the addition of a wavemaker, you'll have additional choices for controlling the flow of water. Koralia Nano circulation pump will be the perfect choice to get a bit extra flow in your Coralife Biocube 32 tank. They are quite tiny and will increase your turnover rate to the desired level. If you get the 425 GPH model, putting everything above together will put you beyond the 20 times turnover rate you're aiming for at 690 GPH.
Alternatives
There may be certain things from the items stated above that don't quite satisfy everyone's needs in the vast diversity of options and particular demands of each. We realize that there are instances when you just want to leave your options open, and there is no need to feel pressured to make a decision.
Everything here is tailored to your preferences and circumstances. You'll find the best and most worthy options below, so you can decide for yourself which would be a better suit for you or your dear fish.
All of the tanks listed below have been thoroughly tested and are ideal for anyone who may want something larger, smaller, or simply a unique look from the one we just evaluated. Keep in mind that each has its pros and cons, but they are made with care and quality, checking all the boxes for good fish tanks no matter their differences. Keep your options open with these products, and ensure there are no compromises either way.
Fluval Sea Flex
The Fluval Sea Flex saltwater aquarium is a wonderful addition to Fluval's curved aquarium range. It has a Marine 3.0 LED that your mobile device can control, providing you with complete control over the brilliant customizable colors, several dynamic effects, and a programmable 24-hour light timer.
Fluval Sea Flex 32.5 Gallon
Best large saltwater aquarium for coral growing
25000 K lighting
Extra space
App control
Great price
CHECK PRICE
To top it off, this innovative Flex features an integrated filtration system with double the separate multi-stage chambers for maximum cleaning efficacy. You can choose between Fluval Sea Flex 32.5 gallon or Fluval Flex 9 and 15 gallons, both of which offers the same features. Let us get straight to the point:
Product Specs
Brand: Fluval
Colour: Black
Item weight: 23.11kg
Shape: Rectangular
Filter: 3-stage filtration
Light: 25000 K LED Light
Size options: 9 / 15 / 32.5 Gallon
Tank dimensions LxWxH: 32.2 × 15.7 × 15.3 inches
Fluval Evo 13.5
Don't be fooled by the size; Fluval Evo 13.5 tank has the same functionality as a tank many times its size but is small enough to fit on any desk or countertop. We want to let you know that the sky is the limit with ideal circumstances for healthy coral development, color, and conditioning given by an extremely bright 14000K LED aquarium light.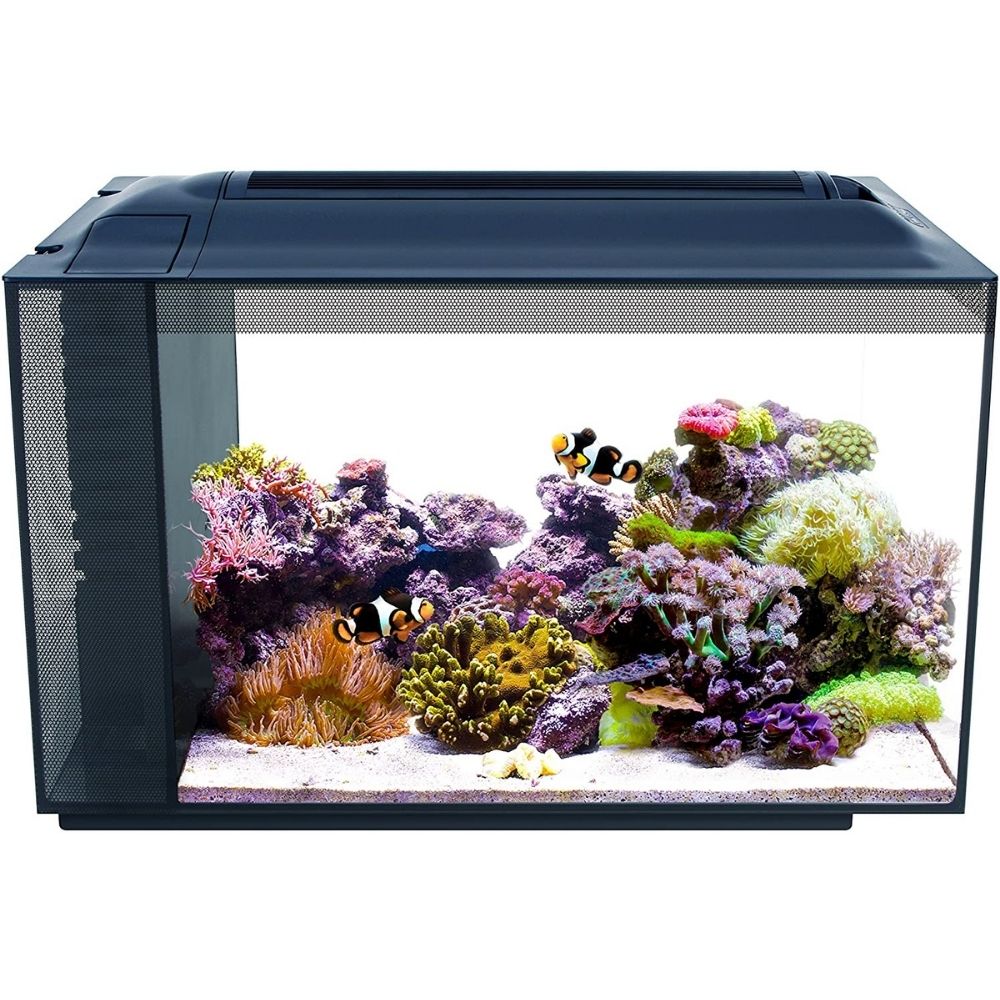 Fluval Sea Flex 32.5 Gallon
Best saltwater aquarium for beginners
Circulation pump
5 and 13.5 gallon version
Waterproof casing
Stylish and modern
CHECK PRICE
Potent 3-stage filtering of the water with large media offers outstanding water quality. There are limitless options. From aquarium filters, filter media, aquarium air pumps, lights, heaters, thermometers, and fish tank decorations to aquarium stands, there is a wide range of goods available for your fish to enjoy, and all of them are offered by Fluval Evo 13.5.
Product Specs
Brand: Fluval
Colour: Black
Material: Glass
Shape: Rectangular
Filter: 3-stage filtration
Light: 11000K LED Light
Size options: 5 – 13.5 gallon
Tank dimensions LxWxH: 23.4×13.5×15.6 inches
Final thoughts
Yes, finding the right tank might seem hard, overwhelming, and tiring to some. The overwhelm is totally justified, however unnecessary. We hear you, and it does get confusing. I mean, how do you even take several amazing and crucial features and make them not only super versatile and customizable but also beginner-friendly, all in one singular product?!
Best Reef Aquarium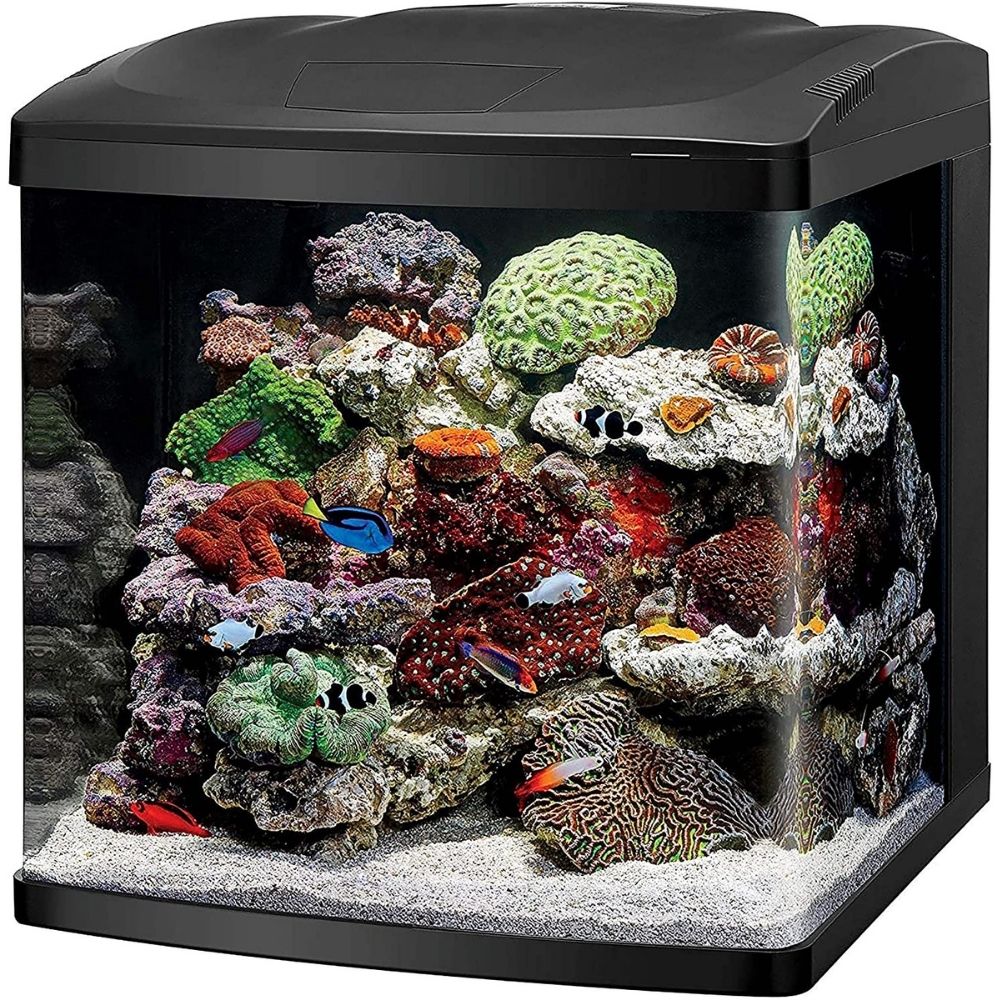 Coralife Biocube 32 Gallon
Silent filter, LED light, heater, and everything essential to start your first reef tank is included in Coralife Biocube 32, making it the best option for saltwater set ups. A few MODS can make it a bit better and easier to care.
Well- built and easy to operate
Integrated 24-hour timer
Color enhancing LED light
Available in two versions 16 and 32 gallon
Might need to upgrade it for added functionality
What's also impressive, is how impossible Coralife Biocube 32 makes it for you to hate it. Try to be picky about it, and you're sure to fail; it's just that good. The only concern you may have is the size. Maybe you are looking for something smaller. Then your best alternative would be the Fluval Flex 9 or 15 gallons.
Coralife Biocube 32 is just sure to become the main character in your new, vibrant, colorful aquatic fairy tale. It will continuously remind you of just how comforting and peaceful fish in their replicated natural habitat can be while undoubtedly making you super proud of yourself for how perfect of choice you made and how worth every penny was.
We are sorry that this post was not useful for you!
Let us improve this post!
Tell us how we can improve this post?