If you're a Betta fish enthusiast, then you know that keeping your Betta healthy is of utmost importance. Part of this responsibility includes providing your Betta with a clean and healthy environment.
One way to do this is by installing a filter for Betta tank. In this buying guide, we will discuss the best filter for Betta fish and provide you with all the information you need to make an informed purchase. So, whether you're looking for a top-of-the-line filter or something more affordable, we've got you covered!
Best Filter for Betta Reviewed
The lineup below includes a low flow filter for Betta as well as our choice for the best filter for a Betta. Our aquarium filter lists include flow adjustment models with a good filtration system, easy to use sponge filter for Betta, and a gentle filter for Betta fish that are suitable for any tank size.
From the best overall to best budget, you'll find all you're looking for, with all the right details, in a simple to understand manner.
Benefits of Having a Good Betta Fish Filter
Betta fish need a filter without a doubt. You must have a good filter to ensure the water quality in your Betta tank. There are several other benefits of having a good filter for your Betta fish tank. A quality filter will:
Consistently circulate and filter the water in your Betta tank.
Help to remove harmful toxins and bacteria from the water.
Keep the water temperature stable.
Provide your Betta with a consistent source of oxygen.
Reduce stress levels in your Betta fish.
Yes, it is possible to care for a Betta fish without a filter, but it is much harder to do so. If you do not have a filter, you will need to do more water changes to maintain water quality. This can be stressful for your Betta fish and may even lead to illness.
Types of Betta Fish Filters
There are a few different types of filters that you can choose from and each has its own set of pros and cons.
What to Look for When Buying a Betta Filter
Now that we've gone over the benefits of having a filter for your Betta fish tank, let's discuss what you should look for when buying one.
Bettas are a very sensitive species and picky regarding their environment. That makes their caretakers think hard when choosing a good filter for Betta fish. Now the obvious question is, how can we tell if a Betta fish tank filter option is good or great?
Here are the main factors you should consider when choosing the best filter for Betta fish:
Adjustable Flow Rate
One of the most important things to consider when choosing a filter for your Betta fish is the flow power. Bettas are slow-moving fish and do not like strong currents.
The ideal flow rate for a Betta fish is between 0-50 gallons per hour (GPH). Anything more than that and your Betta may become stressed out. That's why it's important to find a filter with an adjustable flow rate. This way, you can customize the flow rate to meet your Betta's needs.
Lack of flow rate adjustment will really have you in a sticky situation since you may have spent a bunch of cash for a filter that your Bettas just don't thrive with.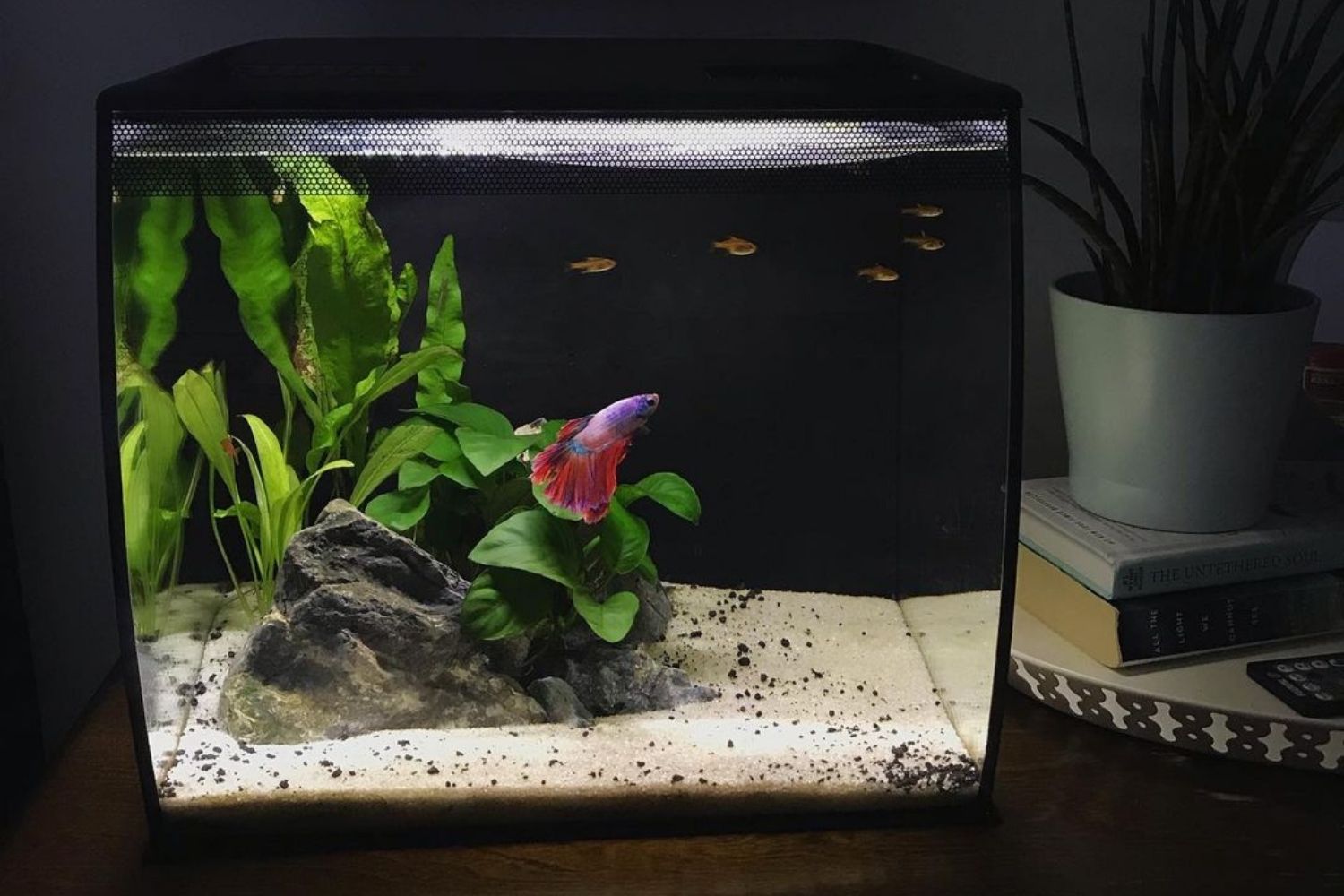 Tank Size
Another important factor to consider when choosing a Betta tank filter is tank size. You need to make sure that the filter you choose is appropriate for the size of your Betta tank.
If you have a small Betta tank (less than five gallons), then you'll want to choose a small filter. A big filter will be too much for a nano aquarium and will likely cause your Betta fish stress.
On the other hand, if you have a large Beta tank (greater than 20 gallons), then you'll want to choose a large filter. A small filter won't be enough to properly circulate and filtrate the water in a large tank.
Noise Level
Getting beautiful Betta fish is inarguably a very relaxing experience. If you have chosen to place your Betta aquarium in a relaxation area in your home or office then the filter noise should not disrupt that relaxation.
Some filters are very loud and can be quite disruptive, so it's important to find a filter that runs quietly. When choosing the best filter for Betta fish we made sure to include only the quietest aquarium filters available that still provided adequate filtration for Betta fish tanks.
Ease of Maintenance
Another factor you'll want to consider when choosing a Betta fish filter is the ease of maintenance. Bettas are sensitive fish and even the slightest change in water quality can cause them stress.
That's why it's important to find a filter that is easy to clean and doesn't require too much maintenance. The last thing you want is a filter that is so difficult to clean that you end up not cleaning it as often as you should.
Price
Of course, price is always a factor when choosing any product and Bettas are not the most expensive fish to care for, but they're not the cheapest either. The good news is that there are many high-quality Betta fish filters available at very reasonable prices.
That's why it's important to find a filter that is reasonably priced and fits within your budget. You don't want to spend too much money on a filter that isn't going to do a good job of filtering your Betta's water.
Our Verdict
After carefully considering all the factors, we've come to the conclusion that the Fluval 206 External Filter is the best filter for Betta fish tanks. This filter is quiet, powerful, and easy to use. It also comes with a free media kit that includes everything you need to get started.
If you are looking for a budget-friendly or the best filter for 10 gallon Betta tank, we recommend the Tetra Whisper Internal Filter. This filter is small and compact, but it does an amazing job at filtering water. It also comes with a free bio bag that is double-sided and catches waste and debris while also removing unpleasant smells and discoloration.
How We Chose the Best Filter for Betta
When choosing the best filter for Betta fish tanks, we considered a number of factors, including price, type, aquarium capacity, and features. We also looked at the pros and cons of each filter to help you make an informed decision.
We also purchased and reviewed these filters to offer the most trustworthy information possible. Based on our research and experience, we've compiled a list of the best filter for Betta fish tanks that are sure to meet your needs.
FAQs
Properly maintaining clean aquarium water is key to thriving your Betta. Ahead, learn how to do so, which type of filter is ideal for this fish, and whether or not you should turn your betta filter off at night.
Q: What type of filter is best for a Betta?
The best type of filter for a Betta is an external canister filter. These types of filters have adjustable flow rate settings, which is important because Bettas are slow-moving fish and they can be easily overwhelmed by a strong current.
Canister filters also have larger media baskets, which means they can hold more filter media and provide better filtration. One of the best choices for an external canister filter is the Fluval 206 External Filter.
Q: Is filter good for Betta?
Yes, filters are good for Betta fish because they help to keep the water clean and free of debris and waste. A properly functioning filter will also remove harmful toxins from the water, which is important for maintaining a healthy environment for your Betta. That's why Betta fish needs a filter.
Q: Are sponge filters better for Bettas?
Sponge filters are a good option for Bettas because they provide mechanical and biological filtration. Sponge filters also have a very slow flow rate, which is ideal for Bettas. One of the best sponge filters for Bettas on the market is the hygger Sponge Filter.
Q: Can I turn my Betta filter off at night?
No, you should not turn your Betta filter off at night. Filters are an important part of maintaining a healthy environment for your Betta and turning the filter off will allow debris and waste to build up in the tank. If you need to do some maintenance on your filter, you can turn the flow rate down, but you should never turn the filter off completely.
We are sorry that this post was not useful for you!
Let us improve this post!
Tell us how we can improve this post?